Picking a place to stay in this day and age can be overwhelming. Between looking for the best deals, filtering through mixed reviews, and fluctuating availability, a lot can get lost in the hunt for your dream vacation quarters. Throw in the small detail that you're looking for the perfect wine experience on a vineyard property? Don't worry – it's easier than you might expect. Cape Town has mastered the art of the top-rated holiday excursion for every budget, so no matter what, every vino-seeker can find the royal treatment they deserve.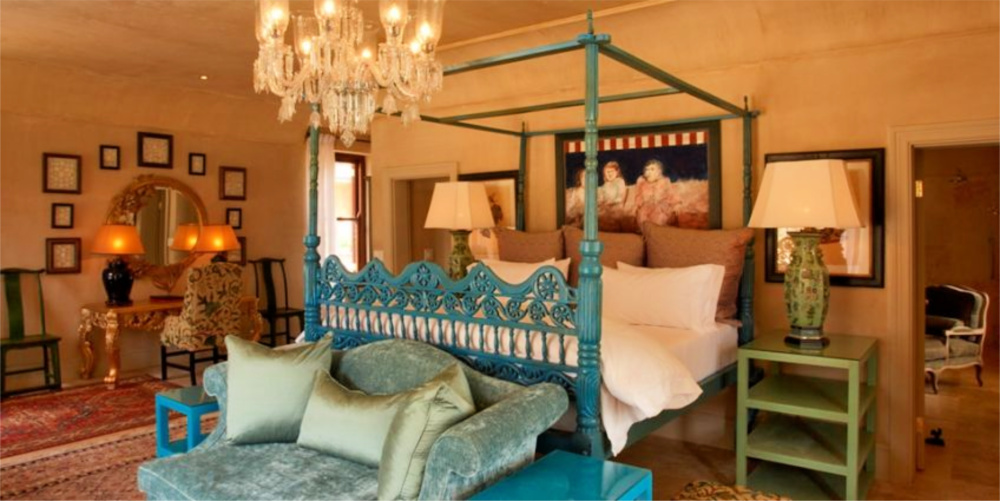 Photo Credit: Winerist
Tucked away in the heart of Cape Wineland's many vineyards and mountain-lined horizons sits La Residence, a luxurious escape worthy of regal recognition. 11 individually decorated suits and 5 lavish villas create another world between the grape vines to guarantee the privacy and relaxation that dreams are made of. Scenic views await at every turn on this 30-acre property made up of orchards, farmland, gardens, and rolling vineyards (Cape Wineland didn't get its name for nothing, after all). Canopy beds, glittering chandeliers, and extravagant tubs highlight each room throughout the property. As if that wasn't enough, award-winning restaurants surround La Residence at every turn using only the freshest ingredients in season. Wine and cheese pairings are an experience that simply cannot be overlooked – followed by a horseback tour of one of the surrounding vineyard estates, or perhaps a spa treatment on your private balcony if leaving the room is not on the day's agenda? Heaven is a place on earth, and you found it.
Price: $455+ per night
Delaire Graff Lodges and Spa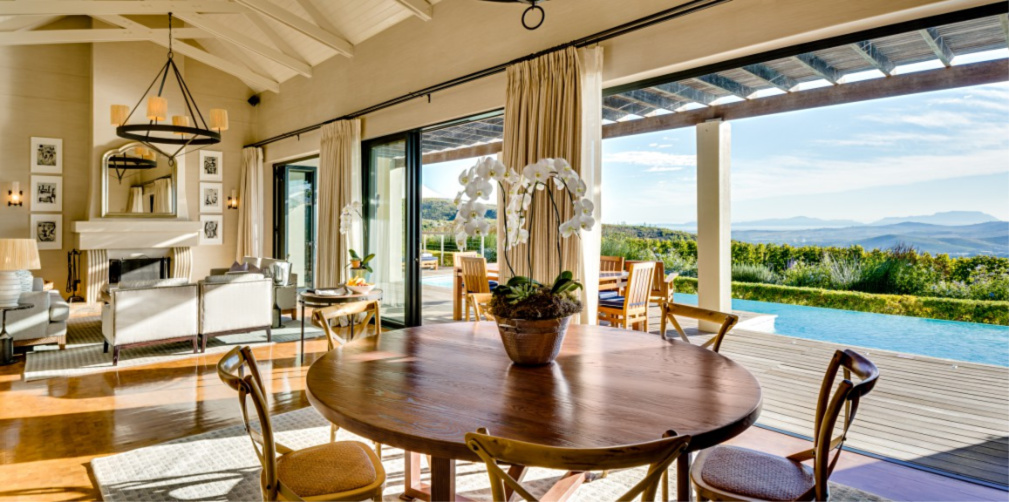 Photo Credit: Delaire Graff
The hills are alive with the sound of pure delight at this hilltop winery. Standing proudly on the slopes of the stunning Stellenbosch Mountains, the Delaire Graff Lodges and Spa's incredible views just might have you trying to wake up from a dream you happen to be living. The wine produced on site is begging to be sipped in one of the heated private plunge pools that accompany each room or at one of the two gourmet restaurants on the estate grounds. The décor found throughout each lodge is contemporary in design and is perfectly accentuated by South African artwork sourced from local artists. The hardest decision you'll make during your stay at Delaire Graff will be choosing to watch the sun set behind Table Mountain from the sophisticated bar patios or from the comfort of your sundeck.
Price: $1,289+ per night
Colona Castle
Opulence is expected to come at a price – however, Colona Castle takes that old trope and turns it on its head. The name delivers exactly what one would expect from the grandeur of a castle and consolidates it all into a 5-star graded Manor House with 8 posh suites. The nearby vineyards are plentiful, the golf courses are world-class, the ocean views are sparkling, and the experience is majestic. Not all heroes wear capes, but this Cape Peninsula gem certainly deserves to.
Price: $163+ per night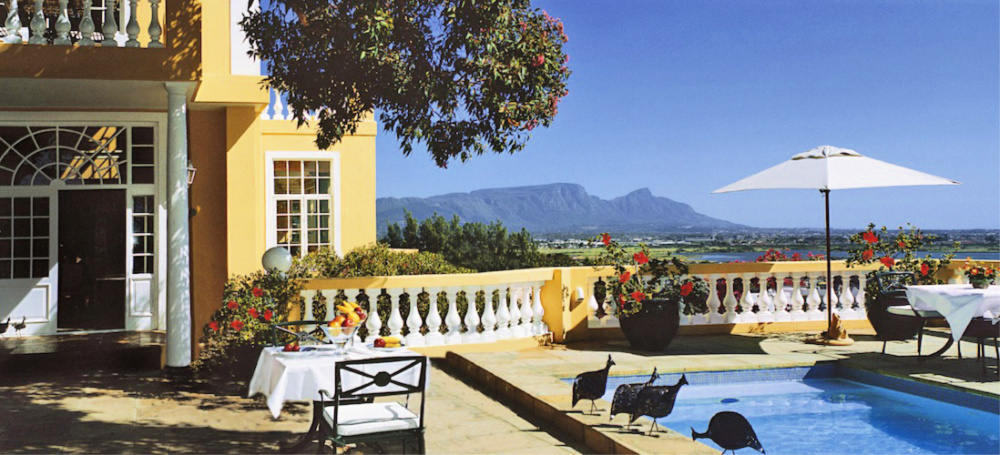 Photo Credit: Colona Castle
La Clé des Montagnes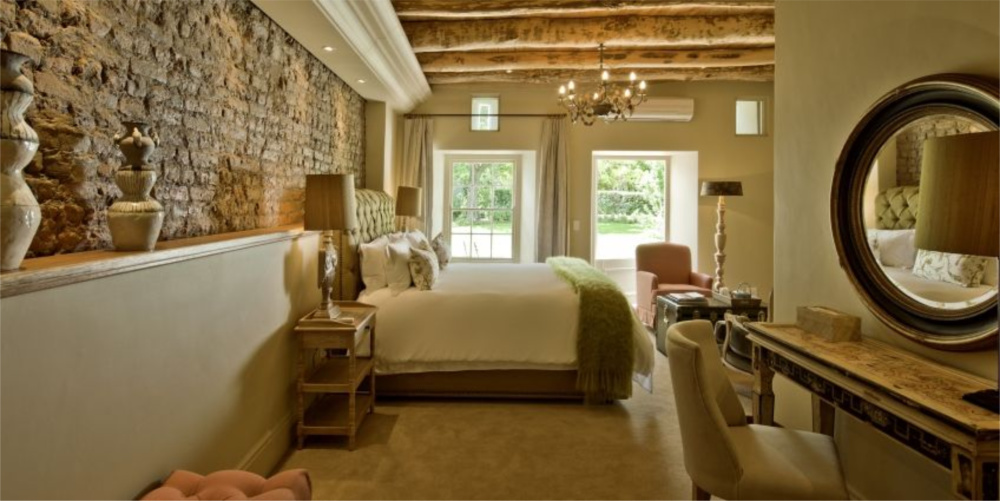 Photo Credit: Winerist
The key of the mountains; what's in a name? A lot, actually, if you happen to be this combination of four scenic villas that form La Clé des Montagnes. Following tradition of the fellow elite residencies in the Cape Town region, each villa is a private escape from the normalcies of civilization complete with a private pool and elegant chandeliers (swinging not allowed – though you will be excited). Options are a crucial component for every guest, and nothing is too much or too little. Take a stroll down to the local village decorated with boutiques, local dining, and artistry abound if you so desire. Or, if adventuring out feels like too much for the day, a private chef is available to fulfill your culinary fantasies with regionally-sourced ingredients on the spot. Top the whole experience off with a personal butler during your stay and you're bound to see why La Clé des Montagnes truly is the key.
Price: $1,011+ per night
The Cellars-Hohenort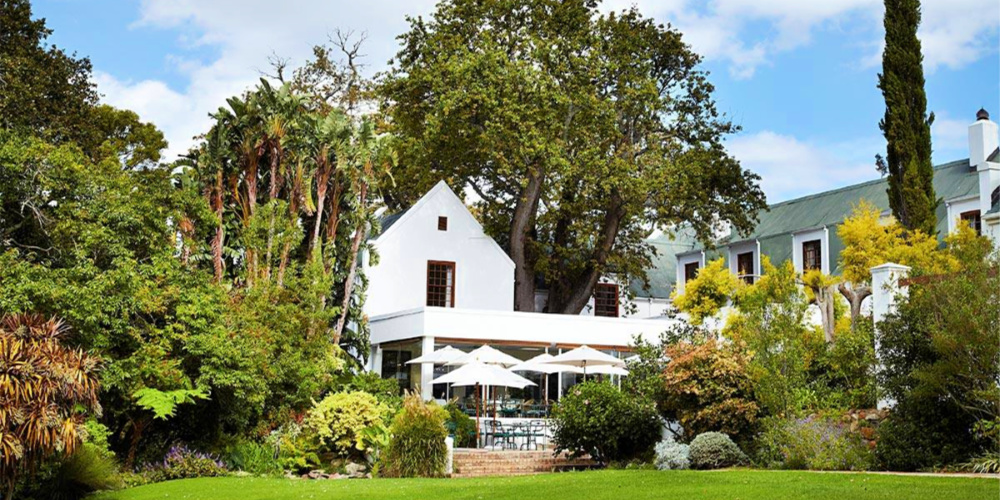 Photo Credit: Facebook page
Escaping to the country has never felt this sophisticated. The Cellars-Honenort takes the intimate nature of a sprawling countryside getaway and manages to find a way to elevate it to a 5 star experience. Each of the 51 rooms provide stunning views of the award-winning property gardens and the two pools, two restaurants, and spa are bound to leave guests with a feeling of tranquility. With the city only a quick 20 minutes away, it's an ideal balance of old-world character mixed with contemporary convenience tucked away in the oldest wine region of southern Africa.
Price: $248+ per night