Whether they are black or white, big or small, French or Italian, the season for one of the most loved gourmet products in the world is coming and it's time to hunt truffles!
Did you know there is a special University in Italy for training truffle hunting dogs?
Known as white and black gold, truffles are a very special delicatessen because they are usually found only in some regions of Italy and France. They grow naturally underground, so it is necessary to train a dog to hunt them. Therefore, truffle dogs are the real protagonists of the truffle hunting season, as they have the best sense of smell and can detect a truffle even from 100 meters away. In fact, there is a truffle dog University in Italy where they are trained to detect truffles when they are small puppies, being able to find thousands of euros in truffles just walking around the hills, it's like a game for them! In the past, pigs were used as well but it became impossibly hard to make them stop eating this edible treasure!
How many types of truffles are there?
There are different types of truffles and they mature at different times of the year, depending on the region. Therefore, different truffles are available throughout the year. They are usually classified by their colour, season and region; white truffles are considered more special than black truffles because they grow only at limited latitudes and regions, they have a broader unique bouquet and they don't need to be cooked to show their intense aromas, so they are traditionally shaved directly on simple risotto, pasta, and egg dishes, allowing the truffle to be the protagonist of the dish. On the other hand, black truffles are grown in more regions and they have a delicious earthy, subtle bouquet, and you can enjoy them with meat, risotto and pasta. Find out more about it with our truffle chart.
Would you like to experience the unforgettable thrill of truffle hunting?
Definitely Italy and France are our favourite countries for enjoying the best truffle hunting experiences. So we have prepared for you, our gourmet food lovers, a list of the best truffle hunting tours in France and Italy!
Multi-day tours
Spend four days in Quatro Terre, the lovely central region of Istria, exploring ancient towns, tasting local wines and visiting their places of production on this 4 day, small group tour. Indulge in a journey into gourmets' paradise searching for the most valuable truffle in the world. Visit award-winning wineries and enjoy top wine tastings in superb hilltop villages. Meet a truffle hunter and his dog and start an emotional truffle hunt in the woods.
Slow down and enjoy the tranquil pace of the Tuscan countryside. You will be staying in a lovely apartment right in the heart of the Etruscan hill town of Cortona, experiencing firsthand truffle hunting, the excellent, renowned wines, and delicious dishes made with genuine and fresh ingredients.
Full-day tours
Go behind-the-scenes and learn about truffles in the Piedmont region, Italy's gastronomic capital with this private truffle hunting and Barolo wine tasting tour from Alba. Meet your driver, drive to the woods and follow the truffle hunter and his dog on a leisurely 60-90 minutes walk and see if you unearth any treasures. Learn how truffles grow in a full presentation of the soil of the Piedmont region and the environment of the Langhe hills.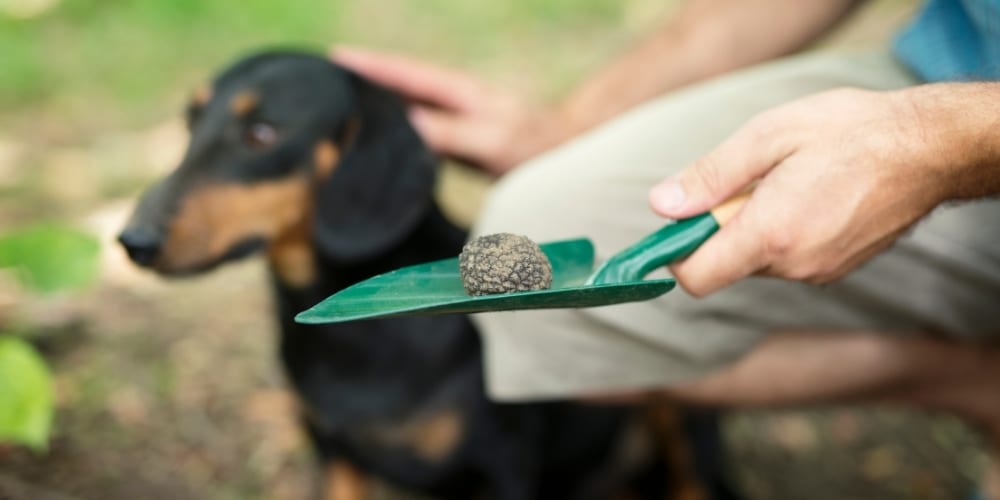 Half-day tours
Go behind the scenes of one of the world's most secretive businesses with this unique truffle hunt. Learn how to clean, store and cook the black gems. Then, taste an organic olive and truffle oil, paired with truffle hors-d'oeuvres and Champagne.
Parma Truffle And Mushrooms Hunting Experience (from 60€ pp)
Enjoy a truly authentic truffle experience in the Appennini mountains with an authorised environmental guide and depart for the search for Porcini Mushrooms and/or black truffles. After the hunt, you'll be welcomed by one of the best chefs in this part of Italy for a short cooking demonstration on how to properly prepare and cook these amazing products. At the end you will taste everything during an unforgettable lunch.
Depart from central Turin and drive to the Langhe and Roero hills where the white truffle of Alba and the black summer truffles grow. Meet the truffle hunter and the dog and follow them in a walk in the wood learning about trees, soil composition and other facts about the environment of the Piedmont region and understand how truffles grow.
Private Truffle Hunting And Cooking Demonstration In Tuscany (from 380€ pp)
Discover everything about the gold of Tuscany with Anna, your trained sommelier and wine guide, with a deep passion for wine and for Tuscany. Accompanied by a local truffle hunter you will go in search of truffles and then you will learn how to preserve and prepare them with a cooking demonstration.
---