There are very few hotels in the world that run as well as The Ritz-Carlton Bacara. From the valet to the check in experience, this is the perfect hotel for those who want a hassle free travel experience.
The Ritz-Carlton is also a hotel that has a location that is unrivaled. Situated on 78 acres of oceanfront property with 2 miles of natural beach, The Ritz-Carlton Bacara, Santa Barbara sits between the Pacific Ocean and the Santa Ynez Mountains.
Luxury rooms each boast a private patio or balcony, garden and superb amenities, all at your fingertips. Our suite, located on the second floor with beautiful ocean views had everything that a family needs upon arrival. A few glass bottles of fresh water (not much plastic is being used at this hotel in a push for an environmentally friendly policy), a bowl of fruit, a much needed Nespresso machine (much needed to shake off that jetlag) and a separate bath and shower. Our suite was dreamy and perfect for our little family of three. But it could accommodate a family of 5 as the rooms are so spacious and there are two sofas.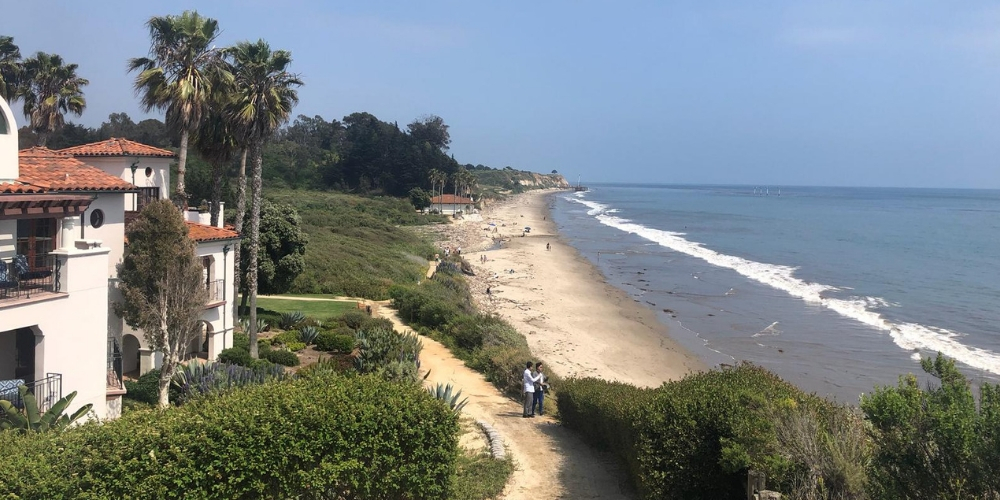 There are so many things I loved while staying here, but here are my Top 5.
1. If you are a foodie and wino like me, this is perfection. The few restaurants on site cater for all palates. I loved the Angel Oak in particular. We were there for their Mother's Day brunch and my Salomon Hills Vineyard, Goat Bubbles from Santa Maria Valley paired perfectly with my Blueberry Pancakes. At the Angel Oak, Chef Alexander Bollinger has created a culinary experience that takes a modern approach to the traditional steakhouse. Food is paired with selections from the extensive cocktail list and 12,000-bottle wine cellar.
2. The hiking trail was undoubtedly one of the most beautiful things about this hotel. Imagine the fresh air, the stunning ocean backdrop and all the flowers in bloom. The Ritz Carlton has put so much effort into making this hotel a home away from home. There are tennis courts on site, stunning running and hiking sites and so many beautiful relaxation areas. You could spend 3 days there and not even feel the need to step out.
3. I loved the romantic, relaxed, California like atmosphere. The evenings are so relaxing with beautiful fires indoors and outdoors, al fresco dining by candlelight and all that air to breathe. The Londoner in me could not get enough of this!
4. Wine tasting on own at The Foley Food & Wine Society tasting room at The Ritz Santa Barbara. We tried some fantastic whites from Santa Barbara and beautiful reds from all around the US. Taste by the glass or enjoy a bottle on the terrace. So serene.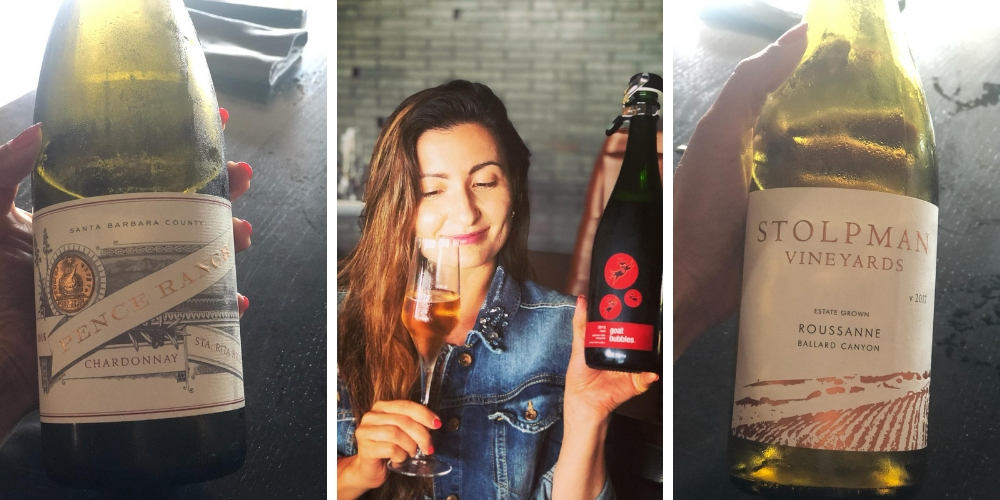 5. So close to Santa Barbara, yet isolated enough for you to detach yourself from the world. Santa Barbara can be accessed by taxi or in a car if you are driving. It's only 10 minutes away. The drive is nice and smooth and the journey nothing like the infamous Los Angeles traffic.
Santa Barbara Inn
When I think of the Santa Barbara Inn, the first thing that comes to mind is the sound of the waves and the serenity of this picture perfect boutique hotel. The beautiful building framed by deep red terra-cotta roofs, elegantly arched windows, and a duo of handcrafted tile domes, give it a Spanish Mediterranean feel which blends classic elegance and coastal luxury. The hotel feels so intimate that you would never guess that there 70 beautifully appointed rooms and suites and dramatic ocean views under the Santa Barbara Inn Roof.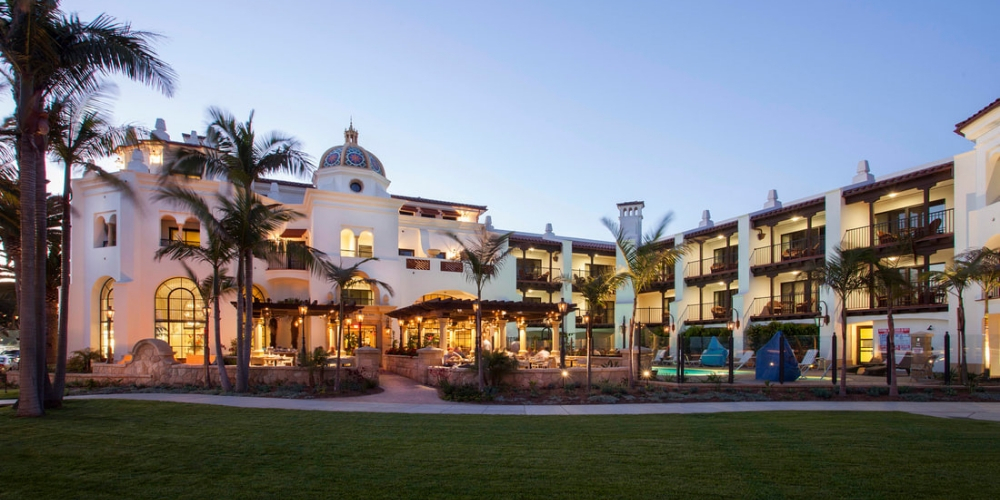 Photo credit: santabarbarainn.com
My 5 Top picks here were hard to pin down as there were so many, but here is a great starting point for all of you wine travelers:
1. Dining at the Convivo Restaurant – the food, the wine list, the flickering gas on the oceanview terrace – the perfect spot for dining as you watch Pacific coast sunset. Chef Peter McNee has created dishes ranging from cicchetti (small plates served in bite-size portions) and shareable antipasti to wood-fired oven pizzas and homemade pastas. "Convivo" means "to come together" and is the root word for "feast" — plates are perfect for sharing and feasting together, family-style. On the outdoor terrace, gas lanterns and a fireplace offer the perfect romantic complement to Pacific Ocean views. We had a feast of fish, beautiful burrata and edible flowers. Desert was a tough choice.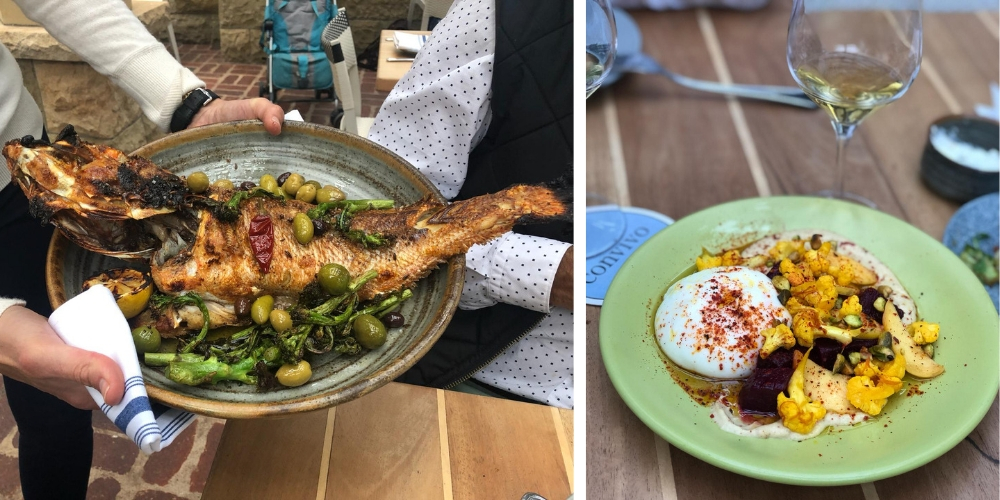 2. The Central Location – you will find yourself within walking distance from the most amazing cellar doors, restaurants and all that downtown Santa Barbara has to offer!
3. The elegance and spaciousness of the rooms and the bathrooms was a lovely surprise. Each room has been recently renovated and it is beautifully designed.
4. The Bar – With a full bar highlighted by local and regional wines, craft brews on tap and specialty tequilas, the Convivo Bar is the perfect gathering spot for before or after your meal. It's also a great stop before and after dinner!
To find out more about my adventures in Santa Barbara, please read my feature on why Santa Barbara is the perfect destination for wine and food lovers.