One of the things that Team Winerist look forward to most over the Christmas break is snuggling up in front of a roaring open fire with a delicious glass of wine in one hand and a great read in the other! Books are one of our favourite Christmas gifts, particularly when they're on our favourite subject (we don't need to tell you what that is!) and a wonderful way to kick back, relax and switch your brain off for a while as you recharge your batteries. We know that many wine books can seem serious and geared towards seasoned professionals, but never fear – there are a plethora of books on wonderful wine and wine culture out there which are totally readable and utterly enjoyable for absolutely every kind of reader.
In the spirit of the festive season, we've compiled a helpful countdown of the best books for wine lovers this Christmas – all tried and tested by the Winerist team! Whether you're treating someone special or just stocking up on some quality reading material in anticipation of those long, lovely, lazy winter evenings, there's something on our shortlist for everyone.
The World Atlas of Wine, 8th Edition, Jancis Robinson & Hugh Johnson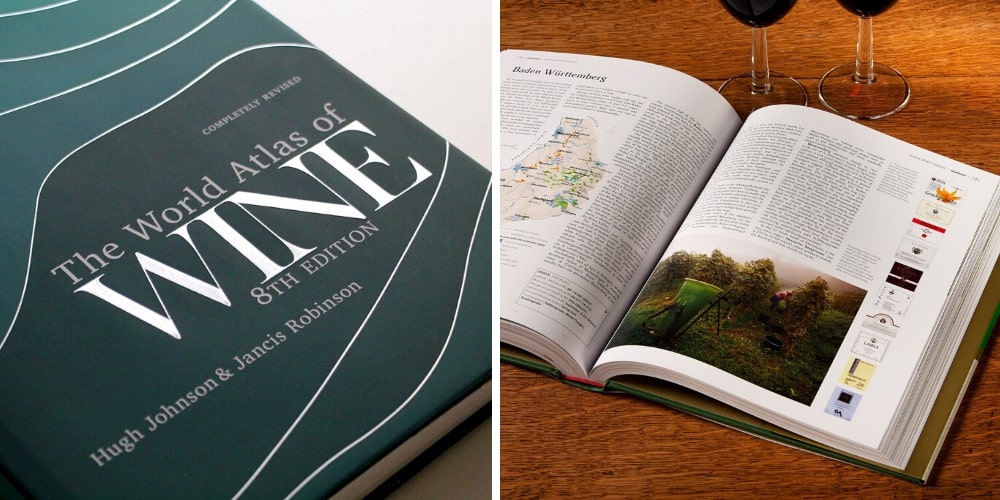 Photo credit: Amazon
Regularly acknowledged as one of the world's greatest wine books, the World Atlas of Wine has just seen the release of its 8th Edition, masterminded by world-renowned wine critic Jancis Robinson, in partnership with equally renowned wine writer Hugh Johnson. This beautiful tome is the ultimate reference book for any wine lover – the 8th edition has been extensively updated, with new regions and new information reflecting the pace of the ever-changing world of wine. This book is defined by its gorgeous, detailed maps and a wealth of accessible information on all the major and developing wine regions of the world. With its teal green cover (or claret red for readers in the USA) it's a gorgeous addition to any bookshelf and a thoughtful gift for any wino looking to expand their knowledge.
Moleskine Passions Wine Journal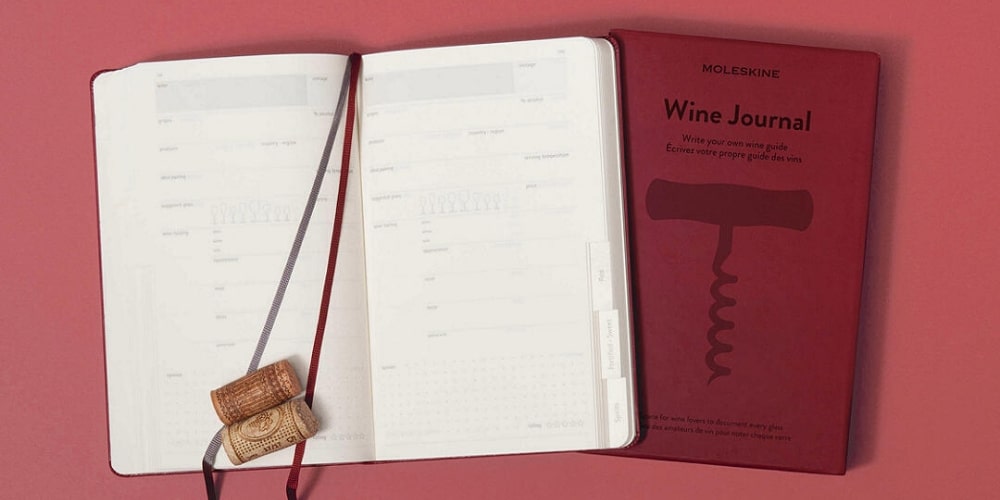 Picture credit: John Lewis
We absolutely love this handsome, burgundy-bound journal for keeping track of our ever-expanding wine notes! Packaged in an elegant presentation box, this is a perfect stocking filler, designed to help proud owners to keep a special personal archive of all their favourite wines, with simple pages helping to record tasting notes alongside helpful hints and tips. Divided into dedicated sections for each style of wine and a bespoke page design featuring all the major elements of wine tasting notes, this is a wonderful way for aspiring wine critics to keep track of their notes or helping newly-minted wine lover get to grips with their likes and dislikes.
The New Wine Rules, Jon Bonné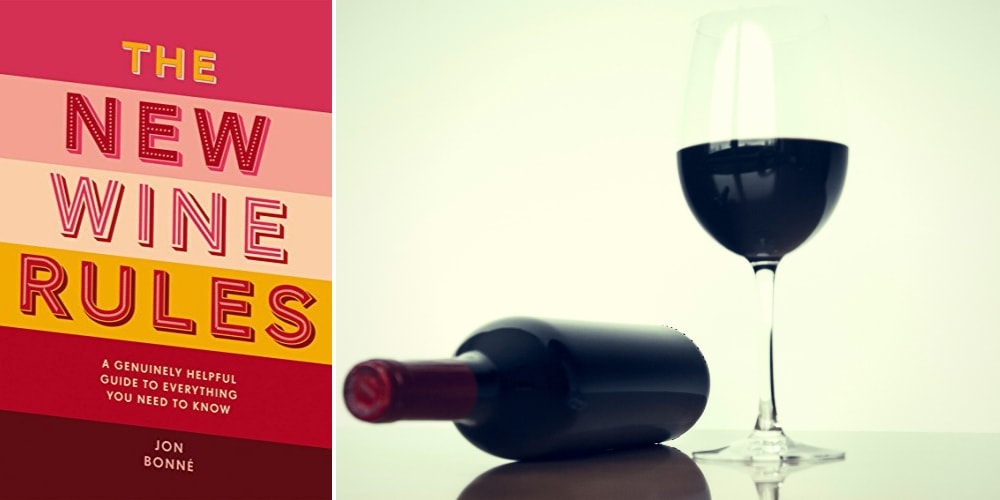 Photo Credit: amazon.co.uk
Jon Bonné's wine guide describes itself as 'a genuinely helpful guide to everything you need to know' when it comes to the world of wine – and we have to say, we're in agreement. This punchy, pocket-sized guide breaks down some of the most intimidating aspects of the wine world and reframes them in a down-to-earth and wholly accessible style. Bonné's writing is straightforward and fun, and perfect for any beginner or enthusiastic wanting to broaden their knowledge. Plus, the book itself is bright, bold and looks super jazzy on your shelf!
Hugh Johnson's Pocket Wine 2020, Hugh Johnson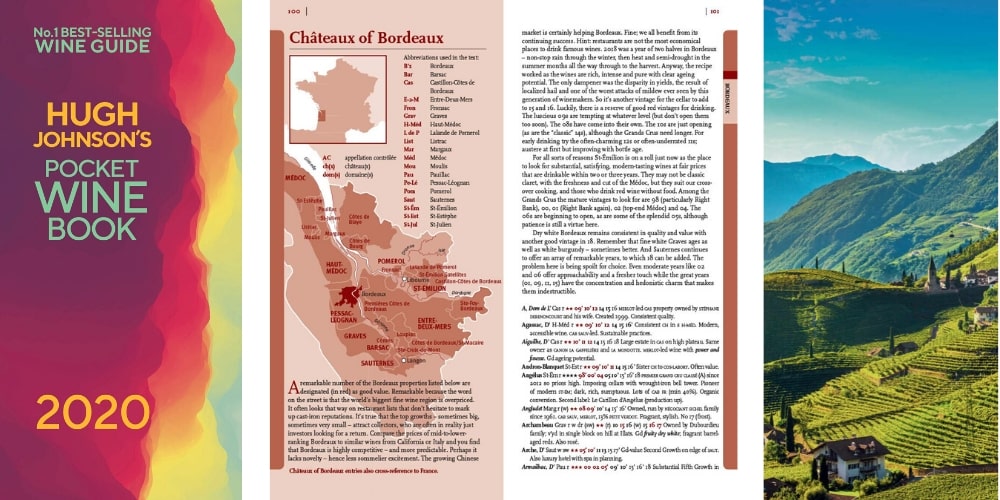 Picture credit: Amazon
This compact volume is one of the most perennially popular wine books in existence – now in its 43rd edition, the Pocket Wine guide 2020 is fully revised by author Hugh Johnson each year to advise readers on what, where, how and when to buy and drink wine. This is an incredibly helpful book for those uncertain how to indulge their passion for wine or wanting to broaden their vinous horizons. Advice and information on everything from wine regions to food & wine pairings is included in a beautiful readable, accessible format. Quite simply a must-own for anyone planning to invest or imbibe wine in 2020!
Wine Folly Magnum Edition, Madeline Puckett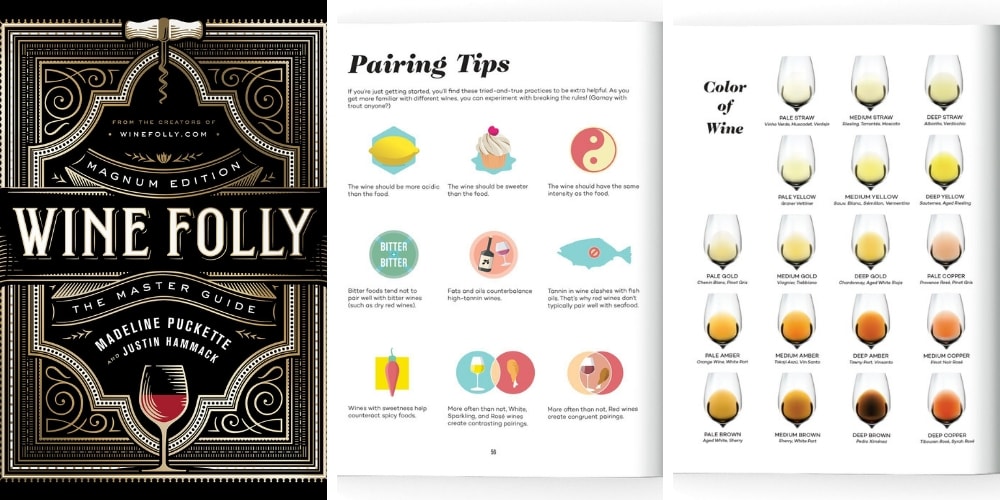 Photo Credit: amazon.com
If you only ever invest in one book on wine, make it Wine Folly. This sumptuously illustrated, fabulously informative guide gives the reader a comprehensive grounding in everything from serving wine to the key grape varieties and wines of the world (covering 100 different varieties, no less). It's exuberant, exciting and a refreshing change from serious wine textbooks, as well as being a great go-to for those wanting to check their wine facts or brush up on their knowledge. Plus, the Magnum Edition has recently been released, just in time for Christmas – even more great stuff in a strikingly attractive black-and-gold binding which makes a perfect present to be unwrapped on Christmas morning.
The Wandering Vine: Wine, the Romans and Me, Nina Caplan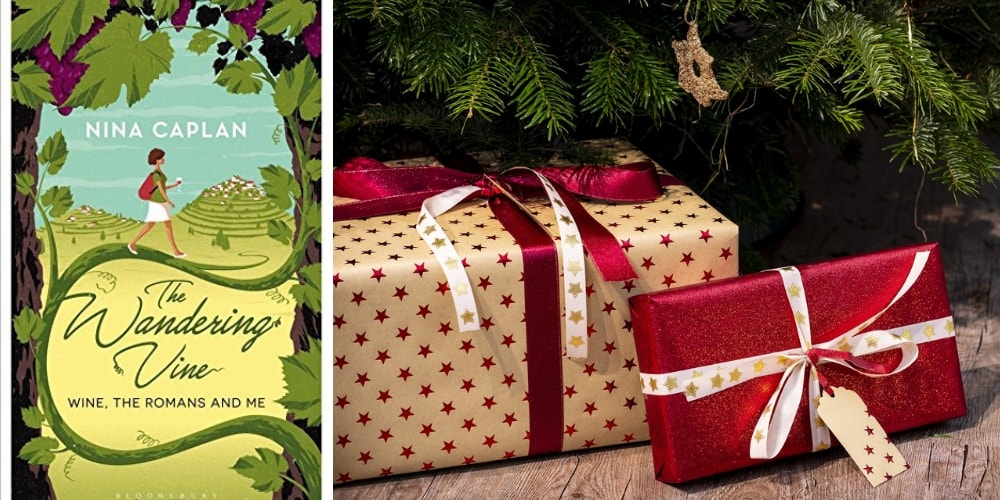 Photo Credit: amazon.co.uk
Winner of both the 2018 Louis Roederer International Wine Book of the Year Award and the 2019 Fortnum & Mason Debut Drink Book, The Wandering Vine charts Nina Caplan's voyage through the history of the world of wine from the Roman empire through many of the most key wine making regions of the world, from Champagne and Burgundy to Andalusia and Sicily. This book is so much more than just wine; it's a refreshingly well-researched work of history, culture, travel, food and drink which takes us on a very personal journey as Caplan recounts her own family's experiences alongside the history of wine. It's sensitive and passionately written in Caplan's intensely evocative style – if you want to be instantly transported to the most beautiful of Burgundian vineyards without having to leave your living room, this book is the one for you.
The Wine Critics, Jamie Goode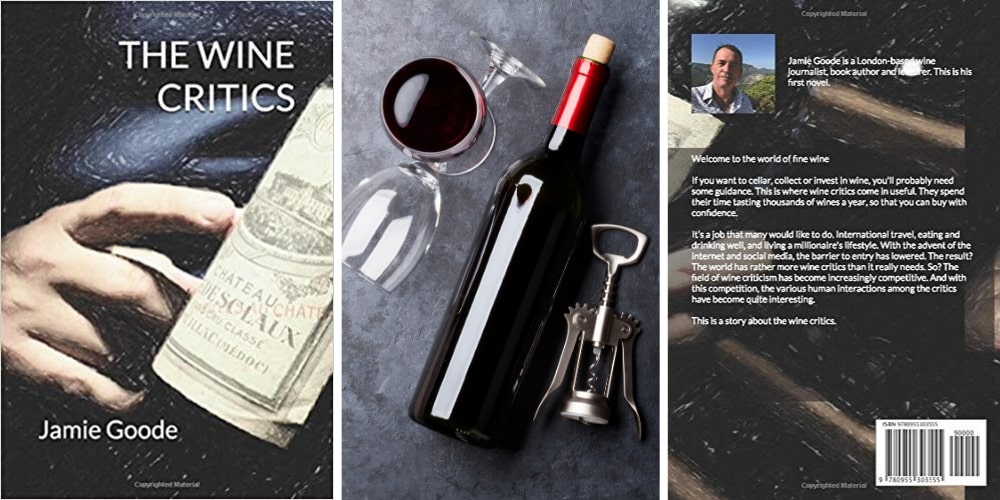 Photo credit: Amazon
Something a little different for the wine lover who has everything! Wine critic Jamie Goode, more famous for his reference books, has made his first foray into fiction with the Wine Critics, a comic novel which takes a light-hearted look at those in the field of wine criticism and the reality behind the glamour! Jamie describes the book as 'written entirely on aeroplanes' and cites Evelyn Waugh as one his inspirations, giving readers an idea of what to expect! This is a great book for anyone seeking to put aside the serious non-fiction reference books and relax with a little light entertainment.
The 24-Hour Wine Expert, Jancis Robinson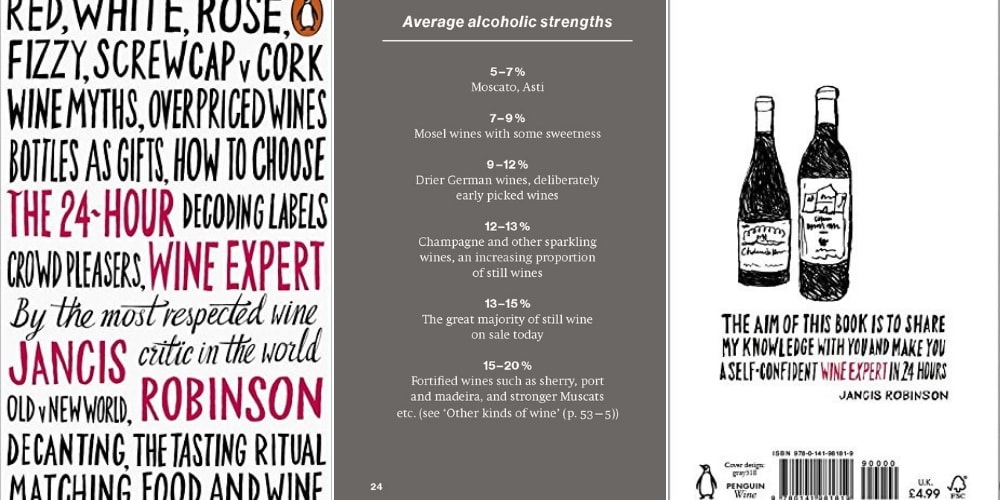 Photo Credit: amazon.co.uk
Jancis Robinson is quite simply one of the world's leading authorities on wine. Her writing record is prolific – she's responsible for some of the most heavyweight wine books out there, most notably the hefty Oxford Companion to Wine. However, the slim, supple 24-Hour Wine Expert is something quite different. It's a concise guide designed to take you from rookie to confident wine expert in 24 hours, covering everything from winemaking processes to cheat sheets and restaurant rituals in just 100 pages. There's no better way to learn than from the best, and this book from Jancis is a great place to start
Fortnum & Mason Mini Wine Book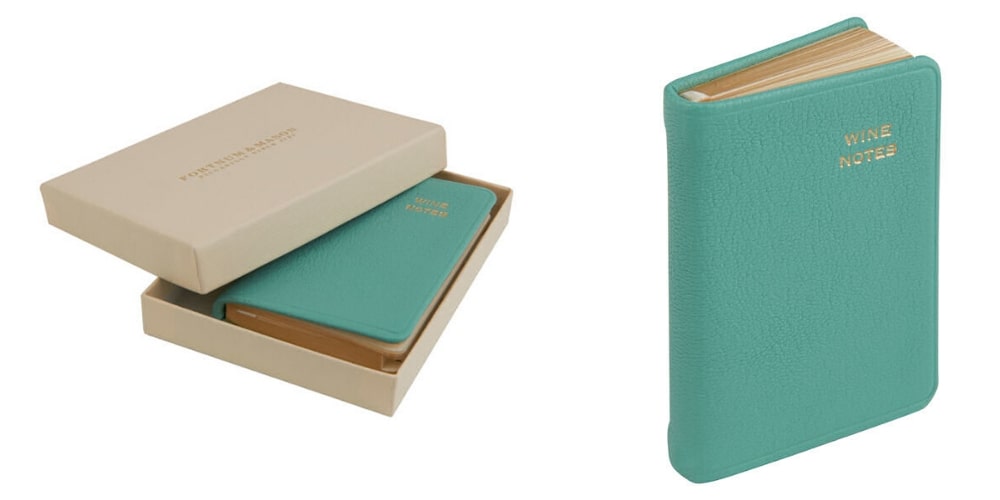 Picture credit: Fortnum & Mason
A gorgeous little leather-bound journal in a beautiful shade of turquoise blue, this compact notebook is the perfect little companion for any wine lover! Categorised into red, white, rosé, sparkling and fortified, this is a lovely way to keep records of all your favourite wines – there is even a helpful introduction section on the world of wine, and the book's diminutive size means it's easy to carry with you wherever your wine travels take you!
The Billionaire's Vinegar, Benjamin Wallace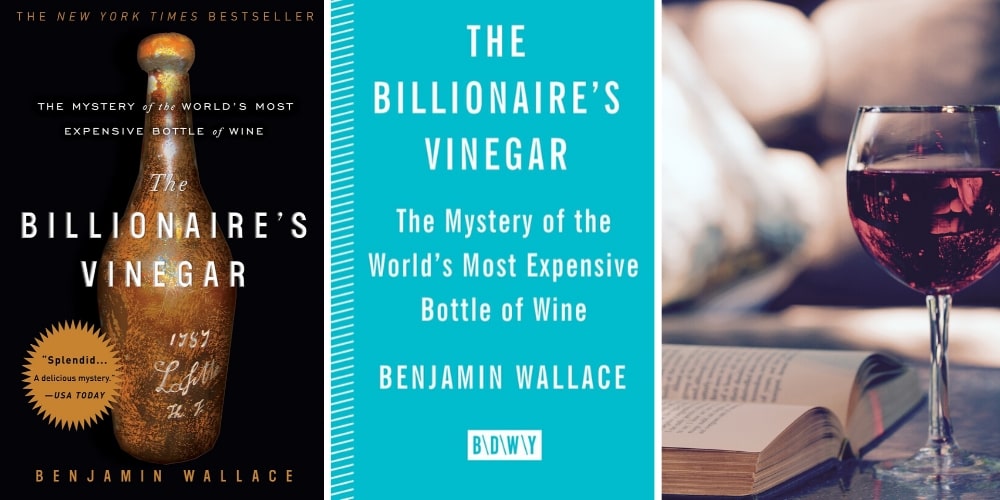 Picture credit: Amazon
This absorbing New York Times bestseller chronicles the events surrounding one of the strangest tales in the world of wine. The Billionaire's Vinegar recounts the true story of one of the most elaborate wine cons ever, involving a 1787 Château Lafite Bordeaux, supposedly owned by US President Thomas Jefferson, which sold for $156,000 at auction – however, all was not as it seemed, and the reality behind this mind-blowingly valuable bottle was in fact a little different. A fantastically gripping read that will have you hooked from the first page … prepare to be amazed!

All these beautiful books are of course available to purchase online, but we think that one of the best bits about books is browsing in bookshops … so why not venture away from the keyboard and head down to the high street instead?
Want more gift ideas for wine lovers this Christmas? See this article! Perhaps you're after wine recommendations for the big day, then click here. Or if you want to solve all the gifting problems in one go and give someone or a group of people a wine and food experience to remember, check out our Winerist gift cards here.