1. Delaire Graff Estate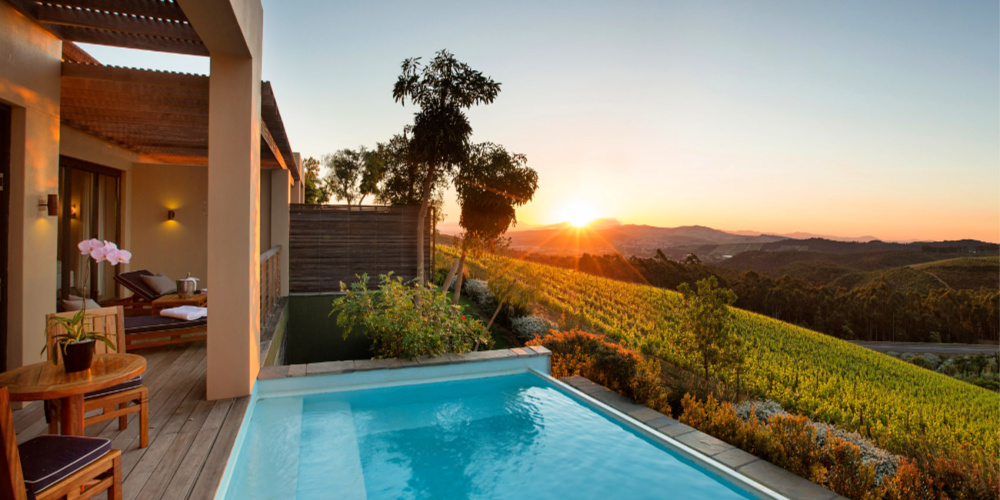 Photo Credit: http://www.delaire.co.za
The standard of Stellenbosch excellence, this wine estate seems to do it all, standing at the apex of art, design, dining and customer care. (It also doesn't hurt that they're situated at the pinnacle of the Cape's most incredible mountain views.) Delaire boasts world-class spa care, restaurants and wines, an ambience clad with contemporary African art curated by owner Laurence Graff (yes, that Laurence Graff), and hotel rooms aptly named "lodges," with vast suites and stunning contemporary design. But the standout of this locale is the service, which is second to none, effortlessly juggling its accolades while providing a truly curated experience for a visitor.
Address: Helshoogte Rd, Stellenbosch, South Africa
2. Majeka House Hotel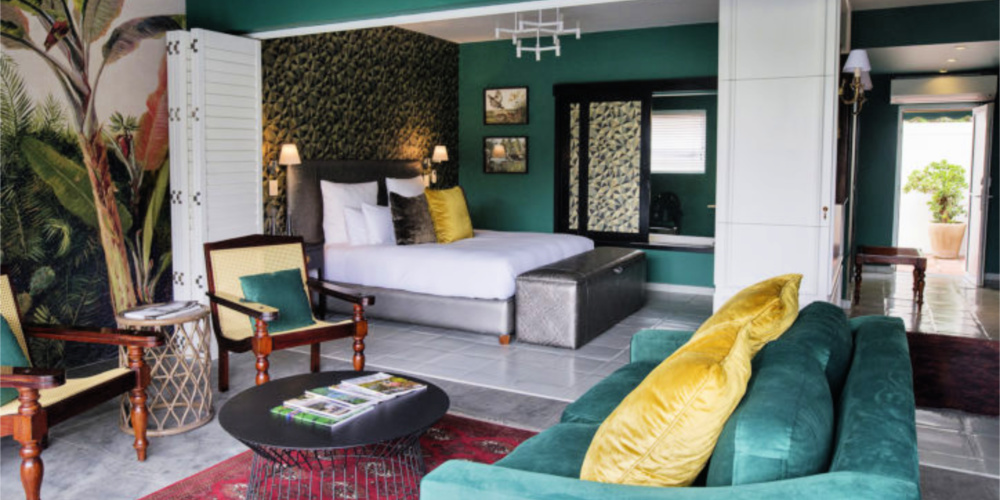 Photo Credit: http://www.majekahouse.co.za
A crowd favorite of anyone who frequents Stellenbosch, Majeka House is a secluded getaway tucked away in the Western Cape Winelands, perfect for the avid winelover. The redesign of this hotel by Cape Town designer Etienne Hanekom has resulted in international acclaim, romancing travelers with eclectic design and high-end finishes. Each room is individually designed, giving an experience as unique and personalized as the visitors themselves. The in-house restaurant Makaron also promises outstanding South African-inspired fare and a wine list that won't quit—expect over 30 pages of options from near and far.
Address: 32 Houtkapper Street, Paradyskloof, Stellenbosch

3. L'Avenir Country Lodge Hotel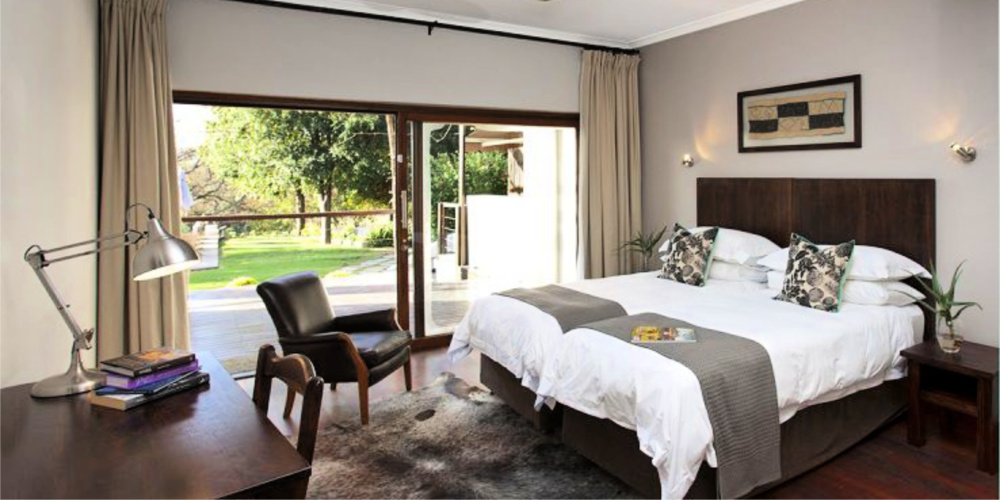 Photo Credit: https://www.lavenirestate.co.za
For the intimate wine estate experience that this Cape Winelands are known for, L'Avenir Country Lodge is about as good as it gets. Guests are welcomed with a glass of their estate's flagship wines, a Chenin Blanc or Pinotage, which hints to the delights that await at this working vineyard's tasting room. Rooms feature a contemporary farmland aesthetic that is both chic and comfortable, and a small, dedicated staff devotes itself to creating the perfect Winelands experience. While this locale caters to a crowd that wants a secluded weekend getaway, its location is also perfect for those who want to experience Stellenbosch's city center, which is only minutes away.
Address: Off R44, Klapmuts Road, R44, Stellenbosch, 7599, South Africa.
4. Coopmanhuijs Boutique Hotel and Spa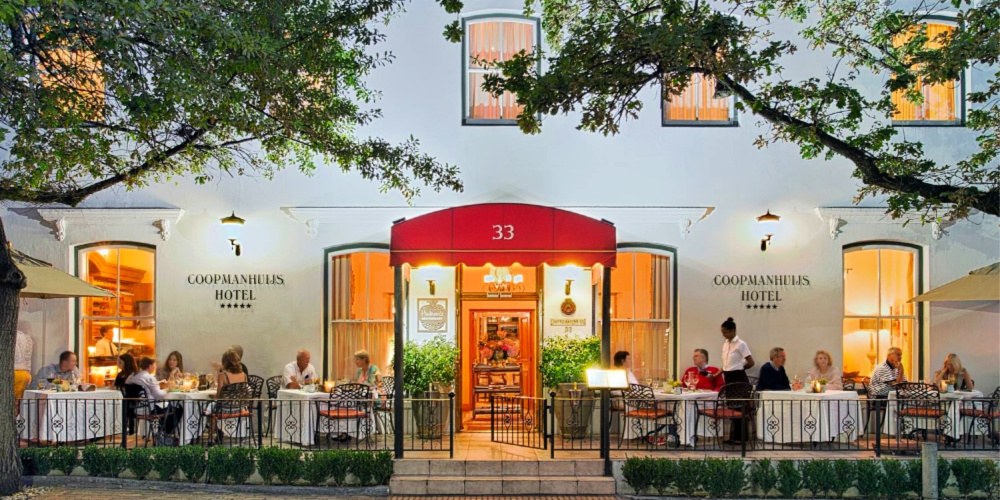 Photo Credit: https://www.facebook.com/CoopmanhuijsBoutiqueHotelSpa

For a taste of the history at the heart of Stellenbosch, Coopmanhuijs demands your attention. Situated in an 18th century manor right in town center, this boutique hotel oozes old-world charm and sophistication. Their hotel restaurant, Helena's, is a hidden gem of its own, focusing on a petite menu (just four starters and six entrees) and preparing them better than anyone else. The wine list is extensive, as a proper wine region restaurant should feature, and extends to the hotel's wine lounge and bar, where you can experience the elite offerings of the vineyards nearby without lifting a finger.
Address: 33 Church St, Stellenbosch Central, Stellenbosch, 7600, South Africa
5. Spier Wine Farm
Another idyllic wine estate of the region, Spier stands out as a locale that brings sophistication to a family-friendly experience. The estate, which has a history that dates back to 1692, offers a variety of events that the kiddos (and mom and dad) will enjoy, like outdoor movie nights and a craft market conveniently situated right next to the winery's tasting room. Venture through the vines on segways, order a curated basket for an afternoon picnic, and get up close with rescued birds of prey at the farm's Eagle Encounters. The property also has multiple restaurant options on-site, sure to have options that will satisfy even the pickiest of eaters.
Address: R310 Baden Powell Drive, Stellenbosch, 7603, South Africa
6. Lanzerac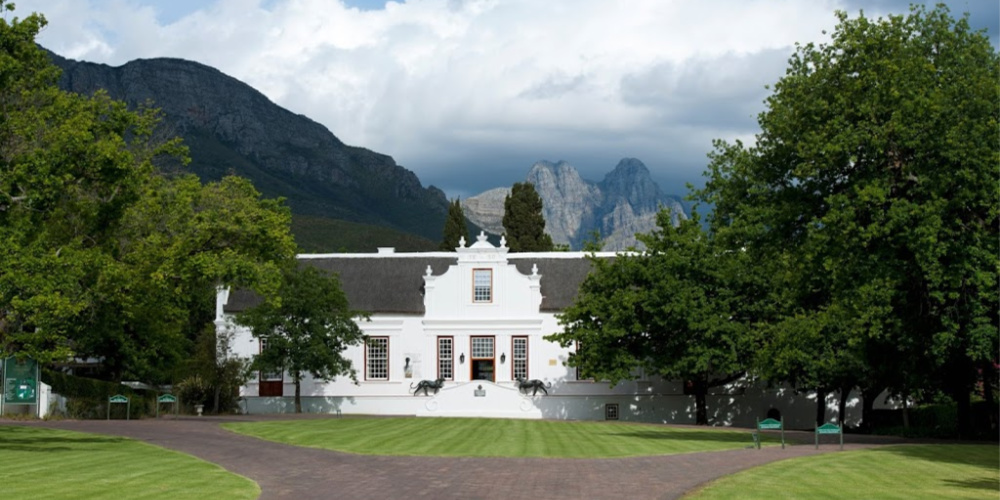 Photo Credit: https://www.facebook.com/LanzeracWineEstate
When you're at a working wine farm that dates back to the 17th century, you expect the grandeur that comes with that kind of history. Housed in a 180-year-old manor house, Lanzerac is a slice of tranquility in the Cape Winelands. Savor a pinotage at the birthplace of the first bottle of that variety, which can be tried at their tasting room's scrumptious wine and chocolate pairing. And as if the ambience wasn't relaxing enough, their spa features a full range of treatments, including the "Dr. Fish" mani-pedi.—spoiler: it's that pedicure treatment in which rufa fish nibble your calluses away—for an experience to indeed remember!
Address: 1 Lanzerac Rd, Karindal, Stellenbosch