Often considered the currency of the Caribbean, rum is the favored drink of pirates and college kids alike, but the origin story of rum is messy. Literally. Sugarcane farmers were left with a dark, gooey substance as a byproduct of crystalizing sugar. They discovered that, by mixing it with sugar water and then fermenting, they could make use of the waste and voila! Rum was born.
Rum is so poplar now that it actually has its own celebration day! August 16 was International Rum Day, so in the spirit of Captain Jack Sparrow, we compiled a list of the most interesting international rums that are also sure to inspire your next vacation destination.
The Most Interesting International Rums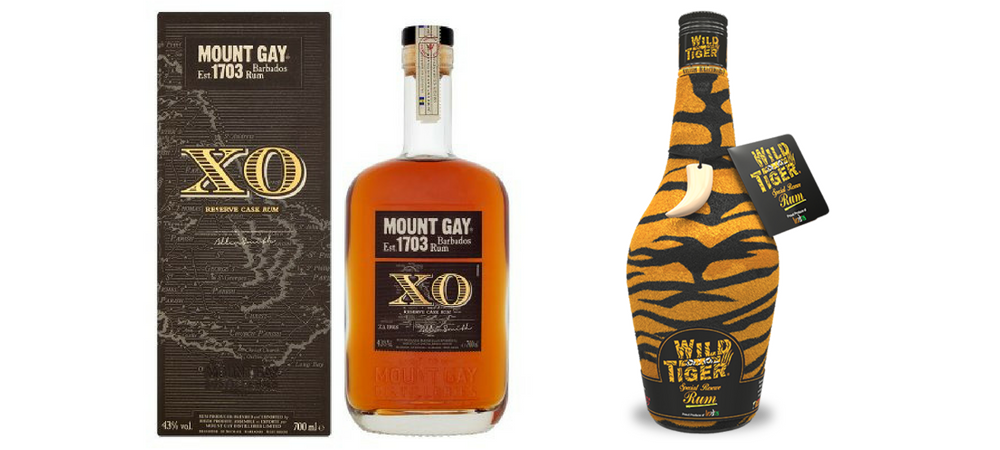 Appropriately named, Mount Gay Extra Old Rum is produced by the oldest commercial rum distillery in the world. Established in Barbados in 1703, Mount Gay has been a popular brand among sailors and seafarers throughout the years. Aged for 12 to 17 years, Extra Old blends crisp notes garnered by age with a smooth finish and aromas of cooked bananas. Once known as "Kill-Devil" by the Barbadians who first distilled it, the rum from Mount Gay is 315 years of crafting knowledge in a bottle!
Buy here.
Cost: £39.99
Wild Tiger Rum
Wild Tiger Rum is certainly our most… stylish bottle on the list. Encased in a bright orange tiger print fabric with a tiger "tooth" charm dangling around its neck, the bottle isn't the only interesting part of the brand. The liquor, produced in the Indian state of Kerala, hints at notes of toffee, vanilla, almond and honey. Best part? Ten percent of the company's profits are donated to the Wild Tiger Foundation.
Buy here.
Cost: £21.45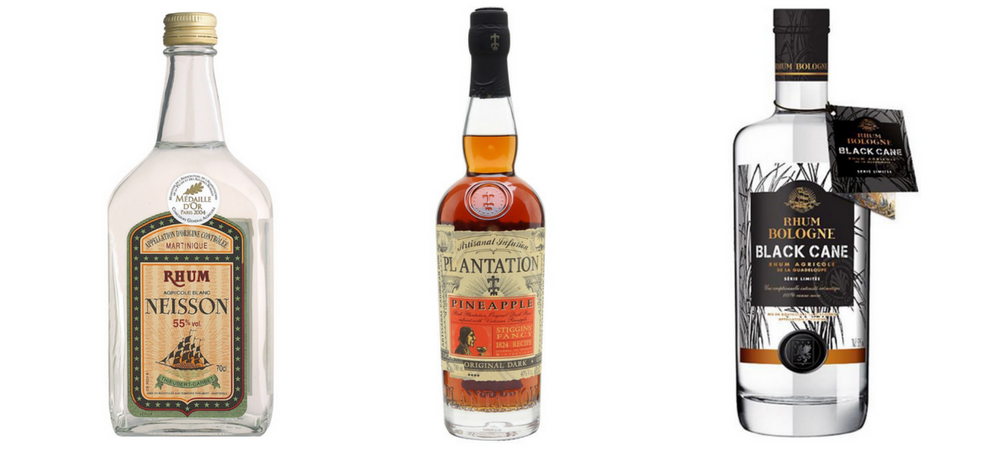 Neisson Rhum Agricole Blanc
We travel now to the island of Martinique, an overseas region of France, where rhum agricole is all the rage. It is an offshoot of commercial rum and values the freshness of its ingredients above all else. Controlled heavily by the French government, rhum agricole is made from a single ingredient and doesn't contain molasses or other additives like most mass-produced rum. Neisson Rhum Agricole Blanc is a prime example of the liquor, exhibiting complex, floral flavors and a dynamically earthy taste. Extra points if you attempt Martinique's local cocktail, the Ti'Punch, a mix of rhum, sugarcane syrup and freshly squeezed lime juice.
Buy here.
Cost: €25.70
Stiggins' Fancy Plantation Pineapple Rum
With a name like that, the rum has to be interesting. Luckily, it is. Released by Maison Ferrand, the French producer of numerous liquors, the rum is named after Reverend Stiggins, a character in Charles Dickens' The Pickwick Papers whose favorite drink was "pineapple rum." The pineapple fruit is infused in Plantation Original Dark rum, which is then blended with a pineapple-infused Plantation 3 Star rum distillate. The result is a rich pineapple bouquet with a hint of clove adored by bartenders the world over.
Buy here.
Cost: £35.45
Bologne Black Cane Rum
Apparently there is more than one kind (and color) of sugarcane – who knew? – and the one used in our final entrant may be harder to farm, but it's worth it in the end. Bologne Distillery is the last in Guadalupe to cultivate black sugar cane, which, when fermented and distilled, has a much more concentrated palate than your average rum with hints of banana, pineapple, mango, pear and citrus. This yield is a limited edition with only 10,000 bottles produced, so get yours while you can!
Buy here.
Cost: £21.63