THANKSGIVING HISTORY
Thanksgiving is a traditional American holiday which is celebrated every year on the 4th Thursday of November. Nowadays, the word evokes image of football, family reunions, roasted turkey and pumpkin pies. We take a look at the holiday and its history to give you a bit of background on the food and wine which makes Thanksgiving that extra bit special!
Wampanoag, the native American tribe, dedicated part of their daily life giving thanks for the Creator's gifts. Giving thanks was and still is the primary reason for celebrations and the Native People of North America have held ceremonies for successful harvests, for the hope of a good growing season the following spring and for other good fortune for the community.
1621 was a rewarding year for the Natives: after a year of sickness and scarcity, their labour was compensated with a bountiful harvest. The Pilgrims gave thanks to God and celebrated his bounty in the harvest tradition with plentiful food and celebration.
Thanksgiving traditions changed since the arrival of the Pilgrims and Puritans. Today Thanksgiving celebrations are a fusion of the two traditions: the New England rituals for a successful harvest and the Puritan Thanksgiving, solemn religious observance combination of prays and feasts.
This annual harvest festival did not become a regular affair in New England until late 1660s. Until after the American Revolution, Thanksgiving proclamations were made mostly by both state and church leaders. During the revolutionary period various royal governors such as John Hancock, General George Washington and the continental Congress made proclamations giving thanks to God for favourable events to their causes.
THANKSGIVING MENU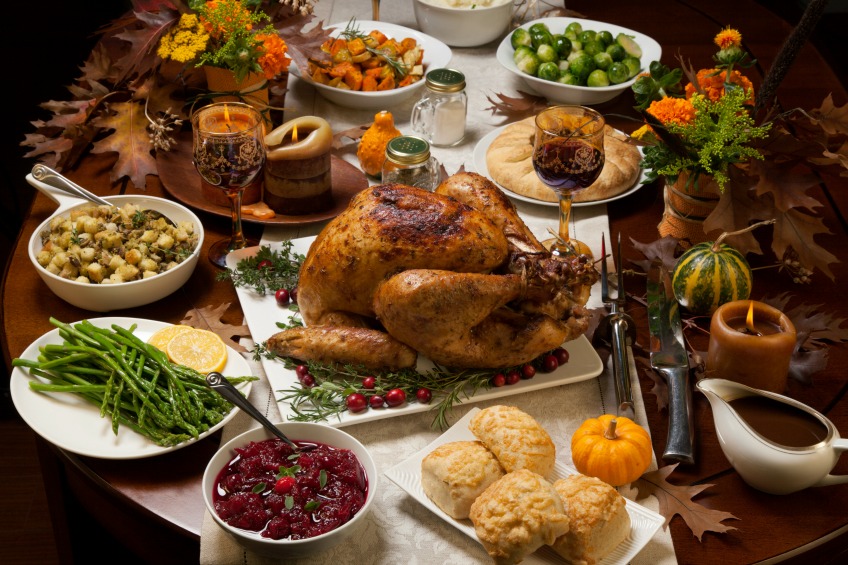 Photo Credit: Winerist 
The classic Thanksgiving menu of turkey, cranberries, pumpkin pie, and root vegetables is based on New England fall harvests. Below you will find a few other suggestions on how to make traditional Thanksgiving specialties!
Green Beans with Shallots – To make this twist, blanch the beans on Thanksgiving morning and, for the hazelnut variation, toast the nuts a few days ahead (substitute almonds if you prefer).
Squash Soup with Cumin – We roast the butternut squash until fork-tender before adding it to this spicy and smooth twist.
Vegetable-Herb Stuffing – Free up your oven for pies and the turkey on Thanksgiving Day by toasting the bread cubes in this classic dish up to 1 week ahead.
Maple-Cranberry Sweet Potatoes – Sophisticated syrups focus the flavour of this no-fuss classic side dish which can be assembled the day before.
Brussels Sprouts with Pancetta and Rosemary – For sweet, delicious sprouts, simply avoid overcooking. We briefly blanch the sprouts early in the day and sauté them to reheat and add flavourings just before serving this delicious twist.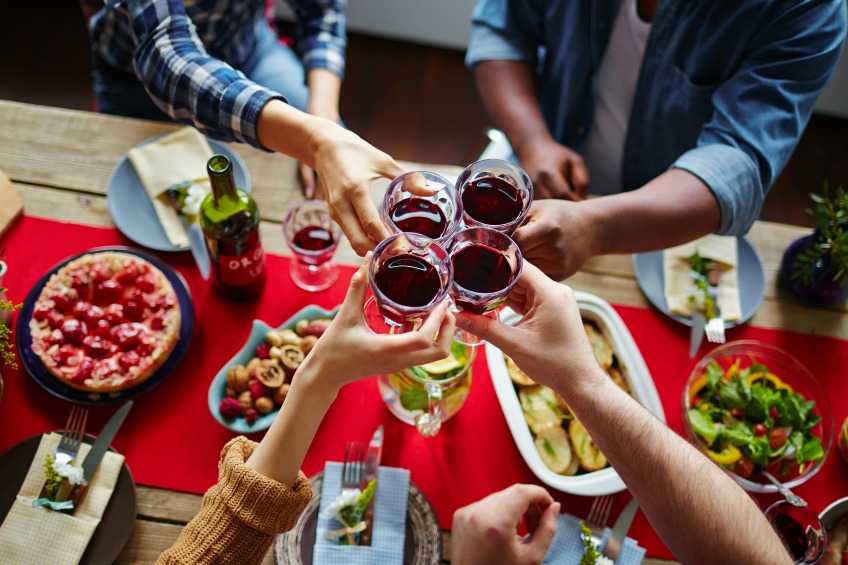 Photo Credit: Winerist
THANKSGIVING WINE 
Thanksgiving lasts a whole day. If you are drinking wine, it is recommended to have varieties and different styles that you can drink throughout the celebration.
Gary Vaynerchuk, author of Gary Vaynerchuk's 101 Wines: Guaranteed to Inspire, Delight and Bring Thunder to Your World picked a list of wine that can perfectly pair with your Thanksgiving dinner. So let us know what you think!
Valdesil Montenovo Godello from Spain and the Tiefenbrunner Pinot Bianco from Italy which are light and fruity and a bit more adventureous
Hortus La Bergerie Blanc and Albrecht Gewürztraminer Reserve from France tend to be more friendly with the food than the aforementioned two whites
Clone 5 Pinot Noir from California, Starry Night Lodi Zinfandel and the Bacio Divino Pazzo, an Italian-style wine made in California – these will sing perfectly with food
THANKSGIVING POP CULTURE
If there is one day in which food and family get together and food and family take centre stage it's Thanksgiving. Thanksgiving is always the busiest travel day of the year to travel in the United States. American families celebrate with friends and family: they get together, connect with the loved ones, express gratitude and nostalgia for a simpler time and share family time watching parades or the NFL football game.