The Quinta do Noval estate – with its white-walled terraces dating back almost a century, and situated high above the town of Pinhão, part of a UNESCO World Heritage site – has always been at the frontier of the Port industry. First registered in 1715, back when jolly St Nick was still sporting green robes, the Quinta is known for respecting heritage while keeping one eye firmly on the future.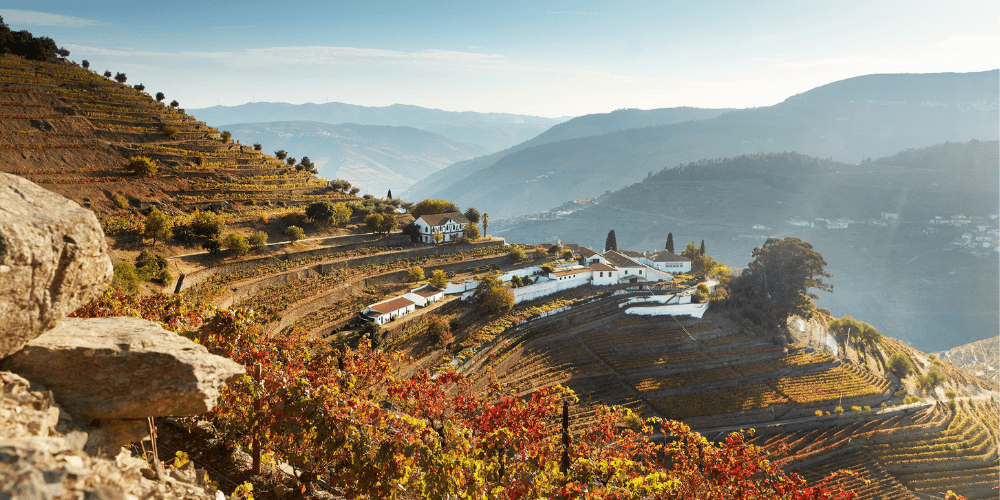 Photo credit: Quinta do Noval – S. Chapuis – 2018
A long line of innovation can be traced through Noval's history; from the release of one of the first Late Bottled Vintage (LBV) Ports with the 1954 vintage, through to the launch of Noval Black Reserve, a new-age port style to be enjoyed chilled or used as a cocktail ingredient – and the recent introduction of award-winning red and white tables wines, some including specially-planted international grape varieties.
Historically, and before the advent of air conditioning, picturesque sailing boats called barcos rabelos were a commonplace sight, bringing wines down from the quintas and vineyards along the River Douro to lodges in Vila Nova de Gaia. In this town, on the south bank of the river and facing Porto to the north, is the commercial heartland of Port's wine industry. With warehouses dotted about the landscape, it is here where the Port is traditionally matured due to the river's moderating and cooling influence.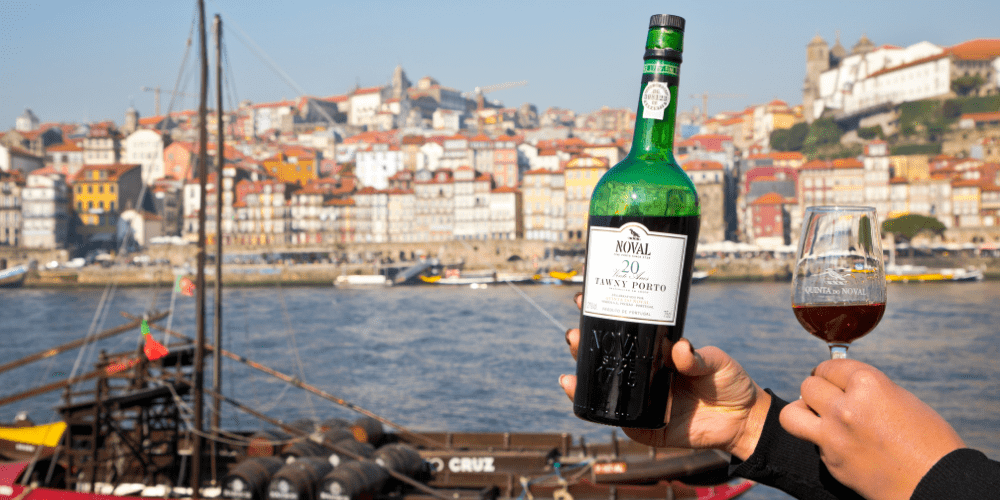 View from outside the Villa Nova de Gaia tasting rooms. 
Not so for Quinta do Noval, who are one of the few producers in the region to blend and age their Ports beside the land where the grapes are grown in the Pinhão Valley – in huge air-conditioned cellars carved into the hillside below the vineyards. So now both the historic warehouse in Vila Nova de Gaia and one of the old cellars in Pinhão have been converted into tasting rooms, shops and 'places of discovery' for visitors and lovers of port.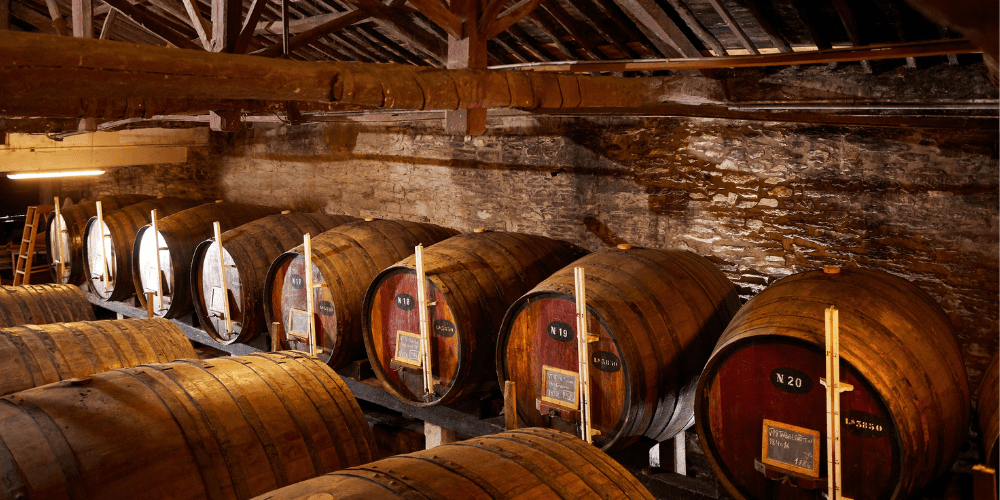 Photo credit: Quinta do Noval – S. Chapuis – 2018
In Vila Nova de Gaia – just Gaia to the locals – visitors to Noval's tasting room can sample a range of Noval's ports, as well as indulging in a festive Port and chocolate pairing with chocolates produced especially for the Quinta. And all the while, the knowledgeable staff will take you through the history of this much respected Port House.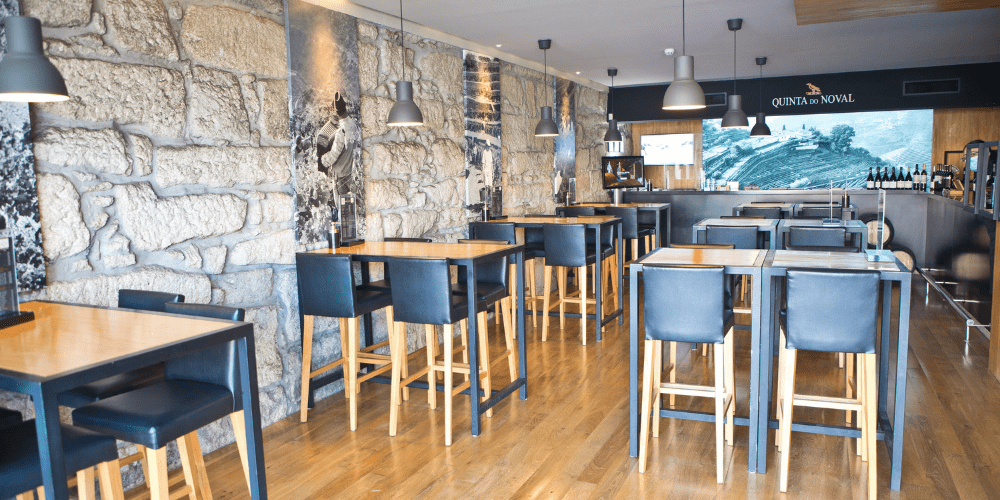 Inside the Villa Nova de Gaia tasting rooms. 
Some 130km to the west, upriver in Pinhão, Noval's brand-new, two-story visitors' centre is set beside the waterfront of the River Douro. Here guests can taste a range of both still and fortified wines including some iconic vintages and take part in an immersive experience which includes a specially-shot video for a true taste of the terroir and unique character of the Quinta do Noval estate.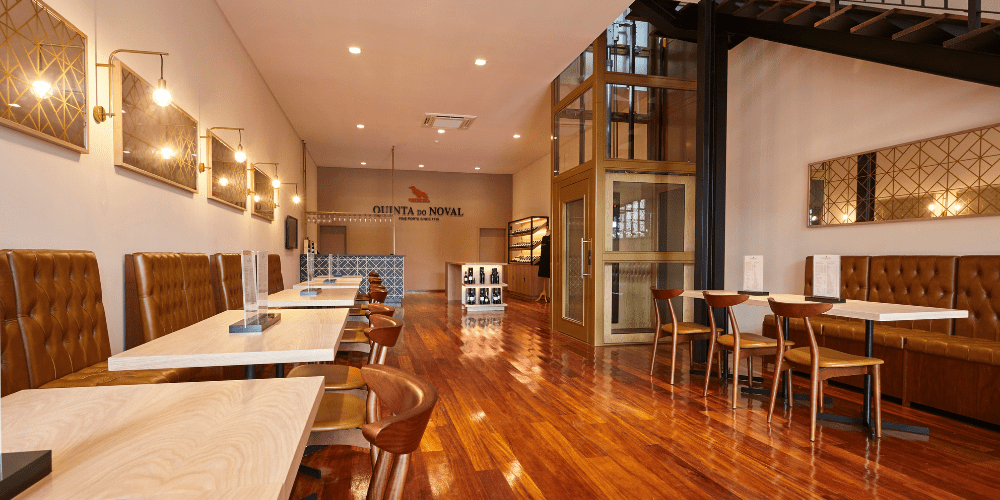 Inside the Villa Nova de Gaia tasting rooms. Photo credit: Quinta do Noval – 2020
This trend towards forward and creative thinking however does nothing to stem the Quinta's faithfulness to tradition. From the beginning of the Port wines' journey – trodden by foot in traditional stone lagares – to the finish, when vintage Ports are sometimes opened up using heated port tongs to avoid the risk of a crumbling cork. Another practical and age-old tradition.
This tong technique does mean guests need to imbibe the bottle in one sitting, but with the notoriously friendly Portuguese disposition they wouldn't want it any other way.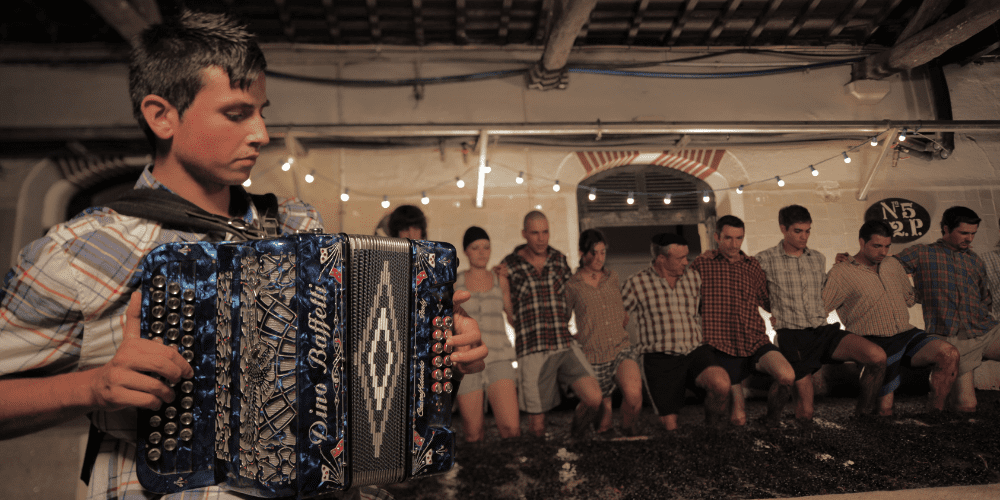 Photo credit: Quinta do Noval – 2010 – photo: Pulsive
Get-togethers are a big part of life here, especially at Christmas, with the festive season incomplete without everyone gathering around and tucking into a Bolo Rei or King's Cake. Eaten between Christmas day and Epiphany on 6th January, this brioche textured, wreath shaped delight is enriched with lashings of nuts, raisins, crystallised fruits and garnished with port-infused glace cherries. Hidden inside is a dried fava bean and gold coin – the recipients of which are bestowed with either good luck or made to buy next year's cake.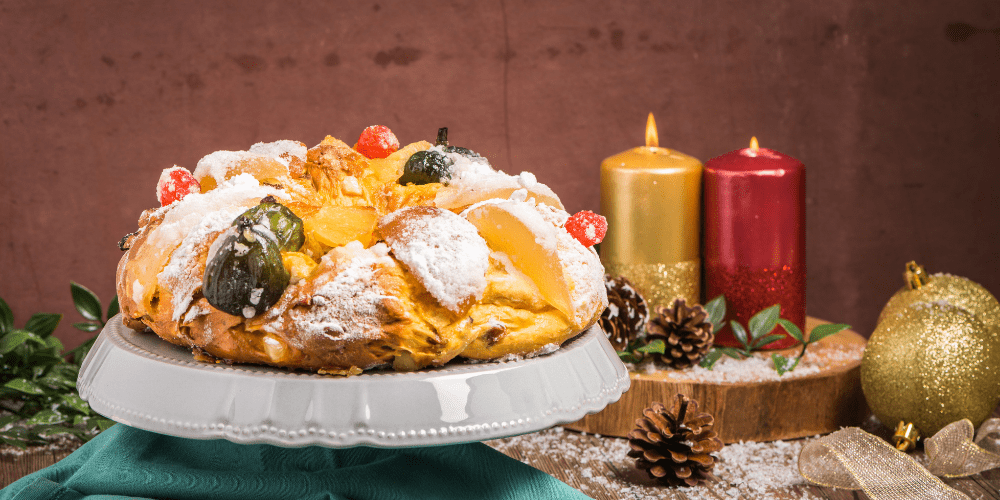 It is often said that 'you have to taste a culture to understand it' so to truly involve yourself, if you are in Porto, contact Quinta do Noval to pre-arrange a tasting of a selection of Noval's Ports for the festive season, and including almonds, cheeses and local charcuterie.
How to visit
Vila Nova de Gaia Tasting room and shop
Open: 7 days a week

From October to May: 10.30am – 6.30pm




June, July and September: 11am – 8pm




August: 11am – 10pm
Address: 256 av. Diogo Leite, Vila Nova de Gaia
Contact: Rosario Freitas / Phone: +35 22 377 02 82 / rosario@quintadonoval.pt
Pinhão tasting room and shop
Open:
November to Easter: 10.30am – 1pm / 2pm – 7.30pm | Closed Sunday and Monday

Easter to October: 10.30am – 7.30pm | 7 days a week
Address: 15 Rua da Praia, 5085 Pinhão
Contact: Paula S. SILVA / Phone: +351 259 104 194 / lojapinhao@quintadonoval.pt
---
*Photo credit hero image: Quinta do Noval omdesign 2018