Like a charming antique piece of jewellery kept covered and out of harm's way discovered deep in the depths of your grandmother's jewellery box, the 1971 vintage Blended Scotch Whisky from the esteemed The Last Drop is set to take you on a timeless tasting trip to the past. The multi-decade maturation process on this bad (or shall I say old?) boy means there's only a handful of bottles available.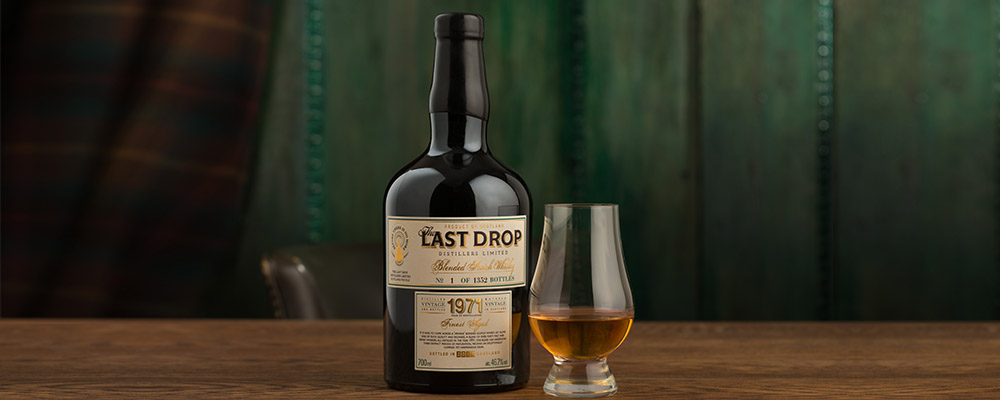 All the spirits found within the 1352 bottles were distilled in 1971 and over the course of the next 4.5 decades, they were slowly transformed into this incredible whisky. In 1983, the liquid was sufficiently aged, then blended as a 12 year old, according to the style and traditions of the time. The resulting flavour is classic in its old-fashioned smokiness and complexity. After bottling, some of the whisky was then placed into 11 ex-Oloroso Sherry butts for another 9 years before most of it was bottled as a spritely 21 year-old blend. In a similar manner, the remaining whisky was transferred into oak barrels and this time left to slumber for 24 years. At the ripe old age of 45 years, this wise and complex blend was bottled for the final time. Fruity, woody, spicy and smoky, your palate will savour every last drop.
RRP £3000
Twitter – Website – Stocklists
If you enjoyed this feature, then find out more about the other types of whisky The Last Drop has to offer here. If other spirits appeal more then you can read about the Tawny Port that is older than the Titanic here and if you want to know what else is on offer then this feature is for you!