If you've recently spent time perusing the wine aisle of any respectable supermarket, chances are that you'll have encountered the bold and beautiful Art Nouveau-style labels that are the hallmark of Les Dauphins.
The Les Dauphins brand is inspired by the early 1920s, a time when Paris was enjoying a glorious period of post-war decadence known as Les Années Folles (The Crazy Years!). Art, literature, cinema and music were thriving in France's capital, drawing in the crème de la crème of artistic talent – James Joyce, Picasso, Dali and Ernest Hemingway all spent time in the city.
As we all know, if there's one thing that these creative minds loved, it's a drink; and so, a number of family winemakers from the Dauphiné region of the Rhône Valley joined forces and began to make 'delicious wines that fuelled the creative revolution in bistros across Paris'. The Dauphiné supplied countless Parisian restaurants, and became extremely popular thanks to the exuberance and versatility of their wines, which paired beautifully with classic French bistro dishes.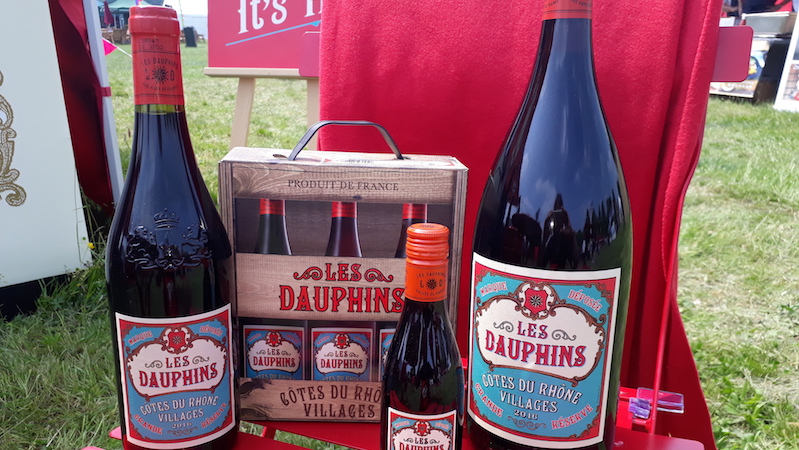 Le Spirit de Convivialité
Fast forward to the present day, and Les Dauphins continues to uphold this legacy of excitement and creativity with their fabulous portfolio of excellent red, white, rosé and sparkling wines from vineyards in the Southern Rhône. Headed up by talented winemaker Guillaume Valli, Les Dauphins favours those traditional grape varieties that have inspired our palates for generations; Grenache, Syrah and Mourvèdre. The result? Beautifully balanced, energetic and fruit-driven wines that are the ultimate accompaniment to quiet evenings in and special occasions alike.
A Worldwide Success
The worldwide popularity of Les Dauphins has not gone unrecognised. The wines have received a whole host of accolades, including Rhône Winery of the Year at the 2016 New York International Wine Competition and a Gold medal for their 2014 Côtes du Rhône Villages Puyméras at the UK International Wine Challenge – as well as a plethora of other Silver and Bronze awards!
Les Dauphins has even been selected to provide their special brand of convivialité at some truly star-studded events, chosen by British GQ to be the wine du jour for the London Fashion Week closing dinner in January 2018. A glittering guest list including Rita Ora, Idris Elba and Liam Payne (not to mention a familiar face or two from the Winerist team!) enjoyed a selection of Les Dauphins wines, including their excellent new Blanc de Blancs Sparkling wine, alongside a menu from award-winning chef Jason Atherton.
Les Dauphins has it all – innovation, inspiration and, most importantly, some really rather excellent wines. If you want to capture a little bit of that classic French joie de vivre, here's a few of our Les Dauphins favourites to get you started …
Sparkling Blanc de Blancs NV
One of the newest wines in the Les Dauphins range, this elegant sparkling wine comprises a blend of three classic Rhône grapes; Marsanne, Roussane and Viognier. The grapes are harvested at night in order to optimise the delicious aromatic qualities of each variety. The meticulous process creates a sparkling wine with delicate notes of white peach and citrus, with subtle minerality and a crisp, refreshing finish.
Côtes du Rhône Réserve Rouge
This outstanding red has won an impressive number of awards, including Silver in the International Wine and Spirits Competition three years in a row and a Gold at the Texsom International Wine Awards. A classic blend of Syrah, Grenache and Mourvèdre, this vibrant young red delivers a sumptuous hit of ripe red fruit, accompanied by just a hint of cinnamon spice and soft, smooth tannins. It's incredibly good value for money and is particularly good when accompanying a juicy steak!
Côtes du Rhône Réserve Rosé
A delightfully easy-drinking rosé which is matured for 2 to 6 months to produce a perfectly pink and fabulously light-bodied wine. The flavours are sophisticated and refreshing, with notes of citrus and summer fruits (think strawberry and red cherry with a hint of green apple) that linger gorgeously on the palate. This wine needs no food pairing to back it up and is delicious on its own – the perfect accompaniment to summer sunshine.
Les Dauphins Blanc de Blancs NV – Waitrose £12.99 (currently 25% off at £9.74).
Les Dauphins Côtes du Rhône Villages – Waitrose £9.99 (currently 25% off at £7.49).