Graham's is probably one of the most well known of all Port brands. Made by the Graham family in the Douro Valley for over 200 years, this British family was one of the first to invest in their own vineyards. However, while Graham's Port was sold to the Symington family some years ago, descendants are once again producing high quality Port back where it all began.
Where Churchill's Port began
In 1981, John Graham, set out to make exclusive and exceptional Port his way, the traditional way, under his new label, Churchill's. Named after his wife (no relation to Winston), it was the first Port wine company to be established in over 50 years. Further development came in 1999, when they bought their first solely-owned vineyard at Quinta da Gricha; an important step in the production of high quality vintage wines and toward obtaining a grade A classification.
Now in their 37th year, Churchill's (relatively) small production allows them to continue traditional methods of production, such as foot-treading the grapes, which is best for not breaking the pips and thus imparting bitterness. They employ natural fermentation, which provides excellent structure and they use as little brandy as possible in order to better show off the fruit and create balance. Since its first year of production, Churchill's has declared an amazing 11 vintages.
Private Port Wine Tasting Tour in the…
From €190 / person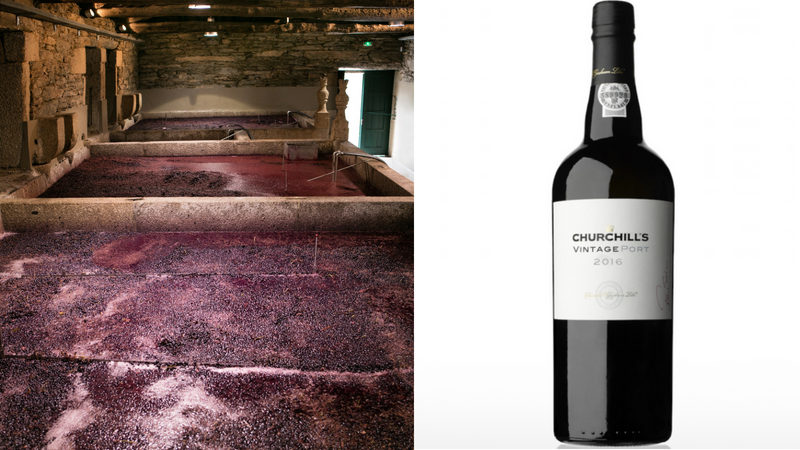 2016 Churchill's Vintage Port
Their latest release, the 2016 Vintage Port, has intense dark colour that sets off rich aromas of blackberry and spice, along with an elegant palate of dark red berries, plums and chocolate with a slight tone of green tea on the finish. It is a beautiful thing, but like all fine Port, you will want to hold on to it for another 15-50+ years before it offers its true magic to you.
And it's this longevity of Port and the resulting changes in the bottle that gives aficionados goosebumps. I recently had the opportunity to try a few of Churchill's earlier vintages: they are still available in fine wine shops and are worth seeking out, especially if (like me) you enjoy collecting.
A mini guide to recent vintages of Churchill's Port
Churchill's 2014 was a difficult weather year and no other Port maker declared 'Vintage' except Churchill's and Quinta Noval. It is highly tannic and still needs time to mellow, but, John believes this vintage will surprise people as it ages. It has structure and grip but with wonderful fruity quality. This vintage will continue to develop in the bottle and will peak between 2049 and 2059.
Churchill's 2011 is an iconic vintage that has a wonderful acidity and structure with complex flavours of delicious berry pie, an intense colour, but, with a surprising overarching freshness. This vintage is my pick for the 'long haul' peaking from 2038 to 2048.
Churchill's 2007 is approachable now but can easily age and gain even more elegance in another 30+ years. It has a wonderful lavender floral character with lingering tannins. It will be better approachable by 2027 but will peak after 2042.
Churchill's 2003 has a big ripe character with good acidity and a long finish and will likely peak when it is closer to 2038-2048
Churchill's 2000 is the first vintage from their own growth. It is intensely dark, almost purple in colour. It has great tannic structure and acidity with baked berry aromas for a rich and complex palate. Peak drinking will be 2030-2045.
Churchill's 1997 has maintained a deep brick red colour and a lovely freshness with hints of mint and good acidity. This is John Graham's favourite and is approachable now, but will be best around 2027–2037
Churchill's 1994 is a ripe, full-bodied powerhouse vintage. It still has its deep colour with strong black cherry aroma and complex flavours of concentrated fruits. Expect it to peak from 2024 to 2034.
Stockists for Churchills Port in the Uk include:
Appellations Ltd  
Farr Vintners and  
Fine & Rare  
Firth & Co Wine Merchant, Northallerton
St Andrews Wine Company, Fife
Want to check out the Port houses for yourself? Why not take a premium tasting tour around the Douro Valley, stay in a Quinta or do a gourmet walking tour of Porto? The choice is yours. Cheers!
3-Day Walking Port Wine Tasting Tour in…
From £429 / person