When an exciting, new English chef asks to do some food and wine matching at your winery, you don't turn them down. And when Armand de Brignac offers you a private cellar tour with champagne tasting and a Michelin-starred private dinner with matching wines, you don't turn that down. Here's what happened when Sven-Hanson Britt went to Armand de Brignac.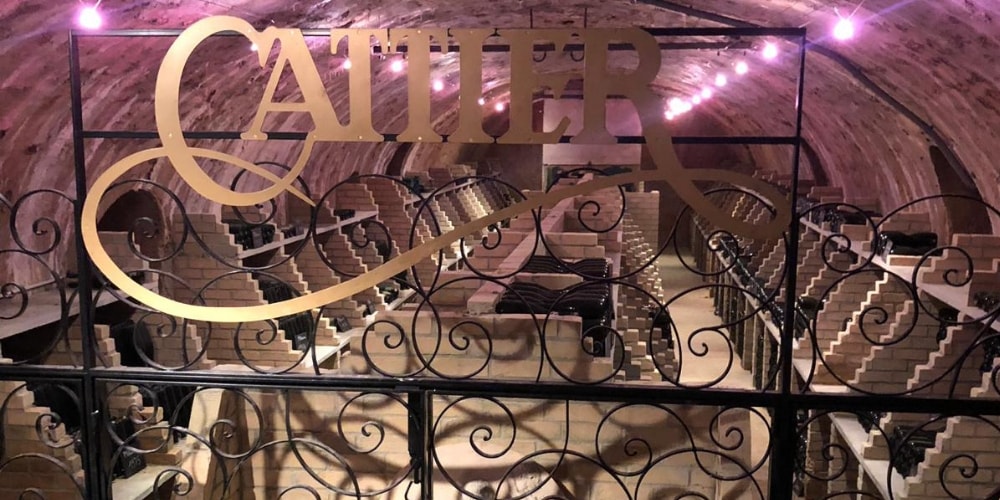 The beautiful, family run hotel 'L'Assiette Champenoise' in Reims is tranquility personified – just what was called for after what had already been a long year. It was only a few minutes after our arrival at the hotel though, that we had to leave again to make our 6 pm appointment with Pierre-Alexandre at Maison Cattier in the town of Rilly la Montagne. I feel a little guilty about disclosing this location as they did such a good job hiding these cellars during the second world war. Their secret stash of vintage champagnes and more importantly, their local members of the resistance, were fortunately never found during that time. Some of these beautiful old bottles are on display as you work your way into the chalk-lined depths of the beating heart of Cattier.
A walk through the cellars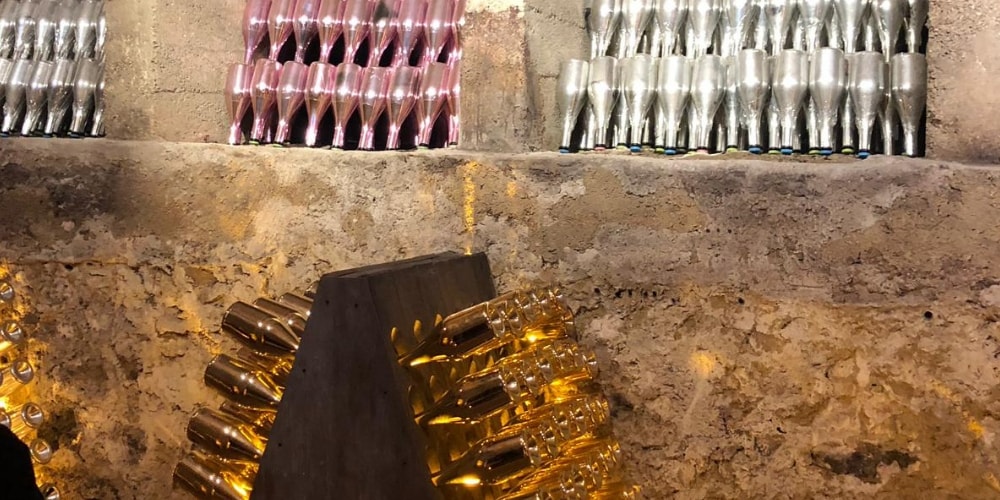 Pierre-Alexandre (we called him 'PA' at his insistence), gave us an incredibly informative tour through the cellars. He was extremely knowledgeable about the history of Cattier but as I'm sure you can guess from the title of this article, it wasn't the Cattier champagnes that we were there to see. We snaked our way through the labyrinth of tunnels and barrels, passed through a locked iron gate, for which we needed a giant key and eventually, came to a set of steps carved into the subterranean rock that lead towards a shining light.
As we neared the top of the stairs, we entered a secret room full of golden bottles all at various stages of ageing. These were the infamous bottles of Brut Gold: Armand de Brignac's first release. We were introduced to the brilliant tones of AdB's various cuvées as we made our way to the tasting room. The shine of purples, pinks, silvers and golds reflected off the chalk ceilings as I had my first sip of the brut. Apparently, 'someone' got married in this room. We weren't allowed to ask any questions about that.
The desire behind Armand de Brignac champagnes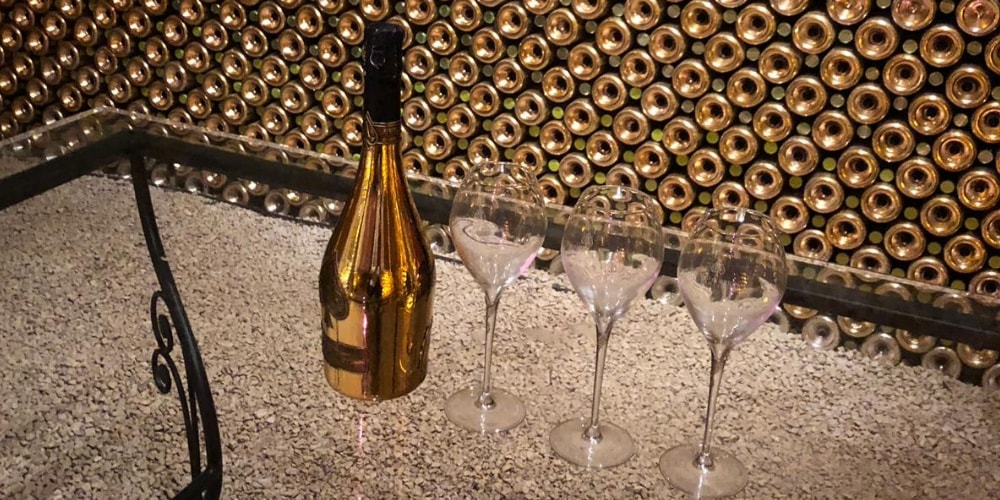 There's something so atmospheric and unique about standing in a cave; the cool smell of damp chalk and the silence. It certainly makes the champagne taste more special, but on this occasion, I don't know if that was possible. We were tasting an idea born out of the desire to create the greatest vintage champagne in the world. Only the first, gentle pressings are used for the Brut Gold, from grapes that hail from the very best plots. The blend is from a trio of the great vintages, which in this case were 2009, 2010 and 2012. The attention to detail and desire for perfection at every stage is phenomenal and the more we heard about the passion that went into this wine, the more we realised that its golden (hand fitted) label was hiding something incredibly special inside. This is a champagne that doesn't need the bold, brash frontage. It could be label-less; unaffiliated with the insta-famous – and people would still be queuing up for more.

We left the caves and followed PA back to Reims to L'Assiette Champenoise; not because our experience with Armand de Brignac was over, but because it had only just begun.
PA and his team had arranged for the incredibly talented, three Michelin star Chef Arnaud Lallement to create a bespoke menu for us that complemented the Armand de Brignac champagnes that we'd seen nestled into the rock of the Cattier cellars.
The tasting, lead by PA was incredible. The first wine opened was a magnum (2 bottles worth) of the Brut Gold. In fact, all the champagnes we tasted were from magnum. I'm sure the sommelier team at L'Assiette Champenoise had a great time that evening with everything we couldn't drink!
What to eat with Armand de Brignac champagne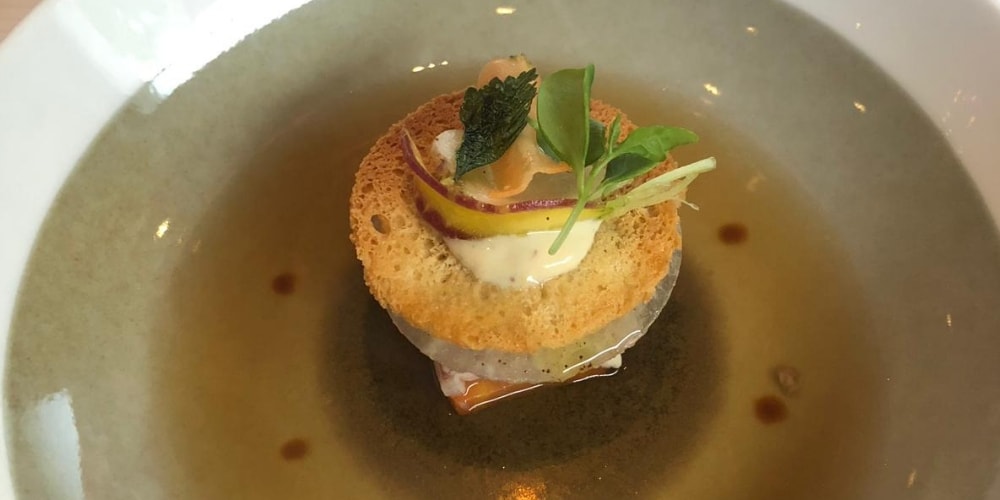 We had canapés and snacks in the garden with the Brut gold, my favourite of which were the super light parmesan crisps whose biscuityness was wonderful with the crisp, toastiness of the Brut. The first course of the dinner was a 'Potage Champenoise': the classic, homely, peasant soup consumed all over the region. This interpretation was, of course, a refined version but still had a main flavour of turnip which, strange as it sounds, mirrored something in the champagne. It was absolutely delicious. The rosé arrived and was poured to accompany a new dish to the menu. It was a tomato and herb salad with flowers and a tomato essence on the side, served in a champagne glass. Alternate sips of intense tomato and crisp rosé champagne made a wonderful palate cleanser. The next course was one of the best wine pairings I've ever had, but you wouldn't think so to look at it on paper: a bowl of green bean mousse arrived next, with the tiniest whole haricot vert sat on top. This was a dish created just for us that evening after Monsieur Lallement tasted the Blanc de Blanc. Chef was spot on; it was a simple dish, perfectly seasoned and flavoured that allowed a phenomenal wine to shine.
World class wine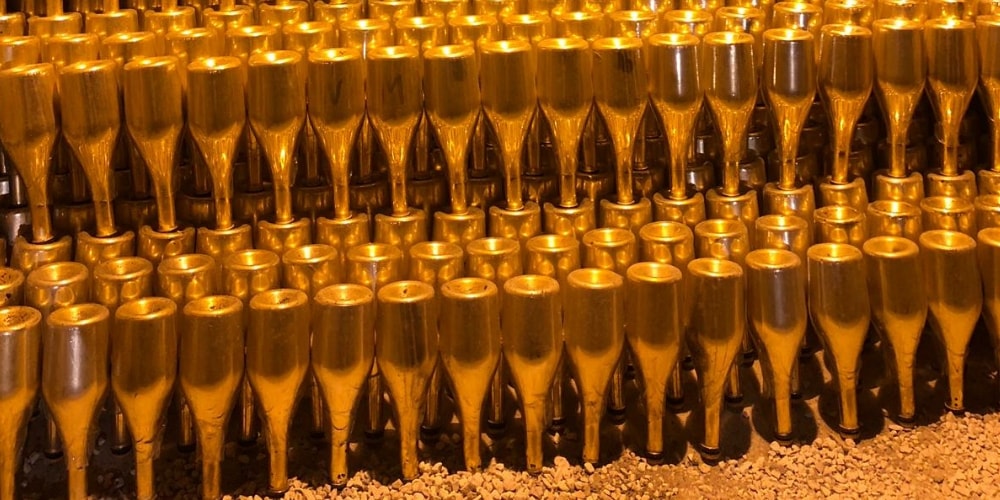 After a couple of other savoury dishes, we had the challenge to see which champagne we preferred to accompany the various desserts. For me, it had to be the crisp and lively demi-sec with the raspberries.
The Armand de Brignac wines are incredibly complex, yet with a light touch. They were here to support our dining experience and they did just that. They were delicate when needed but held up to some of the strong flavours that were on the menu, with rich aromas and diverse flavours – all the things you want from a prestige champagne. Those flavours in the various glasses don't give up too soon either. I can still taste the brioche and smell the chalk caves now, just thinking about them.

Half way through our dinner, Pierre Alexandre introduced me to my new favourite saying, as he noticed my surprise at all the magnums that we'd opened:
"Here in Champagne we have an expression," he said. "If there are two of you, and one of you isn't drinking, then a magnum is just about enough".
I laughed and noted that one down. Another cork popped on yet another magnum.
There were only three of us.
For more information on Armand de Brignac, go to www.armanddebrignac.com. And if you fancy your own spectacular wine and food experience with Armand de Brignac, they have some dinner experiences En Magnum for you. Here's what they are offering:
Dinner en Magnum: Champagne Armand de Brignac and L'Assiette Champenoise
Three Michelin-starred chef Arnaud Lallement and Champagne Armand de Brignac debut three luxury tasting menus featuring the prestige Champagne's Brut Gold, Rosé and Blanc de Blancs in rare magnum format, exclusively available at the five-star, Relais & Châteaux hotel L'Assiette Champenoise.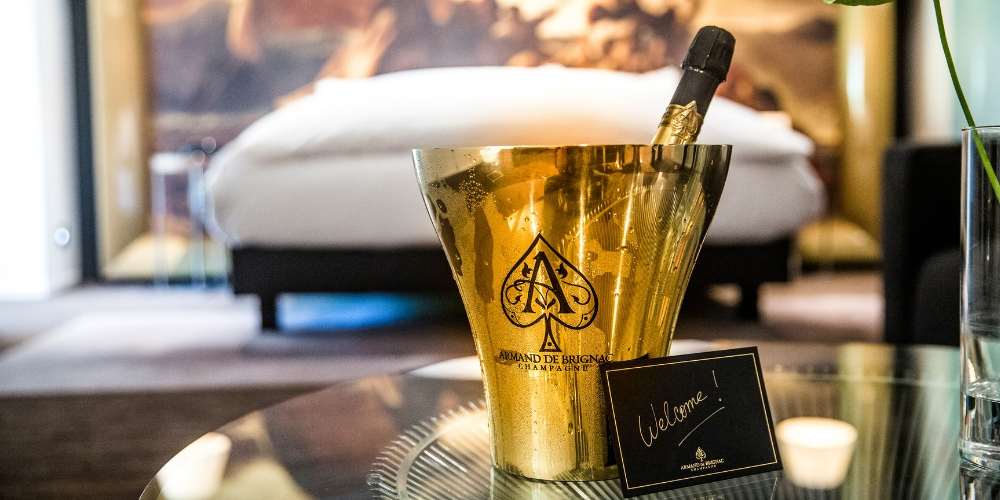 Inspired by the longstanding friendship between 13th-generation winemaker Alexandre Cattier and Gault et Millau guide's 2014 Chef of the Year Arnaud Lallement, the three, five-course menu pairings represent the ultimate gastronomic experience and are a deeply personal representation of their shared passion for exemplary French cooking and the art of winemaking. The three menus include:
The Armand de Brignac Brut Gold en Magnum (a trio of 2009, 2010 and 2012 vintages) menu featuring Chef Lallement's take on Potée Champenoise, a culinary specialty of the Champagne-Ardenne region, as one of five seasonal dish pairings. €400 (£352) per person.
The Armand de Brignac Rosé en Magnum (a trio of 2009, 2010 and 2012 vintages) menu featuring Chef Lallement's Blue Lobster as one of five seasonal dish pairings. €500 (£439) per person.
The Armand de Brignac Blanc de Blancs en Magnum (a trio of 2005, 2006 and 2008 vintages) menu featuring Chef Lallement's Langoustine Royal, Nage crémée and Citron caviar as one of five seasonal dish pairings. €600 (£527) per person.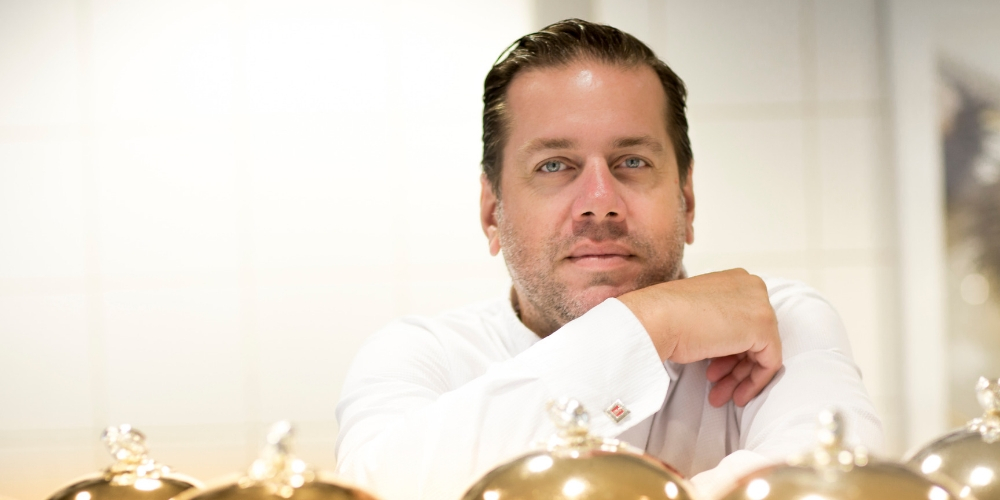 Each magnum experience features five exceptional dishes, including a signature dish and four rotating dishes based on seasonality and Chef Lallement's inspirations. The rare magnum formats are aged longer than the 750ml expressions, adding even more depth and complexity to these prestige cuvées. A highly rare champagne produced with 100% Chardonnay, the Blancs de Blancs en Magnum is the newest release from the collection in 2018 with less than 1,000 bottles created. The five-star L'Assiette Champenoise is one of the only fine dining restaurants in the world to carry Champagne Armand de Brignac's rare, large-format bottles.
The menus must be booked for a minimum of two guests in the party, and include one magnum of the cuvée throughout the meal. The magnum experiences can be booked as a standalone experience (starting from €400/£352 per person), or as part of a luxury package including one-night accommodation in a Terrace Suite, breakfast, luxury car transfers from Paris or Reims TGV station and an exclusive behind-the-scenes tour of Champagne Armand de Brignac's family-owned winery and historic chalk cellars, which are closed to the public year-round (from €2,500/£2,197 for two).
Book your experience directly here.
Want to do a wine and food tour in Champagne? Click here to find the perfect one for you! If you fancy knowing more about Champagne, explore it with our Travel Guide! Find out here what are the key styles of Champagne!