Let's admit it. We've all had a challenging year, followed by a busy period of cherishing friends and loved ones, and reviving our social life. All of which has involved a few alcoholic drinks.
In recent years, many of you have been in touch about alternatives to alcohol, from mocktails and non-alcoholic beer to vitamin boosting drinks and sleep improving tipples. So, as it's Sober October, we felt there was no better time to get busy with some research!
One thing is certain; it's easy to get overwhelmed with the amount of choice in this rapidly growing market. From 2017 to 2019, the UK's volume sales of non-alcoholic spirits grew by 169.7%! And, the low- and no-alcohol market is expected to continue it's boom with a projected volume growth of 22% in the UK by 2024.
Another thing that we learned is that it is extremely fun to experiment at home with so many options of low alcohol, Vitamin B12 enriched, fiery ginger mocktails. They taste and look great. What's even better, is that you can do Sober October while raising money for charity. Macmillan Cancer Support's Go Sober This October fundraising campaign offers a wealth of inspiration, especially if you're going alcohol free for the first time.
Putting the product to the test
So in the name of charity and also for research, we're bringing you some of our favourite non-alcoholic drinks to celebrate Sober October. If you're the designated driver, want to switch between your usual tipple and a tasty non-alcoholic alternative or want to cut out alcohol altogether, here are the Winerist team's pick of the non-alcoholic drinks that still offer the taste, quality and fun of a grown up drink but without the baggage of an accompanying hangover.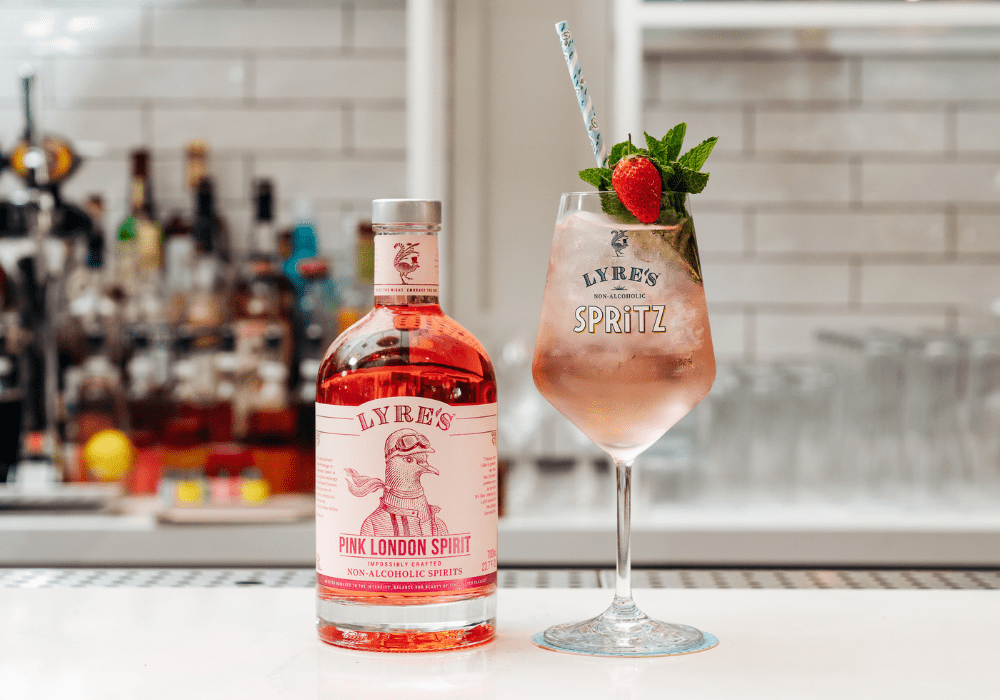 Lyre's pride themselves on creating "the finest range of non-alcoholic classic spirits the world has ever seen". Working with the world's most recognised sommeliers, they spent three years crafting their spirits to taste just like the classics they pay homage to. So the amazing thing is that they look, taste and smell just like the original. And with all the classic spirits represented in their range, practically every cocktail on the planet can be recreated and enjoyed in a non-alcohol fashion. Over a short period, the brand has picked up more awards than any of its competitors becoming the most awarded non-alcoholic spirit brand in the world!
Our choice: We chose the Lyre's Pink London Spirit; drawn by its beautiful pink colour and the fact that it claims to capture the essence of a pink gin, the spirit market's current darling. And frankly, what's not to love about a pink gin.
The taste: We noted rose, cherry, red berry and blackberry with a rich flavour and delicious hints of rose petals on the nose. The presence of juniper delivers a generous gin focused finish.
How we enjoyed it: We mixed it with elderflower tonic, ice, a slice of cucumber, orange and strawberry to create a summer spritz cup. It was delicious, super refreshing and amazingly tastes like a real grown-up drink. If gin, or pink gin is your thing then this is the go-to drink for you.
The facts: Pink London Spirit is gluten free, vegan, contains no artificial ingredients and has just 11 calories per serve!
Where to buy: Good news for all, Lyre's can be bought and shipped all around the world. Visit lyres.com and select your country. For residents of the UK, you can enjoy an exclusive 20% discount on their Pink London Spirit using code WINERIST20. (See full Terms and Conditions below).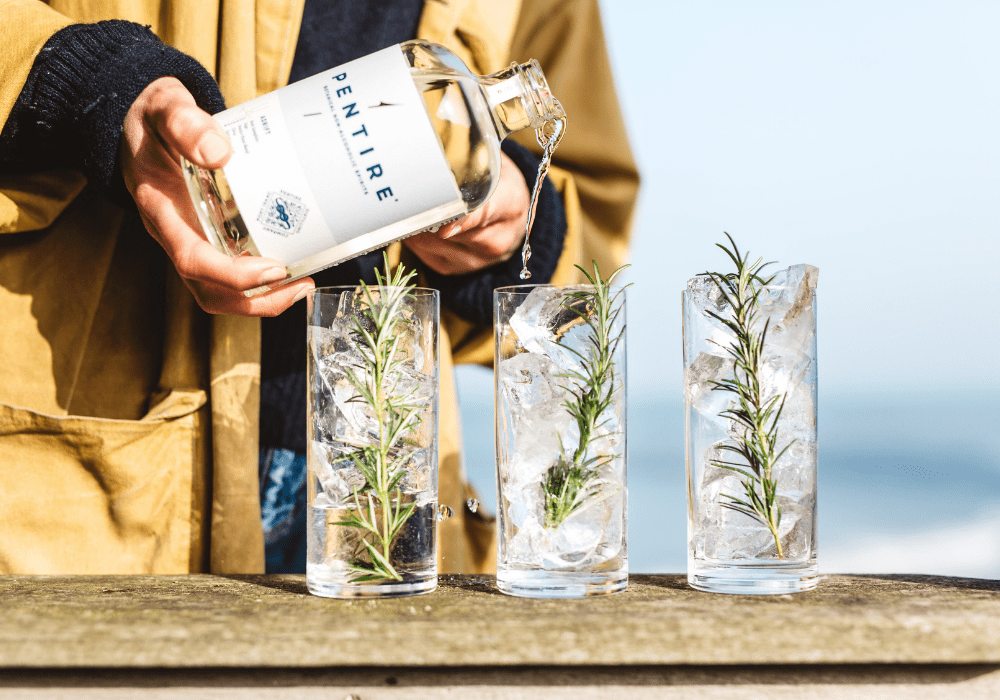 Founded on a love for coastal living, Pentire's founder wanted to bottle that experience and create a drink that captures the unique botanical range on local headlands and the flavours they deliver. Extensive research and collaboration with local botanists, distillers and mixologists on the Cornish coast brought to life their beautiful range of unique non-alcoholic spirits. Their spirits are not meant to taste like your usual tipple, they're crafted to be an alternative drink with a flavour profile of their own making. Pentire aspires to bring pleasure to those that consider wellness to be the source of adventure, celebrating the magic of early mornings and the power of a clear mind. Cheers to that!
Our choice: Pentire Adrift is their original botanical non-alcoholic spirit. We chose it because it's positioned as their 'easy drinking' option. And, there's nothing like getting to know the essence of a company's offering than by sampling the product that brought them into being.
The taste: Adrift is crisp, herbaceous and fresh. We noted citrus and sage, with rock samphire and sea salt which gives it a rounded herbal finish. A seriously grown-up drink to enjoy at the end of the day.
How we enjoyed it: We mixed it with Indian tonic, ice and a garnish of lemon and rosemary.
The facts: Pentire Adrift is vegan and 100% plant-based. It's just 4 calories per serve! And there's more good stuff. They use plastic free-packaging, carbon neutral delivery and they take their commitment to supporting the environment very seriously.
Where to buy: Hop on to pentiredrinks.com to pick up your bottle of the Pentire Adrift if you're in the UK. Outside of the UK, you can find your local stockists here.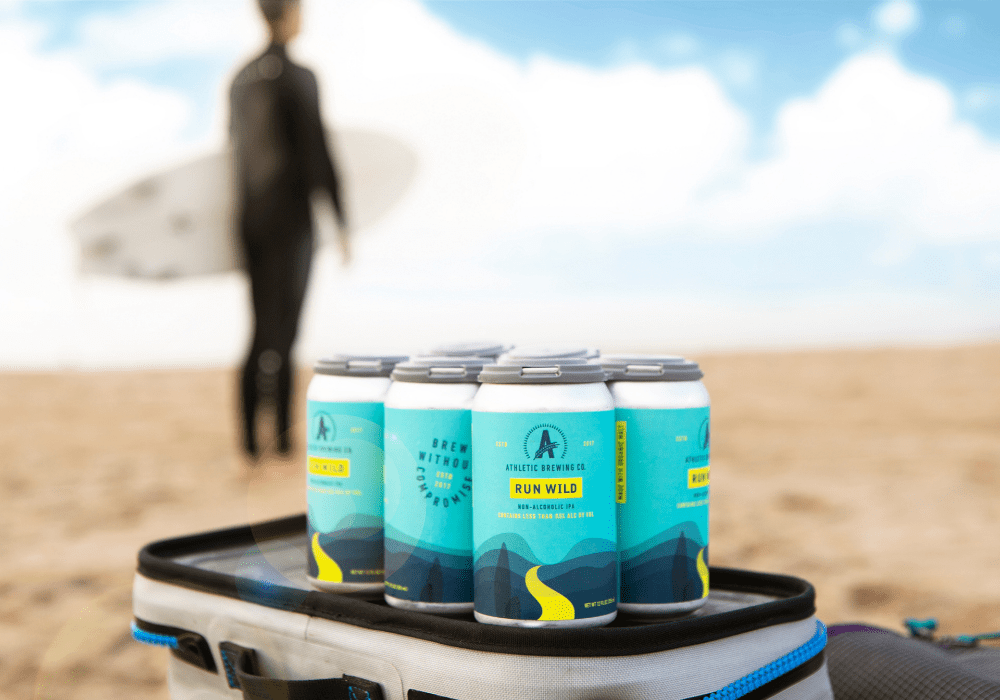 US based Athletic Brewing Co was founded in 2017 by a former finance professional and ultra-marathon runner, and a highly accomplished and awarded craft brewer. With a shared passion for an active lifestyle and a love of craft beer, they wanted to create a non-alcoholic drink that could naturally become part of their lifestyle, without compromising on taste and the overall drinking experience.
With limited offerings of non-alcoholic beer on the market, they found that all the industrial technologies being utilised for non-alcoholic beer production were at least 30-40 years old, with no hop flavour or aroma, and lacking true craft character. So they set out with the idea that their beer needed to be fully fermented without an industrial process and an artisanal approach. The result; super sessionable beer that was fully fermented and conditioned to under 0.5% ABV.
Our choice: They produce a wide range of non-alcoholic beers but our pick is the original Run Wild IPA. Why? Well, if the multiple-awards it's won, plus it's claim to stand shoulder to shoulder to alcoholic beers wasn't enough to convince us, the fact that it's positioned as the ultimate sessionable IPA for craft beer lovers won us over.
The taste: A light bitterness which balances the malt body. It's uncanny just how much it tastes like a real beer. In a blind taste test it would be near impossible to note the difference. So, if you love beer, but you don't love the toll it takes on your body, we definitely recommend checking this out.
How we enjoyed it: Straight from the can! And boy did we enjoy it.
The facts: Run Wild IPA has under 70 calories per serve, is vegan, non-GMO, and the cans are 100% recyclable.
Where to buy: Pop over to: athleticbrewing.com, choose your country and enjoy an exclusive 15% discount using code WINERIST15 on their Run Wild IPA.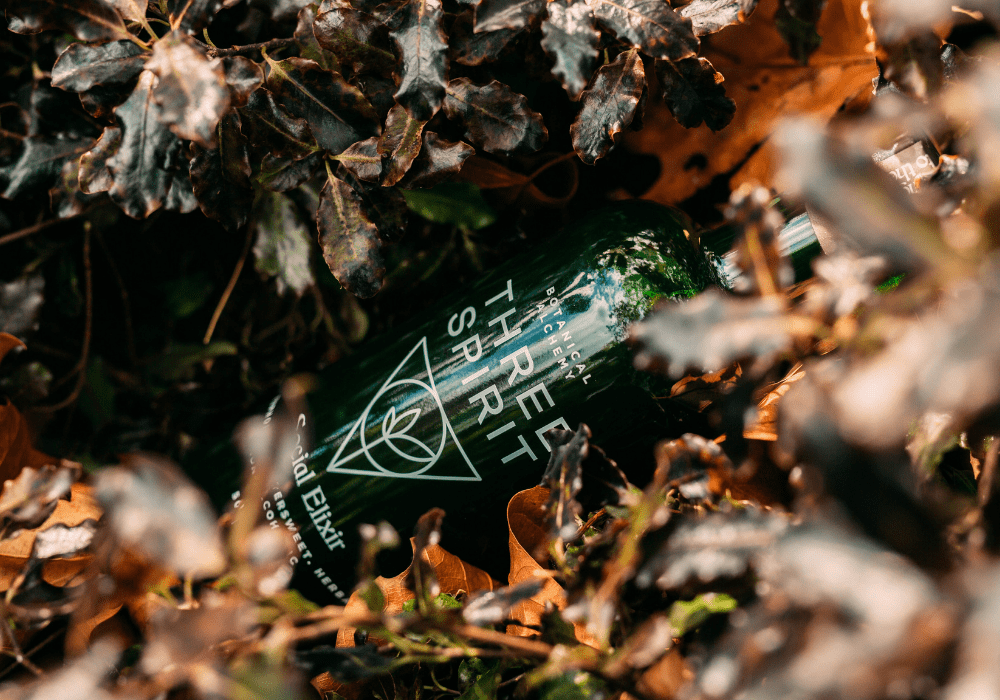 After years spent in libraries, labs, bars and fields, UK-based Three Spirit Drinks created plant-based alternatives to alcohol that look to celebrate what you put into a drink, rather than what you take out. Created by a mix of plant scientists, world-class bartenders, herbalists and artists, they're on a mission to show the world alcohol-free doesn't mean pleasure-free.
Their drinks combine plants used for centuries in ceremonies and potions to stimulate the palate, mind and body.
Our choice: Their core range features 3 options and we went for the Social Elixir. Why? Its claim to 'elevate evenings & lift spirits as the ultimate social-enhancer' was too intriguing to miss. Designed to be consumed like a spirit, either on the rocks or mixed in a cocktail, it's made from natural plant-based ingredients which are said to have positive effects on mood and energy.
The taste: With dry spices on the nose leading to rich, complex notes of rye bread, molasses and cacao; it's full-bodied and bittersweet.
How we enjoyed it: We mixed it over ice with expresso strength coffee and maple syrup to make a 'Herbal stimulant'. It was, hands down, delicious and definitely gives a kick. We found ourselves more chatty with the conversation flowing.
The facts: The Social-Elixir is vegan, gluten-free, ethically sourced and sustainably packaged and only 26 calories a serve.  Whilst non-alcoholic, we would say it's not recommended for children or anyone pregnant or breastfeeding.
Where to buy: For those of you in the UK, EU or US head over to threespiritdrinks.com (residents in the UK and US can use code WINERIST for an exclusive 15% discount). If you're in Australia, New Zealand or Switzerland you can try Three Spirit via Master of Malt and if you're in Canada you can head to Drinknolow.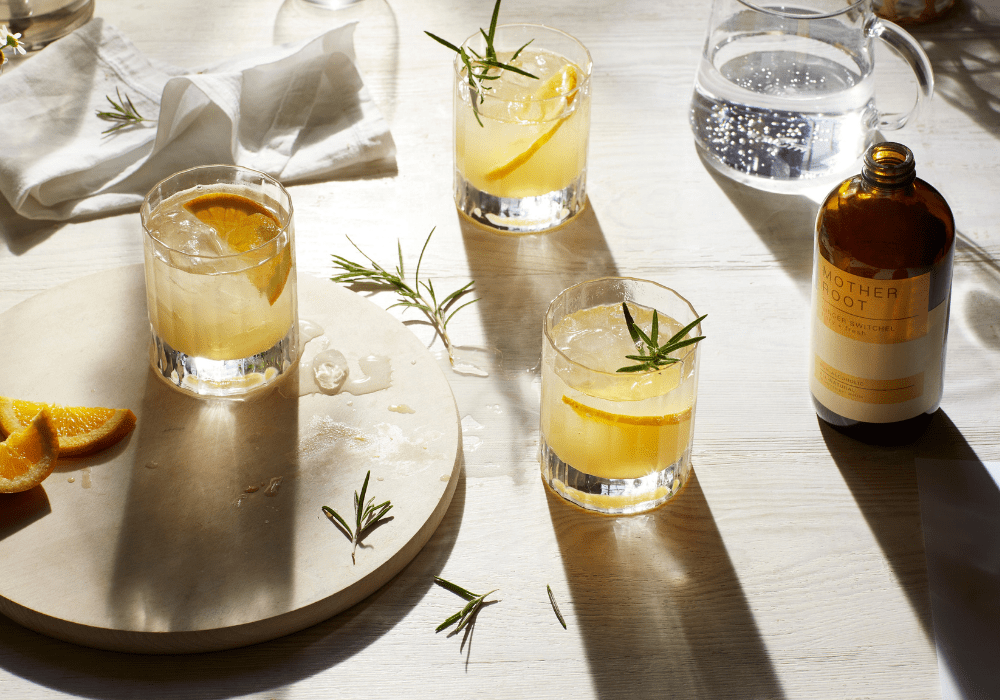 With more than a decade in the wine industry, Mother Root's founder Bethan Higson poured her knowledge of growing, terroir and natural fermentation into her alcohol-free Switchels. Created from her kitchen in South London when she was pregnant and needed a flavour-full, adult alternative to an alcoholic drink in her life, that made her feel good and rooted her in the moment. Mother Root is a blend of ginger juice, organic apple cider vinegar, blossom honey and a kick of chilli for a warming finish. Designed for that golden hour, Mother Root transforms simple ingredients you know, into a complex alcohol-free aperitif that happens to be good for you. Simply pour over ice, add soda and a spoil-yourself garnish.
Our choice: Their core drink is the Ginger Switchel which is a modern take on the drink first popularised in the US in the 17th century. We were intrigued to try a drink which claims to have once been the most famous drink in America, back in the times of prohibition. We were also sold on its claim of full-on flavour and ability to lift mood and make us feel good.
The taste: It's fiery and fresh and reminiscent of a ginger beer without the cloying sweetness. Its notes of ginger, blossom, fermented apples and citrus add layers of complexity that leave you with a wonderful warming sensation.
How we enjoyed it: We mixed it over ice with soda water and a sprig of rosemary. It's delicious, warming and you feel like you're giving your mind and body a gift by drinking it.
The facts: Mother Root is safe to drink if you're expecting and a serve contains 34 calories.
Where to buy: You can find Mother Root online at motherroot.london.
It's fair to say we're convinced that going non-alcoholic doesn't have to be boring. Hop on over to @winerist and tell us what YOU think!
---
* Lyre's Full Terms: Use code WINERIST20. 20% Discount applies on all single 700ml Pink London Gin bottles. This offer excludes online gift vouchers, all gift sets, merchandise. Promotion cannot be combined with other offers. Only one time use per customer. While stock lasts. Lyre's general promo code terms and conditions apply. Promotion code required to be entered at checkout (as advertised) Offer available until stated otherwise. Lyre's reserves the right to cancel offer at any time. Offer ends: 31stOctober 2021 11:59pm