The Small Beer Brew Co is not yet one year old but its founders James and Felix have big ambitions for low-ABV beers. The pair, who already have plenty of drinks industry experience under their belts, spotted a gap in the market for low-ABV beers while working together at gin distillers Sipsmith.
They launched with just two core beers – a lager at 2.1% ABV and a dark lager at 1.0%. This reflected their ethos of putting flavour first, and perfecting their recipes before moving on to new beers.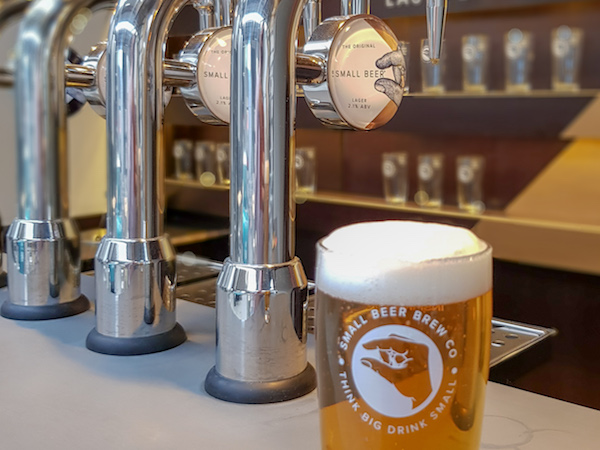 Photo credit: theoriginalsmallbeer.com
This Thursday they will launch their third core beer at the Taste of London Festival. Called Steam, it is a red rye lager hopped with Chinook and Mosaic that packs a proper flavour punch of citrus and tropical fruit with robust malt and spicy bitter rye notes.
At 2.7% ABV it's still low in alcohol compared to most beers (the average strength is around 4.2%), but it will be their strongest one yet. "It's about as high as we'll go in terms of strength," says Felix. "But it tastes like a 6% beer." He sounds excited when he tells me this, and rightly so.
They are already making waves in a drinks trade that is seeing increasing demand for low-ABV options across all drinks categories. "Demand is high and our distribution is solid all over London. We're also shipping to Newcastle and Edinburgh. We want to be in all the cities," says Felix. And it'll happen too: the company has recently secured a distribution deal with Majestic Wines to take their beers to market across the UK.
I remember my first office jobs, years ago now, when a lunchtime beer was commonplace. You can imagine the post-lunch slump. If you wanted to avoid that, you had to forego grown-up flavours and switch to overly sweet soft drinks, or stick to water. Small beer gives more choice to drinkers who want to enjoy themselves and keep a clear head at the same time.
The light lager (2.1% ABV) is crisp and refreshing with a snappy and slightly floral hop finish – just what you'd look for in a classic pilsner.
The dark lager (1% ABV) is crisp again and light on the palate, with a roasted, dark fruit character and a hint of smoky malt to it.
The only clue to the reduced ABV in these beers is a slightly lighter feel on the palate, but unlike with traditional low-alcohol lagers you don't get that feeling of being short-changed.
This is because Felix and James brew to strength. The more common process is to brew a full-strength beer as normal and then strip out the alcohol afterwards. Unfortunately this also takes a lot of the flavour away with it.
If you can't make it to the Taste of London Festival, the brewery has a tap room which from this week will be open on Fridays from 4-8pm. They also use the space to run beery yoga sessions and a series of intimate gigs they're calling Small Beer Sessions, in partnership with Sofar Sounds. And to top it all off there's also a mobile bar built into a Hawaiian-blue Mini to take their beer out to the thirsty festival goers. Head to https://theoriginalsmallbeer.com/events to learn more.