Everything you know and love about Vinho Verde wine is going to be turned on its head in the couple of minutes you'll spend reading this. It's cheap, cheerful and wonderfully drinkable, sure, but the largest DOC in Portugal, and one of its oldest wine-making regions, can do so much more. And I learnt, on a freshly sunny day in mid-May, that the results are fantastic.
So Vinho Verde is associated with easy-drinking whites – that pale yellow, low-alcohol, zingy stuff with all its bright acidity and spritz. It famously brings a zesty and refreshing mouthful. But that's not all it's about. At a lunch hosted by Vinho Verde wines and Mike Turner, I tasted the breadth of what this cool, northern region of Portugal has to offer, and saw how food prepared by Three Girls Cook married beautifully with these varied white wines.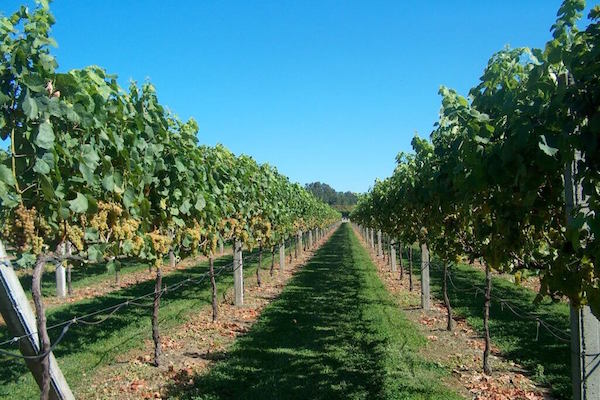 Photo credit: winesofvinhoverde.com
Bring me a glass of what you or I may consider 'typical' Vinho Verde in the early evening, when the sun is still blazing low in the sky and the heat of the day is hanging on listlessly, and I will happily sip it down, thinking of this verdant, fertile region, washed over by a salty Atlantic seabreeze and sliced through by the Minho river. Or, you know, which Kettle Chips to nibble on.
I'm not the only one enamoured here, clearly, as we imported almost 2 million litres of it last year. In fact, 2017 was Vinho Verde's best year in the UK market – there's hardly a wine list or supermarket that doesn't offer it.
Excitingly, this growing success has seen strong investment from the EU in the past decade to improve the quality of Vinho Verde wines, from the vineyards themselves to educating the producers. The result is a gamut of pleasantly differing white wines, and – surprise – reds too.
Yes, red wine is produced in Vinho Verde (in fact it amounts for about half of the stuff). We're so easily dazzled by the idea of zesty refreshment that buyers have focused their portfolios on catering to this taste, but if you can find Soalheiro's 2014 Tinto do give it a try – after five years of ageing in French oak it still has a freshness and vibrancy that is offset by granitic complexity from the 50-50 Alvarinho, Vinhão blend. The nose is bursting with strawberry.
Ah, Alvarinho. More acidic than its softer, popular Spanish cousin, the grape produces complex, mineral and subtly fragrant wines, grown in the slightly warmer area near Monção further north. You won't find fizz here. It also lends itself beautifully to ageing, especially in single-varietal bottles, as does the more floral Loureiro grape. Wine makers have been having a lot of success with these two varieties, which, given a little oak, grow more characterful and complex – so don't just go for young bottles mid-Spring.
What else should you look for if you want to expand your Vinho Verde knowledge past the green apple, spritzy stuff? Grapes such as the mineral Arinto, more creamy Avesso and sharp Trajadura can produce rounder, more-structured wines with tropical notes and a certain waxiness.
Back to those Kettle chips, though: Mike's pairings convinced me that Vinho Verde works so well with food, especially seafood or anything a little bit fatty or unctuous. The wonderful Three Girls Cooked prepared a number of dishes for us but what really stood out was a plate of charred octopus with 'nduja (the spicy Calabrian sausage paste you need to try). The rich smokiness of the dish was cut through perfectly by a zesty Quinta de Linhares Azal, which was sharply balanced with restrained tropical waxiness and pear. Similarly, slow-roasted aubergine with light tahini yoghurt and black garlic delivered a subtle blend of warm spice and creaminess that a fuller-bodied, aromatic Soalheiro Alvarinho refreshed perfectly.
Any dish that can take a hit of acidity is perfect for these wines: they work like a pickle's vinegar tang or a squeeze of lemon. And if you just want a bright, zesty, slightly carbonated white wine to lubricate your afternoon then there are plenty of brilliant options for you, too.