The founders of Speak Wines, Stephanie Fasi and Kerry Sutherland, have set out to re-invent the wine label. Their delicious Argentinian red wine has been creatively and thoughtfully packaged to speak perfectly to any occasion. Launched in July 2014, the Speak Wines brand offers a 2012 Malbec in six different, artfully deigned labels and has quickly been getting people talking. We spoke to Stephanie and Kerry to find out more about Speak Wines.
What is Speak Wines and how did the business come about?
Speak is a beautiful collection of wine that was created by two friends over a glass of wine. With a love for sharing words that inspire and a sincere appreciation for style, Kerry and I set out to find a bold, delicious Argentinian red and thoughtfully package the wine to perfectly speak to any occasion.
We were actually working when we came up with the idea for Speak. Specifically, we were brainstorming for a new client brand, and of course drinking wine for "liquid inspiration" – we have really cool jobs at a PR agency (disclaimer, that Kerry owns, K. Sutherland PR)! We thought, "wouldn't it be so amazing if a wine existed…" The name, Speak, was one of the first we said that night and it just stuck. Even though we were "working" and the concept was all wrong for our client, we pitched it to him anyway and now he's our investor. 
Where does the inspiration for your unique wine labels come from?
Speak offers customers a deliciously beautiful collection of wine that was inspired by the fashion industry. Similar to fashion, we'll be releasing new collections of Speak regularly, featuring new, on-trend art and inspiring thoughts. The wine remains our high quality Malbec, but the labels will keep people coming back for something new, and always fun.
Which occasions are your wines best for and who are they aimed at?
We think Speak is the perfect gift for almost any occasion! Instead of writing "Happy Birthday" on a bottle of wine, the six quotes/phrases are meant to be broad, to allow the consumer to interpret them as it fits for their own day. Speak's target audience, like any wine brand, is wine drinkers. If we can convince the cocktail and beer drinkers to celebrate with Speak, then we'll welcome them also. More specifically, we cater to anyone looking to celebrate a moment or send a thoughtful message using a pretty bottle of wine. Speak's price point and quality product make it ideal for any special occasion or "just because" events. Moreover, we think that event planners, brides, grooms, dinner party hosts, graduates or anyone celebrating a first date, 1000th date or anniversary would enjoy the wine and the message.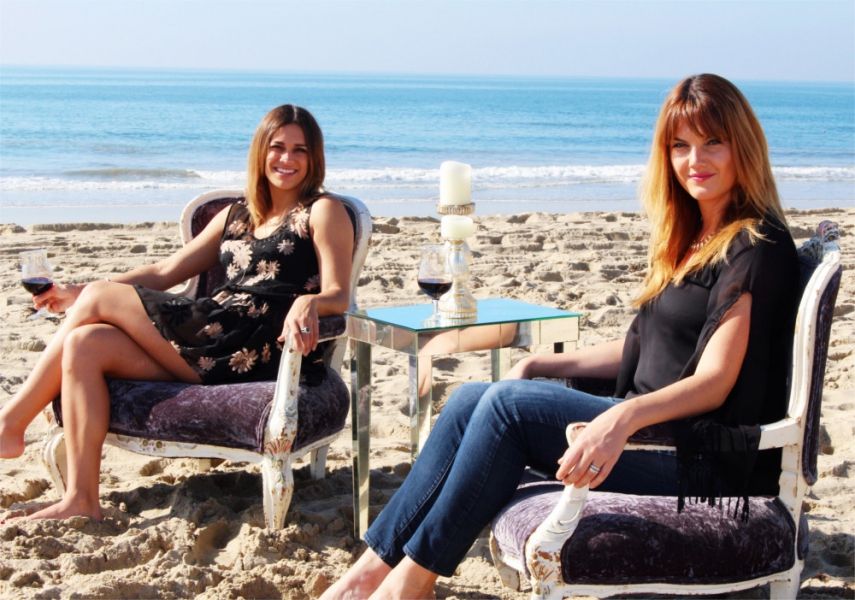 The wine industry is said to be male-dominated; how have you found this as two female entrepreneurs?
We have to admit, we've definitely noticed the strong male presence in the industry. We're actually really proud to be two young females entering an industry where that's not your typical norm. I think the biggest challenge that we've encountered is that Speak is a very female-friendly product. Women get it right away. It's much harder for men to see the potential that we know it will have on female consumers. We like to think of Speak as a "Pinterest Meets Malbec", which usually resonates immediately with women…men, not as much.
At the moment you ship to California and New York addresses, but what are your plans for worldwide distribution?
Currently we're working on getting as many distributors throughout the United States as we can. The alcohol industry is a bit different than typical product distribution. Every state has different laws and licenses regarding the sales of alcohol and we're working very hard to make sure Speak is available to consumers throughout the country as quickly as possible.
Powerful quotes make up the design of your bottles; what are your favourite quotes?
We actually did quite a bit of research before finalising our six quotes/phrases. We sent out surveys to get feedback on what types of messaging most appealed to people and chose our final six based on those results. That being said, we both each had a quote that we weren't going to let go no matter what our research told us.
Kerry's favorite is, "The Future is Exciting!"
Stephanie's favorite is, "Because when you stop and look around this life is pretty amazing."
Which are your favourite wine regions and where else would you like to explore?
We were very fortunate because our investor had connections to a winery in Argentina. We both enjoy red wine and happen to love Malbec. It naturally ended up being the best fit. However, we'd love to explore different varietals for future collections and would be thrilled to source a local wine out of California.
Which are your favourite wines?
Like previously mentioned, the both of us are red wine lovers. And as for our favorite…Speak of course!
---
Try a Malbec in an Authentic Argentinian setting with our Argentina wine tours!