Two years ago I was lucky to discover Portugal – a beautiful country with wonderful people, great wines and delicious food. This year I had the opportunity to experience Portugal again and wanted to share my experience! It's hard to fit everything in and I'm sure no one would be interested in a post with hundreds of pictures and thousands of words, so I've tried to squeeze in all the best bits.
I want to start with the wonderful trip we had on Sunday. I'm subscribed to updates from Winerist and an email I received from them contained a section about wine trips in… Douro, Portugal! How could they know, huh? This was my very first time using the service, so not without trepidation, I filled up the booking form for the "Wine Tasting & Sightseeing in the Douro Valley" tour (€95 per person), requesting the specific date. I was informed that my credit card will be charged only after the trip availability will be confirmed with the local provider. Two days later the confirmation arrived with all the tour provider's information and pickup time (the pickup is arranged at any of the hotels in Porto). The day before the trip, I got a call in my hotel room from JoÃo, who informed me that the pickup will take place the next day at 9:10 am in front of the hotel's lobby.
The next day, a red minivan showed up exactly at 9:10 am (at least according to my watch), however the first thing JoÃo did after introducing himself in person, was to apologize for arriving at 9:12 instead of 9:10 – from which I figured that we will have fun on our tour. This is exactly what happened – after picking up two more people for the total of 8 passengers, off we went to immerse ourselves into the beauty of Portuguese nature, culture, food and wine. I will not give you a detailed account of everything we heard during of almost 11 hours of out trip (we were supposed to come back at 6:30 pm, but nobody was in a hurry, so we came back very close to 8 pm) – that would make it for a long and boring post. But I will do my best to give you a good idea of what we saw and experienced.
Our first stop was at a small town called Amarante. On the way there, our guide and driver had to really work hard – out of our group of 8 people, 2 of us needed all explanations in English, and the rest of the group was from Brazil, so JoÃo had to alternate between Portuguese and English – have to say he had no issues doing that for the duration of the trip. The second problem JoÃo had to deal with was … a marathon, which forced closure of many roads, so he had to find his way around. Well, that was also a non-issue, so we successfully arrived to Amarante. Our intended destination was the church of São Gonçalo (St. Gonçalo), which had an interesting story of the saint whose name is associated with male fertility. I had to admit that I missed some parts of the explanation regarding the origins of this belief, but the bottom line is very simple. Inside the church, there is a statue of St. Gonçalo with the hanging rope. Any male who needs help with fertility has to pull that rope twice, but no more (I don't know if it would be equivalent to the Viagra overdose?). Besides, the Priest gets very unhappy when people get crazy with that rope, so all the pulling should be done quietly and without attracting unnecessary attention. I guess that same fertility power led to the appearance of so called St. Gonçalo cakes. No, I didn't try one, nor did anyone from our group, so can't tell you how it tastes. After leaving the church we had around 20 minutes to walk around the town before we had to leave to our next destination.
Our next stop was the town of Lamego, one of the biggest in the Douro Valley. As food was an essential part of our tour, we began by visiting a place called A Presunteca. I would probably characterise it as a food and wine store, somewhat geared towards tourists. No, "tourist trap" would be rather diminutive, as the food and wine were genuinely good and prices were absolutely on par with any other store. We had a taste of a few local sausages and cured meets, as well as cheese. We also had an opportunity to taste some Porto and dry wines as well as sparkling – the Peerless sparkling wine was excellent; on par with any good Cava or Cremant. I also really liked a Niepoort Dry White Port. If we didn't have to spend the next half of the day in the hot car, I don't think I would've left without a nice chunk of a cured meat, but oh well…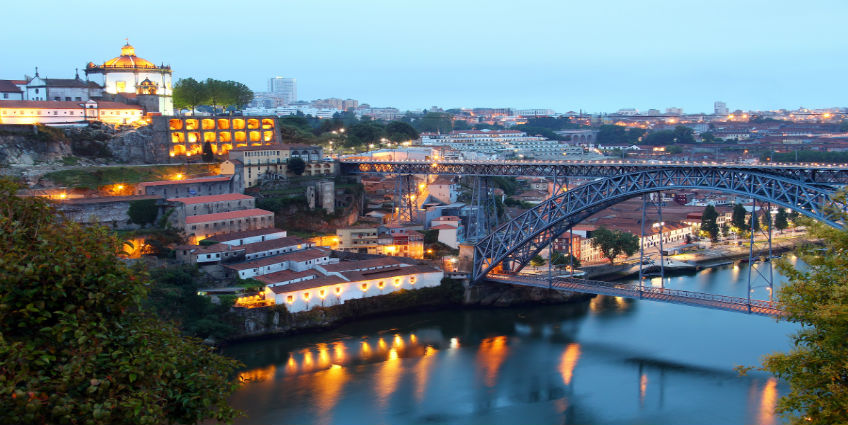 Next, we got into a race with a long (very long!) line of honking old Minis, which we lost despite creative local street navigation by JoÃo. We successfully arrived at our next destination – Cathedral of Santa Maria, Lady of Remedy. According to the explanations, the beautiful structure was erected as promised by the Bishop to show a gratitude for sparing the city of Lamego from the Black Plague. There are more than 600 steps which lead to the Cathedral on top of the hill which people seeking the cure for the illnesses often put on their knees. We walked around the cathedral and then used the steps to get down to the town level admiring the beautiful view and exquisite architectural elements, also with the great use of traditional Portuguese painted ceramic tiles. This place needs some serious restoration work, but it is still absolutely magnificent.
Our next stop was for lunch. The Manjar do Douro restaurant was located very close to the bottom of the staircase we ascended from. It somewhat resembled a big dining hall, with many groups occupying communal style tables. The bread, cheese and cold cuts were outstanding. For the entree, I chose veal, as I was still suffering from the previous nights fish overload. This was rather a mistake, as the meat was really chewy (well, the sautéed vegetables were excellent). We had a few wines with the meal; 2014 Incantum Vinho Branco had inviting nose of a white fruit, a bit more tamed fruit on the palate, overall very enjoyable (and added another grape to my collection, Sìria). The 2013 Incantum Douro Tinto was nice, but a bit simplistic. As JoÃo learned from our conversation that I was into wines, he showed me a few of his favorites.
We were then fully immersed into the wine world of Douro, arriving at Quinta do Tedo after an hour of driving. Vincent Bouchard, of the Bouchard Père & Fils fame from Burgundy, fell in love with the Quinta do Tedo vineyards (can you blame him? take a look at the pictures), located at a crossing of River Douro and River Tedo, and he bought the vineyard in the early 1990s. 1992 was the first vintage produced by the Quinta do Tedo. The vineyards, located on the hilly slopes around the picturesque River Tedo, consist of the vines of 30 to 70 years old. Quinta do Tedo makes only red wines, but they make both dry wines and number of Port styles. The winery's logo has a picture of the bird on it – according to the local traditions, the birds would show up to eat the grapes when they are perfectly ripe, so that bird on the label signifies perfectly ripe grapes.
Old traditions of winemaking are still employed at the Quinta do Tedo winery – the grapes are harvested by hand, into the small baskets to prevent them crushing under its own weight. The grapes are fully destemmed, and then crushed using the … feet, yes, exactly as you expected. Grapes are stomped over the course of a few days by the men. The juice flows into the tanks (no pumping), where it is fermented for two days (in case of port production) or longer, and from there on the wines are made according to the style. Ahh, and I need to mention that the vineyards of Quinta do Tedo are certified organic. Also note that it is illegal to irrigate vines in the Douro valley, so you can say that all of the producers in the Douro valley are using dry farming methods.
I love the fact that wine offers endless learning opportunities – every time you talk to someone passionate, you learn something new. Let me tell you why I'm talking about it. As you might know, all the wine production in the Douro Valley is regulated by so called Douro Institute (IVDP). This is a very powerful organization, which assess all the wines made in the Douro valley, both Port and regular dry wines, to make sure that winery's declaration is up to the right level. I was always under impression that it is IVDP then which declares vintage year for Port. Turns out I was wrong – it is actually up to the winery to declare a vintage year (however it would be an IVDP will confirm or reject the designation). 2010 was an excellent year, and many Port houses produced Vintage Port. Then there was 2011, which was not just good, but simply spectacular. But if you mention 2009, people raise their arms defensively – it was not a good year. Nevertheless, it didn't stop Quinta do Tedo from producing delicious 2009 Vintage Port, including their single vineyard flagship, Savedra.
The learning didn't stop there. Our guide very simply explained concept of the so called LBV, or Late Bottled Vintage Port, which has the year designation similar to the vintage port, but typically costs a fraction of price (and something which I couldn't figure out for a while). It appears that concept of LBV is as follows. The wine is first made with the intent of becoming a Vintage Port – 2 days fermentation which is stopped with neutral brandy, then about 2 years of aging in stainless steel or neutral oak tanks. After that the port is sent to the IVDP to get the vintage approval – and if it fails to get the approval, it is aged for another 2 years or so, and then bottled as LBV. Simple, right?
Of course it was not all talking at Quinta do Tedo – there was also tasting here at the heart of the Douro valley. Technically our official tasting included only two types of port, but you know how that works – once the passion starts talking, the tasting becomes "no holds barred" event.
We started with two of the dry wines. The 2011 Quinta do Tedo Tinto Douro was what can be called a "BBQ Wine" – nice fresh fruit profile, with some depth, but limited power, allowing for easy sipping. But the second wine was the whole different story. 2011 was so good that the winery simply decided to skip the Reserva level, and to make Grand Reserva only. Wine spent 22 month in French oak. The level of finesse on that 2011 Quinta do Tedo Grand Reserva Savedra Douro was unparalleled, something which you really have to experience for yourself – elegant dark fruit, spices and touch of fresh herbs on the nose (you can smell the wine for the very, very long time). On the palate, the wine is multilayered, dark, full-bodied and powerful, and it combined firm structure with silky smooth goodness. At €25, this Douro valley treasure can be only classified as a steal – or definitely a tremendous value, if you prefer that definition.
We also tasted 2010 Quinta do Tedo LBV, which was absolutely delicious, with good amount of sweetness and fresh acidity, making it perfectly balanced; Quinta do Tedo 20 Years Old Tawny had beautiful complexity with hazelnut and almonds, and dry fruit sweetness. Elegance of 2009 Quinta do Tedo 2009 Vintage was simply outstanding – fragrant nose and very balanced palate. That was one delicious tasting, that is all I can tell.
We need to round up the Douro Valley experience here – and I thank you if you are still reading this. The good news is that after that Quinta do Tedo tasting, where I think we spent double the time versus the original plan, we went back to the hotel, with one last stop to suck in the greatness of the Douro River.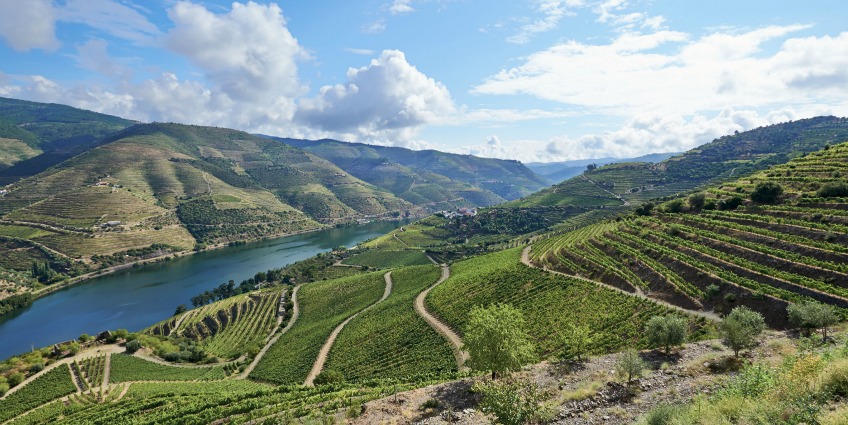 And we are done (can you believe it?). If your travels take you to Portugal, I would highly recommend that you give this tour a try and experience the Douro Valley – I think this is the best way to explore that magnificent country. Also keep in mind that Winerist offers a variety of the wine tours in many regions, so do check them out.
As for my Portugal escapades – I'm only getting warmed up. Prepare to be inundated further. Until the next time – cheers!