With champagne on the menu at Winerist Towers all week, we caught up with Sandia Chang, sommelier and founder of Bubbledogs in London to find out how she turned a brilliant, quirky idea into an actual 'thing'…
W: Champagne and hotdogs sounds like a genius combination, but it's not what you'd typically expect! What inspired you to put the two together?
SC: Traditionally, champagne is paired with caviar because of its great acidity. It's a perfect match with foods that are high in salt and oil. Other pairings for champagne are cheese and charcuterie. I personally love champagne and French fries. So, I came to the conclusion, "Why not hot dogs?" Hot dogs are moorish, high in flavour and fatty, the perfect combo with champagne or other sparkling wines. I also knew I wanted to open a champagne bar but I wanted it to be accessible and not pretentious or scary for people to just waltz in for a glass or two. Hot dogs are food that I don't think anyone would be scared of, so it helps brings champagne drinking into a more everyday light.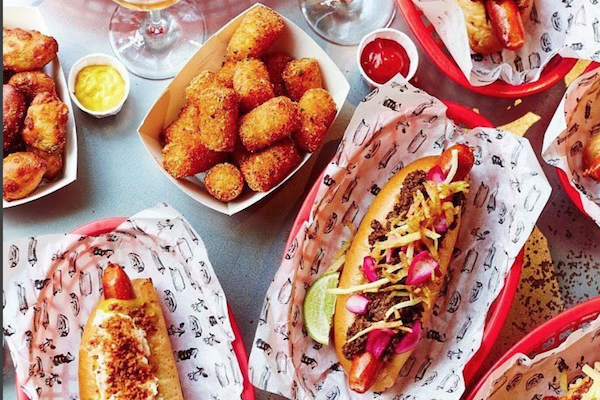 Photo credit: instagram.com/bubbledogsuk
W: What does a typical day at Bubbledogs look like for you? (We hope it involves tasting plenty of champagne and hotdogs!)
SC: Haha! I wish! My gross profit percentage would go way down! My typical day starts at 10am usually. I do my rounds around the restaurant and always say hello to every single staff member. It's something we all do here at Bubbledogs. Then I have to get onto my inbox of emails. But during this time it's a lot of checking in deliveries, answering questions from staff, going through reservations, checking stock etc. It's a lot of admin work. At 11:45am we do a pre-service meeting with the team before lunch service to go over standards of the week, skills of the week, producer of the week and any important information and reservations they would need to know. The Kitchen Table front of house team comes in at 12pm and I go through the day with our manager Alina. We check over wine stocks, the evening's reservations, issues from previous night, etc. Then I usually fill the time with marketing meetings, PR meetings or if I'm lucky I get to work a bit of lunch service. 4pm is our family meal, we all sit down and have dinner together. Last night was halibut in homemade XO sauce and lemongrass rice with pickled courgette salad. We take our family meals very seriously. Then 5pm is our pre-service briefing for the Bubbledogs team. 5:30pm is our pre-service briefing for our Kitchen Table team. Then 6pm to 11pm I am usually in service in Kitchen Table. I end my day with checking some more emails and admin work before I usually take off home around 12am.
W: Can you tell us a little bit about your background? What led you to Bubbledogs, and did you always have a passion for champagne?
SC: I went to university and got a degree in Hotel and Restaurant management. However when I graduated, I decided I needed a more artistic outlet and pursued the career of a chef. I attended the Culinary Institute of America in Napa Valley. It was during schooling there I got a great introduction to wine. I then moved to New York City to be a chef but soon decided it wasn't for me. At that time, Thomas Keller had just opened Per Se and was looking for front of house staff, so I took the opportunity of a kitchen server there. I worked there for 4 years and then progressed to a Maitre d'. I was accessing the most amazing wine list and tasting some wines I had never dreamt of tasting. I also took the WSET Level 3 during my time there, which helped me progress in my career. After I left Per Se, I went to work at Noma in Copenhagen. It was there that I was truly introduced to grower champagnes and small, artisanal wines. It was a completely different world than Per Se; less glamour and glitter, but still amazing wines. Then I moved to London and was really missing the New York vibes and also the wines that were available in Denmark. I really wanted people to get to know and love grower champagnes like I have. I wanted people in England to see beyond big name brands and big houses. So when I had the opportunity to open any kind of restaurant I wanted, I chose a grower champagne bar so I can champion these amazing wines.
W: What makes a really great champagne, in your opinion?
SC: I always say, in order to make amazing champagne, a producer needs to know how to make amazing wine, because champagne is basically wine with bubbles in it. Like all things we taste, it needs to be balanced, and with champagne, it needs to have character. I always compare champagne to art in the Byzatine Era, when everyone had to paint the same subject and story. Similarly, champagne has to be made with a specific method and with a limited grape variety, so you can tell a great producer when the champagne has character, and if it differs from everyone else.
W: What are you looking for when you select champagnes for Bubbledogs?
SC: Bubbledogs is meant to be a place where people can come in and drink champagne whenever they want. I wanted it to be accessible. Therefore, when I choose champagne here I make sure I have one from each producer, and I choose their entry level cuvee so I can keep the cost low for guests that want to try it. I also make sure there is one of every style of champagne for everyone's budget.
W: What are your most memorable moments from your time at Bubbledogs? Any celebrity encounters or interesting requests?
SC: My proudest moment at bubbledogs was when Thomas Keller came to visit. There's nothing like having your mentor and someone you admire to come support you and give you a pat on the back, and say, "Thank you for carrying on the legacy."
W: What's your favourite champagne/hotdog combination on the Bubbledogs menu?
SC: I have a philosophy that if you drink what you like, and eat what you like, with who you like, it will always taste great. My favourite champagne at the moment is anything from Jerome Prevost La Closerie. My favourite hot dog at the moment is our Reuben, which is a frankfurter with Russian sauce, grilled sauerkraut and melted swiss cheese. If you offered both of them to me at the same time, I wouldn't say no!