With whisky constantly in the news as sales increase all around the world, Helena Nicklin spoke to to Alwynne Gwilt, brand ambassador for The Balvenie, about the rise of whisky on screen, women in whisky, and the YouTube series The Craftman's Dinner, which features Michel Roux Jr and The Balvenie whisky.
HN: The world has been drinking whisky for years, but recently we're turning our cameras towards it more and more. What is this series?
AG: Whisky is a fascinating category – it's had so many ups and downs over the last couple of centuries but it has remained a constant; always being made, always being appreciated to some degree in some corner of the world.  In our William Grant & Sons UK 2018 Market report, we've seen that the pendulum is definitely swinging towards a growth in popularity for whisky. It's now the second largest category within the spirits sector and accounts for 21% of all spirit sales. This has been significantly helped by the on-trade opting to feature more cocktails which use whisk(e)y as a base ingredient, and the fact it is in the news more frequently as an increasing number of distilleries open around the world.
We're fortunate at The Balvenie to have been operating for such a long time – William Grant and his family started building the distillery in 1892 and the stills began operating in 1893, making this the 125th year of our operations. One thing that has remained constant throughout is the dedication we have to creating a spirit using as many hands-on techniques as we can – from our floor maltings to our cooperage, we look to take care of as many things on site as possible. Being in the same family ownership since opening has been a great boon to how we've been able to do this.
For this final installment of The Balvenie Craftmen's Dinner Series, Michel spent a week at our distillery in Scotland working with three of our expert craftspeople to learn the ins and outs of how they make The Balvenie the unique single malt that it is. This included learning about barley from John Evans, our maltman, whose team is in charge of the floor maltings; George Singer, a coppersmith who maintains the copper stills where the essential process of distillation happens; and, Kelsey McKechnie, Whisky Technologist, who monitors the maturation, flavour and blend of the whisky.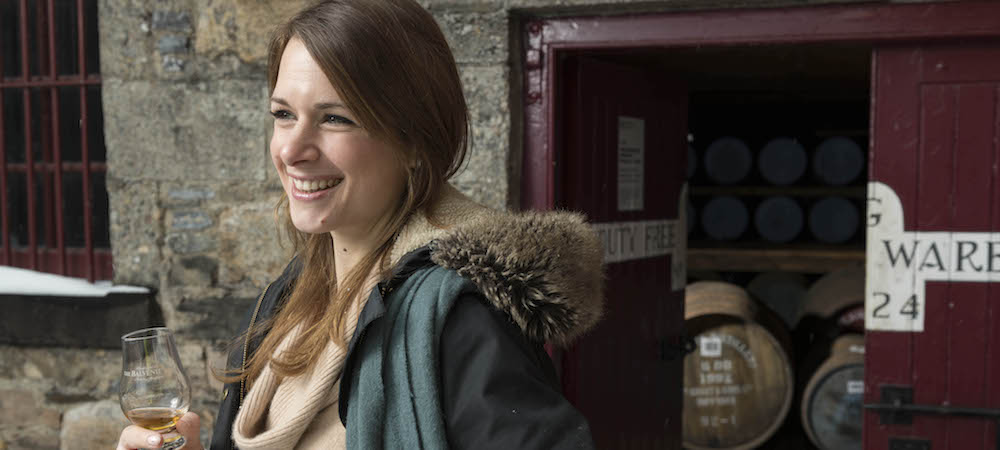 HN: Why make the series now?
AG: We have been working with Michel for the past three years on The Balvenie Craftsmen's Dinner series to spotlight true craft and over this time we have met a wide range of incredible craftspeople all across the UK in a myriad number of industries. For this year's final series we decided to put the focus on The Balvenie since craftsmanship is so important in making it what it is.
HN: What is your involvement in it?
AG: I joined the team on-site throughout the filming and took part in the final dinner filmed at Balvenie House. As the brand ambassador, I'm always on hand to taste through whiskies, educate about the brand and explore the flavour differentiations between the whiskies in the range. I've worked with Michel since last year's second series, in which I taught him a bit more about our whisky and had him choose a favourite dram for the final dinner in the last episode of the series, so it made sense for me to come back for the final episode this year. Since shooting the series, I have been hosting a number of recreations of The Craftsmen's Dinner final meal with dozens of lucky guests alongside Michel at his restaurants in London.
HN: Craft is rising. The Balvenie is such a well-known and well-loved whisky for its human touch. How can you do this at scale?
AG: Many people associate 'craft' with small scale, but it is not about the size of the operation, it's about the process. 'True' craft brands can attain a certain scale, but it will constrain the size of the business. The fact we do so much by hand at The Balvenie will limit our size, but having that human element involved with the making of it is important for us to retain our craft credentials.
If a business is willing to retain human skill and expertise, craft will remain at any size. It's a wonderful sight, for instance, when you see our head cooper Ian McDonald helping to teach a new apprentice at the cooperage his skills – he's been with us for 49 years and there's something incredibly special in seeing his skills being passed down to new generations. The reality is a lot of companies have had to lose doing things on-site at whisky distilleries because of the sheer cost of it – floor maltings went out of fashion because they are very expensive to run. For The Balvenie, however, this is what makes us who we are, and as a family-owned company, we have a lot more control over decisions like this.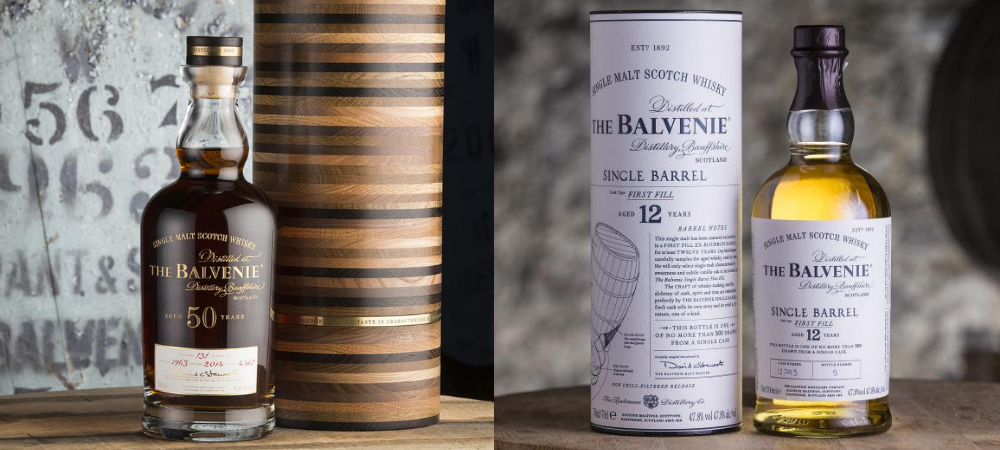 Credit: thebalvenie.com
HN: How do you match food with The Balvenie whisky?
AG: I've always said that matching whisky and food should be about matching intensity. If you've got a really rich dish, you want something bold like the DoubleWood 17 to stand up to it. Equally, if you have something very sweet, it can be nice to have something with a bit of spice or freshness like the Caribbean Cask 14 to cut through and liven up the palate.
HN:  How has the whisky world changed in terms of male/female balance?
AG: Women have always drunk (and made, and marketed, and sold!) whisky – it's just that for a long time, it was marketed as being a 'man's drink'. That thread of thought still persists in our society and around the world, but it is lessening. The more you see whisky presented in different ways – alongside food, or in a cocktail, for instance – the more you'll widen the base of consumer that it appeals to. We've got a way to go in many countries, but it's definitely changing.
HN: Has being female held you back?
AG: Not in the whisky world, it hasn't. I'd say that being female in this industry hasn't held me back any more than it would have in any industry. Many women face similar challenges in the workplace regardless of their skillset, knowledge, seniority or enthusiasm. Yes, I've heard more times than I can count from consumers around the world that it's 'strange that a young female would like whisky' but you learn to ask questions back, to explore why people have that opinion so that you can help to better understand it and hopefully widen people's viewpoints. The whisky industry, however, has always been very welcoming and encouraging since I've been involved in it.
Watch series on YouTube here, which features the following episodes:
Michel Roux Jr. meets John Evans, Maltman at The Balvenie
Michel Roux Jr. meets George Singer, Coppersmith at The Balvenie
Michel Roux Jr. meets Kelsey McKechnie, Whisky Technologist at The Balvenie
The Craftsmen's Dinner at The Balvenie House
Has this inspired a trip around Scotland?  Why not try a full-day scotch tour in Edinburgh or even a 4 day whisky tasting tour around Scotland? Oh and while you're there, see if you can seek out some of the most haunted distilleries.