Did you know that there are over 400 vineyards in England and Wales? Despite lying on the edge of the most-northerly latitude possible for growing wines (51°N), British wines are no longer considered a novelty. Next year in May, the International Cool Climate Wine Symposium will take place in Brighton – a sign of the growing importance of British wines. Taking the unpredictable climate into account, and the distinct lack of sunshine and heat, only certain grape varieties can survive. One of the most acclaimed English varieties is sparkling wine, unsurprisingly, given its climatic similarities to the Champagne region. Crisp, high acidity is vital to the success of these wines, which comes from the slower ripening process in cool climates. Sparkling wine producers also have the advantage of several years of stock, which can be used to make "non-vintage" wines in poorer vintages.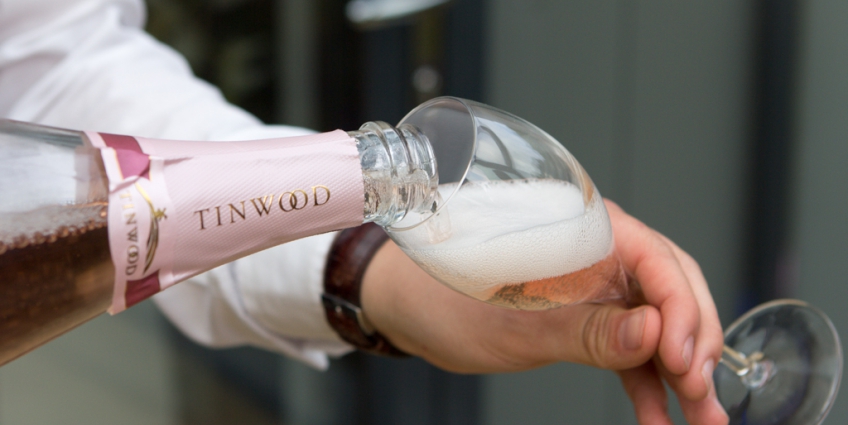 The area of land under vine in the UK has doubled since 2004, so why have British wines only recently stepped into the limelight?
Winemaking techniques have advanced dramatically in the last 10 years, meaning rigorous attention to detail in viticulture and allowing for better consistency in the end result. Many English winemakers have spent time in more established winemaking regions across the globe, learning the tricks of the trade. Julia Tristam Eve, marketing director at English Wine Producers, attributes some the growth to the success of established producers and the accessibility of information and training. Although the majority of wines are consumed in the UK, the export market is slowly growing, with wines currently being exported to 15 countries. There has been a rising demand in recent years for "Made In Britain" goods, with everything from cars to clothing becoming increasingly popular on the global market, so the wine export market looks set to increase.
Another factor attributed to the recent growth in British wines is global warming. According to government figures, the average temperature in the UK is 1˚C higher than it was 100 years ago and 0.5˚C higher than it was in the 1970s. In spite of the overarching controversy surrounding global warming, it could be seen as having a positive impact on British wines, taking it from a fringe region to a serious contender on the world map. With 2014 declared the best vintage yet in terms of weather conditions and 2015 set to be one of the warmest years since 1880, the future's looking bright for English winemakers.
One of the downsides of British wines is cost, both for the producer and consumer. At the moment, most of the wineries are relatively small operations compared to their European counterparts.The production and running costs of a vineyard can be exorbitantly high without the economies of scale. The biggest competition is the rise of the supermarket Champagne, where a bottle can cost as little as £9.99. Many of the top English sparkling wines could set you back over £30.
---
WINE-GROWING REGIONS
There are around 1,884 ha currently under vine in the UK; to give an idea of scale Bordeaux has around 120,000 ha! The most well-established counties for wine production are Sussex, Kent and Hampshire, where the abuncance of chalk soil makes it favourable for growing vines. There are many other counties emerging, with Oxfordshire tipped as the next up-and coming region and vineyards have been planted as far north as York. With their dramatic coastal landscapes and proximity to tourist destinations, some of the best boutique vineyards to visit are in Devon and Cornwall.
Check out our English vineyard tours here.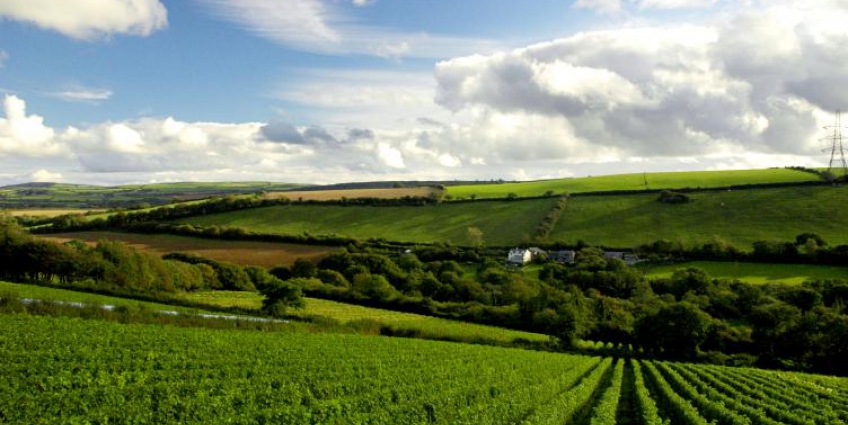 ---
KEY GRAPE VARIETIES
The majority of production is dominated by two of the classic varieties that make up Champagne, but growers have also had success with hybrids and crosses of German varieties.
Chardonnay
Primarily used in the production of sparkling wine along with Pinot Noir and Pinot Meunier but also occasionally used to make varietal white wines.
Pinot Noir
The most famous red grape of Burgundy has also enjoyed success in Britain. It is primarily used in sparkling wine production, but in good vintages can also make excellent quality still red wine.
Bacchus
Bacchus is an interesting grape which was derived by crossing Silvaner and Riesling with Müller-Thurgau. Its German heritage seems to cope well with the British climate. It is an aromatic variety with some flavour characteristics being likened to Sauvignon Blanc. Bacchus has been the key to some of the most successful single varietal white wines in the UK.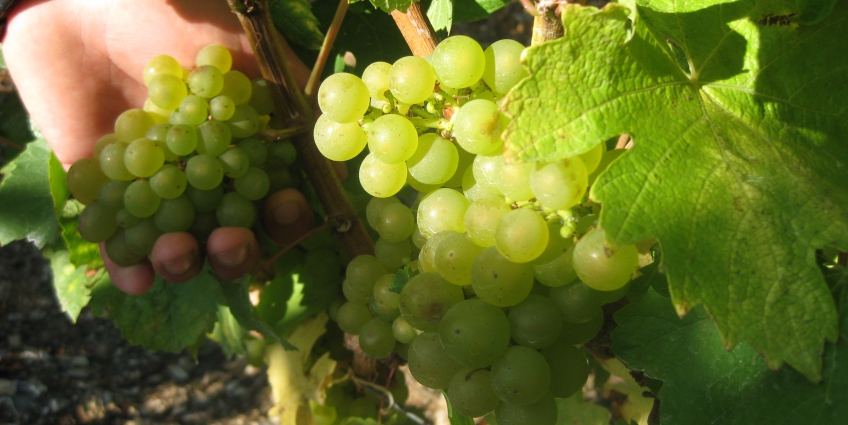 ---
AWARD-WINNING WINES
Many English wines are being recognised on the international awards circuit, so here are a few to try: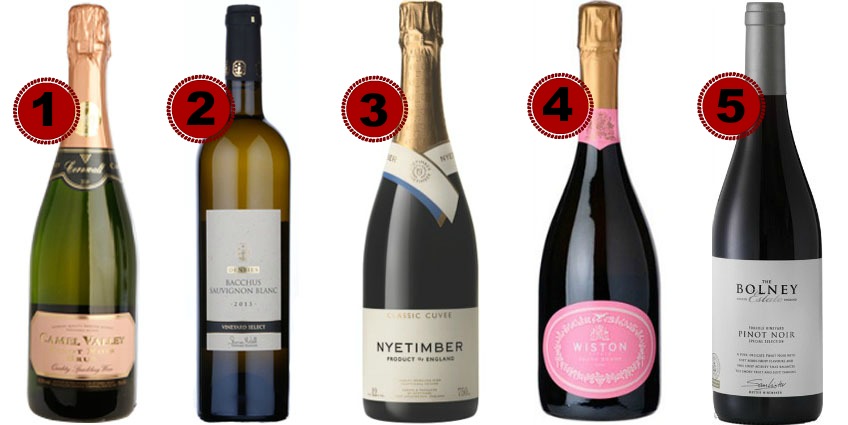 1. Camel Valley 'Cornwall' Pinot Noir Rose Brut 2012
Gold Medal at The International Wine Challenge 2014
Bob Lindo and his wife first planted vines on their Cornish farm in 1989, doing all the work by hand in the beginning and growing the vineyard into an award-winning business. This is a stunning sparkling rose with notes of strawberry and raspberry balanced with a strong, acidic backbone.
You can buy it here.
2. Denbies Wine Estate Bacchus 2013
Silver Medal at International Wine Challenge 2015
Denbies is based in Dorking, Surrey and has been under vine since the 1980s. It has the largest single vineyard at 177 ha. This white wine has tropical fruit flavours and crisp acidity, with all the aromatic qualities characteristic of the variety.
You can buy directly from their website.
3. Nyetimber Classic Cuvee 2009
Best Sparkling Wine in the UK at The International Wine Challenge 2014
Nyetimber was one of the pioneers of British wine production and has the largest estate in the UK with 177 ha under vine. The Classic Cuvee is made by traditional method. Pale gold in colour, with melon and lemon aromas on the nose and brioche and apricot on the palate. Good firm structure and a long finish.
It's availabile here from Waitrose.
4. Wiston Estate Rosé 2011
Gold Medal at Decanter World Wine Awards 2014
Based in the chalk hills of South Downs in West Sussex, the Wiston estate focuses solely on sparkling wines with rather appealing candy-coloured labels. The 2011 is a blend of 57% Pinot Noir, 33% Chardonnay and 10% Pinot Meunier. A delicate and fine sparkling wine with a flavour profile of raspberries and cream and good structural precision.
It's available from Corney & Barrow here.
5. Bolney Wine Estate Foxhole Vineyard Pinot Noir 2013
Silver Medal at International Wine Challenge 2015
The Bolney Estate is based in the Sussex countryside and has a good range of still and sparkling wines. They run tours and tastings throughout the summer months. This varietal Pinot Noir has ripe red fruits on the palate, a soft texture and good, fresh acidity.
You can buy it directly here.
---
THE STATS
Check out our handy infographic for some quick stats about the British wine industry…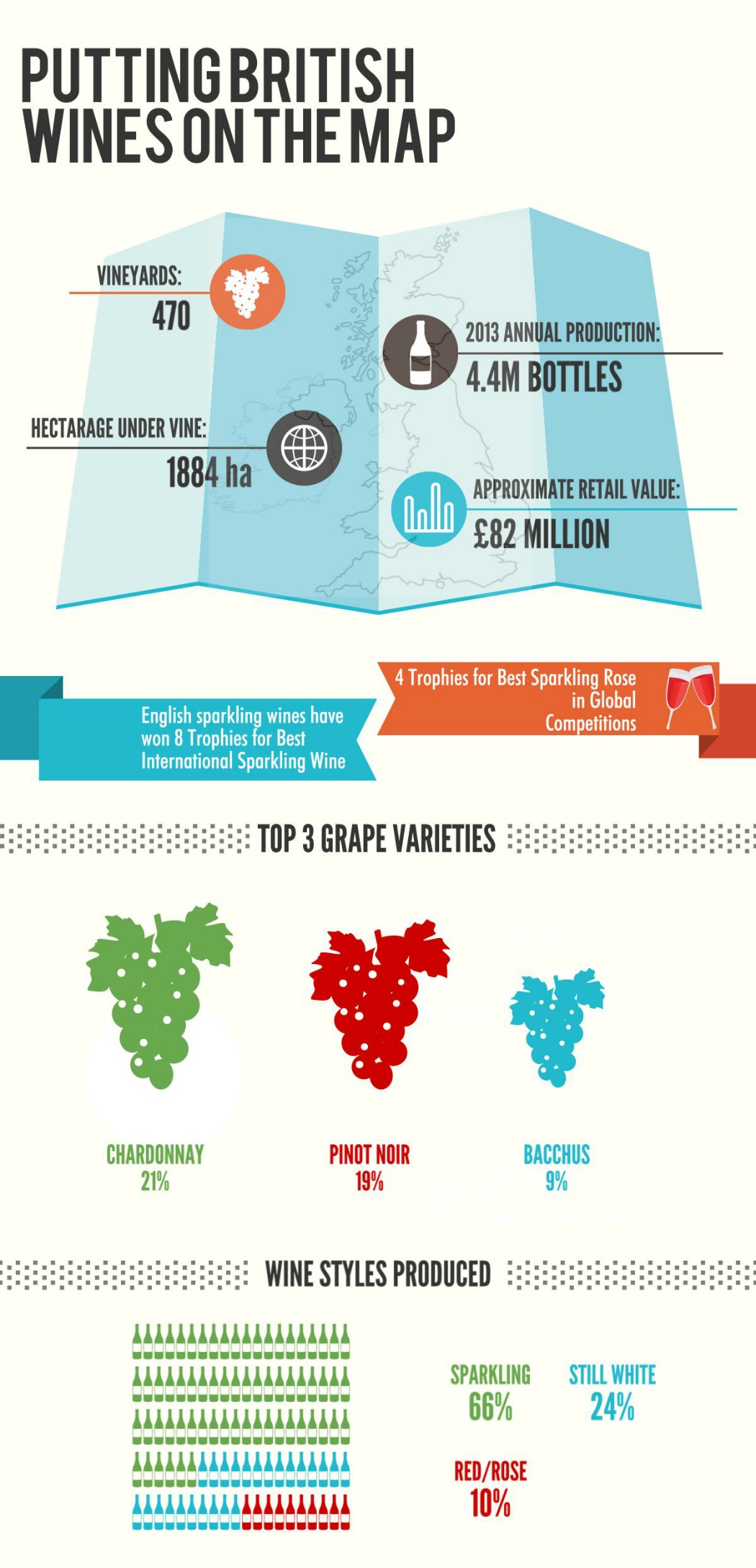 Information Source: English Wine Producers
---
Sources – global warming:
Title photo: flickr.com/80497449@N04