We've all been there – you're about to enjoy a lovely, cleansing sauna but you're just not quite sure whether to hang on to your bikini, or bare all and take the plunge in your birthday suit. If you're a Brit however, chances are that the thought of public nudity of any kind literally horrifies you. Frankly you'd probably prefer it we could all go into the sauna fully clothed, thank you very much.
In fact, while there are many incredible saunas to enjoy around the world (and the many rituals that go alongside them, such as massages or, erm, beating yourself with rattan sticks), each country has their own rules when it comes to sauna etiquette. If you don't want to risk a steamy faux pas, here's a summary of the do's and don'ts…
Best for… baring all
In Finland, you can really let it all hang out. Full nudity is the order of the day, and saunas are separated by gender. You're not even required to bring a towel to sit on – although you can bring some sausages or beer if you'd like to kick back with a drink or make use of the open fires within the sauna to make yourself a snack! Nudity is the norm in Russia too, with the exception of a hat, called a 'Banja', to increase sweating. Many Russians will also use birch branches to stimulate circulation. Whatever you do, don't just follow signs for a 'sauna' in Russia, as this can refer to an, erm, erotic establishment. Look for the word 'Banya', instead.
The rules are pretty flexible in Sweden, where you can be either towelled or naked, but drop the towel if you're headed to Latvia, where a wool cap (to prevent your sweaty hair from touching the wooden benches) is the only item of clothing you'll be wearing! Germany is all for the natural look too – stepping a toe into a german sauna in anything other than your birthday suit is a sure way to get yourself told off for being unhygenic!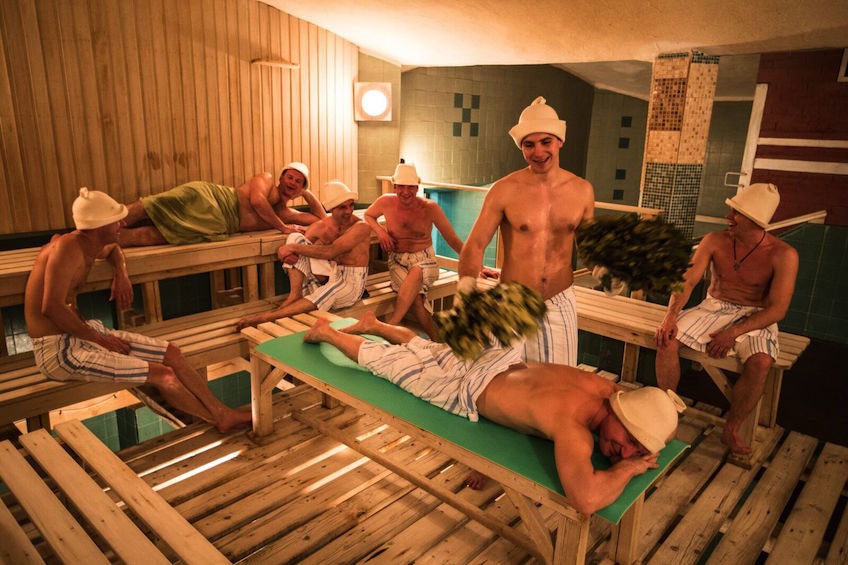 Best for… a more modest approach
France and Italy, meanwhile, despite their oh-so-cool reputation, are more inhibited than you might think, and the sauna is definitely a place to keep your bathing suit firmly on. It probably goes without saying that the Brits aren't huge fans of hanging out in the nude either, so saunas in the UK are for clothed patrons only. In fact, there was a scandal during the '90s when the German national football team visited a hotel's sauna stark naked. It was even reported in The Sun newspaper, to the shock and horror of the nation! If only they'd asked Winerist to cover it…
And can you take a glass of wine?
Well, not exactly, but if you happen to be visiting any of these Argentinian Wine Spas, you can indulge in treatments which use the naturally detoxifying properties of grape skins, or the antioxidant-rich resveratrol (also found in wine!), to keep you looking and feeling your best.