Right. You've done Sonoma Gay Wine Weekend and then spent the week resting, relaxing and touring Healdsburg and the Alexander Valley. It's the weekend again and you're ready to party, what's next?!
Many LGBTQIs from all over will head to Guerneville at the Russian River for fun in the sun and to escape the San Francisco fog. It was once the hub of the redwood timber mills and the largest of the lower Russian River resort communities. A brief head's up though, Guerneville has an undercurrent that can feel a bit gritty at times, however, this has always been a town known for its social and cultural diversity and is fiercely determined to keep that reputation. Its been a summer recreational escape for Northern Californian Gays for decades with Sonoma County Pride and Women's Weekend in May, Lazy Bear weekend and Russian River Pride in August, plus other shenanigans on weekends in between. In recent years it has also managed to become something of a 'Foodie' destination. Which stands to reason when you factor in that the Russian River, as an appellation, has some of the finest wines in California and arguably, the world.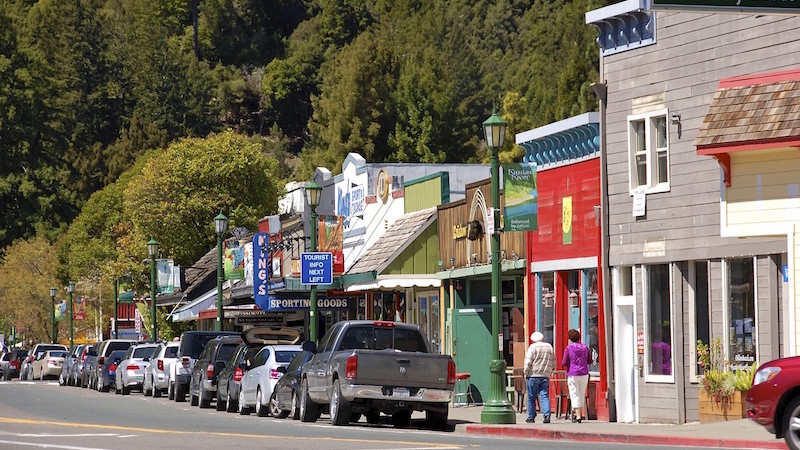 First stop for any good LGBTQI wine enthusiast must be Equality Vines right in the heart of Guerneville.  Equality Vines was founded by Matt Grove (founder of Eighth Wonder Wines, a sustainable wine company in South Africa) and Jim Obergefell (activist and lead plaintiff in the landmark Supreme Court case that legalized same-sex marriage across the United States). With the support of high quality local vintners, Equality Vines has created several series wines with themes like; Love Wins (by Joy Sterling of Iron Horse Vineyards in support of Equality), Empowerment (featuring women pioneers), Respect (supporting the YWCA), The Decision Pinot Noir (which Wine Enthusiast scored 90+ for the 2014 vintage) and a Winemaker's Series featuring out wine producer Kurt Giusti with his Via Giusti Vermentino and Giusti Estate Russian River Pinot Noir wines. A portion of proceeds goes to the various LGBT and women's charitable organizations or other causes important to Equality Vines.
Next, you need a place to hang your hat(s) and there are a number of fun Gay and yes, Lesbian places to stay from lovely B&B rooms to rustic cabins and 'glamping'. Not all are Gay owned but most are LGBTQI friendly. There are many to choose from but here are my picks for great places to relax, splash about the river, party down, take an inspirational hike through Armstrong Woods or simply to make your Sonoma County wine tour base camp.
The Applewood Inn – Is an oasis amongst the pines. http://www.applewoodinn.com/#sthash.wn0k5l8K.dpbs
The R3 Hotel – The fun place for party boys, bears and their gal pals (of all varieties). http://ther3hotel.com
Boon Hotel + Spa – A casual but stylish spot that tends to attract the 'L'adies http://boonhotels.com
Sonoma County's Russian River winds it way across a large area, with lots of quality wineries. It's always best to check tasting room opening times before you go. Here are my picks for great wineries within easy reach of Guerneville:
J Rochioli – "Best Pinot Noir in America" – Wine Spectator
Gary Farrell – Chardonnay "Wine of the Year" – Wine Enthusiast
Williams Selyem Winery – 90+ point Pinot Noir – Wine & Spirits
Moshin Vineyards – Great Burgundian style Pinot Noir
As mentioned already, Guerneville has, in recent years, become something of a 'Foodie' destination and there are more than a few good places to chow-down, such as:
Seaside Metal Oyster Bar – Fresh seafood and award winning wines
Big Bottom Market  – Good for breakfast and sandwiches pick up a picnic lunch and a bottle of something delish for your kayak ride up river!
Boon eat + drink (owned by the Boon Hotel & Spa) – Seasonal, modern California bistro
There is so much more about Sonoma County to share. Dry Creek wineries and the iconic California Zinfandel made there are some of the best.  Heading toward the sea, Timber Cove in Jenner is a fabulously romantic beach hotel. Then there is the backdrop for the Hitchcock movie The Birds in Bodega Bay, sweet and stunningly beautiful, but I'll let you discover the rest for yourselves. Have a great time!
Family Wineries Dry Creek Valley in Sonoma
From $20 / person