Relais La Sommita is one of those wine hotels that truly showcases all of the amazing things a wine region has to offer. Located in the historic "White City" of Ostuni in beautiful Puglia, the relais occupies a refurnished historical palazzo which dates back to the 16th century. One of Ostuni's hidden gems, you will have to drive between narrow alleys and white houses just to get there, which will be an adventure in itself (you can park your car and the hotel will pick you up on a golf cart, let the adventure begin!). Once you reach the very top, discreetly tucked away in the highest part of Ostuni, lies Relais La Sommita. From this priviledged location, stands a sea of the typical white-washed stone buildings and dark green olive trees, stretching all the way and blending into the turquoise blues of the Adriatic, just a few kilometers away. Be amazed by the views from the seaside rooms and from the Spanish Garden – we recommend that you request a seaside room to make the most of this delightful stay.
The interior of the hotel reflects a sober, minimalistic design style with spacious rooms, celebrating the typical Puglia surroundings with hundreds of shades of white, making for a relaxing retreat in the Italian coast.
If you enjoy travelling the world in search for the local culinary treats you will be amazed by the breakfast spread of fresh local fruits, assorted cheeses and hams, and variety of cakes. Make sure to dine at the Michelin-starred Il Cielo Restaurant at the hands of Chef Sebastiano Lombardi, where he serves his innovative creations in the backdrop of the Spanish Garden. You can even dive into one fo the culinary courses offered at the hotel. And for the wine aficionados, the Relais la Sommita hosts a top-class wine cellar.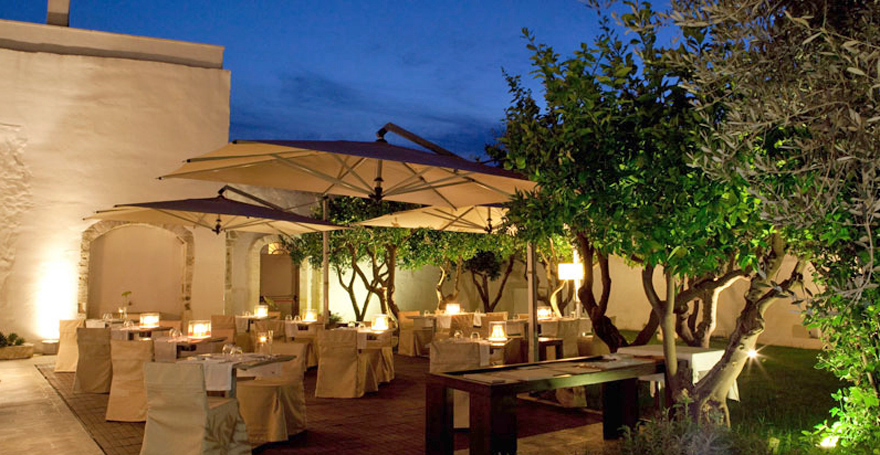 We just can't get enough of Puglia, see why Puglia is one of our Top Wine Regions to Watch in 2013.