Vibrant, colourful, quirky and chaotic, New York City is an intoxicating destination for travellers from all over the world. You probably won't be surprised to hear that in amongst the many bars and restaurants there are some amazing places to enjoy a huge selection of great wine.
New York state is also home to six AVAs (American Viticultural Areas), so a stay in the city will provide a great base for visiting Wineries and Vineyards in the Finger Lakes, the Hudson River, Long Island, and many other scenic destinations.
The city's wine culture has evolved in recent years and now creativity and affordability is the name of the game. Here are a few of our top suggestions for your wine bar experience in the city that never sleeps…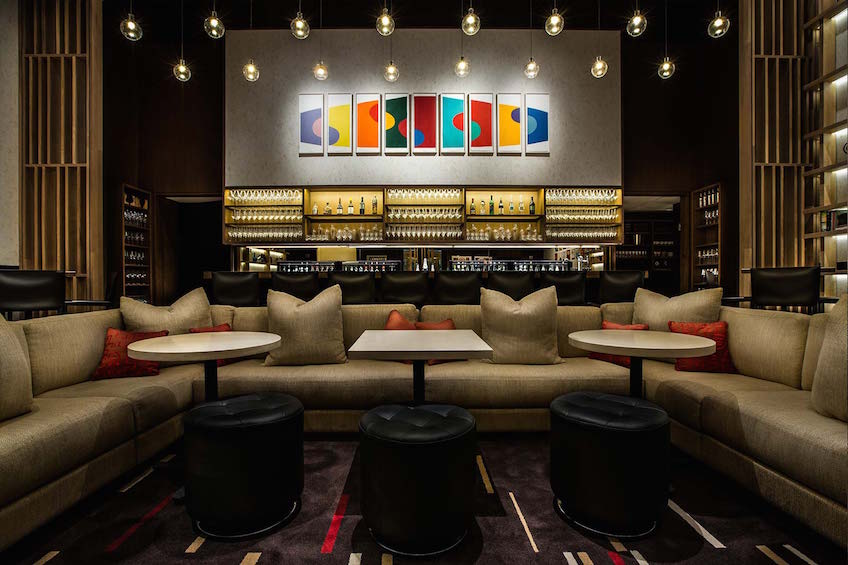 Photo credit: Aldo Sohm
Inviting and comfortable, the intimate space of Aldo Sohm, a Midtown wine bar popular with locals, exudes casual elegance, without any of the stuffy formality of nearby parent restaurant, Le Bernardin. Sink down onto one of the luxurious sofas, chat to friendly and knowledgable sommeliers and enjoy a vast but carefully curated selection of wines from around the world. Tasty small plates designed to complement each glass, such as the Roasted Spiced Carrots ($8.50), are well executed and reasonably priced, while the Austrian Zalto glasses (light as a feather and pleasingly angled) will make sipping a delight.
Top pick for: Feeling like you're enjoying a glass of wine in a friend's living room. Albeit a friend with impeccable taste in decor, an expensive collection of glassware and a huge wine cellar… (Glasses $8-$15)
151 West 51st Street, New York, New York 10019
---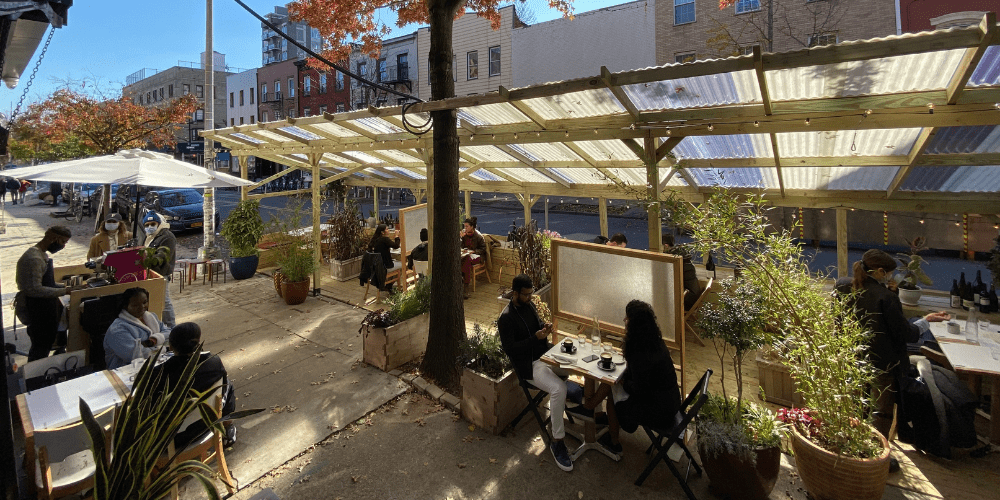 Photo credit: The Four Horsemen
Founded by James Murphy, lead singer of American rock band LCD Soundsystem, this Williamsburg institution has become well known for its youthful vibes and quirky wine list – which includes a selection of orange wines, made in the ancient way with the grape skins included. The food menu is small but perfectly formed (the Nordic-style brown bread, served warm with fresh butter, is a must-try), and is balanced by a huge wine list, which a friendly sommelier will be happy to help you navigate.This small venue really packs a punch with bags of personality and a confident, well-curated wine offering.
Top pick for: Good, honest quality (both the food and wine) at characteristically low Williamsburg prices.
(Glasses $13-18)
295 Grand St, Brooklyn, New York 11211
---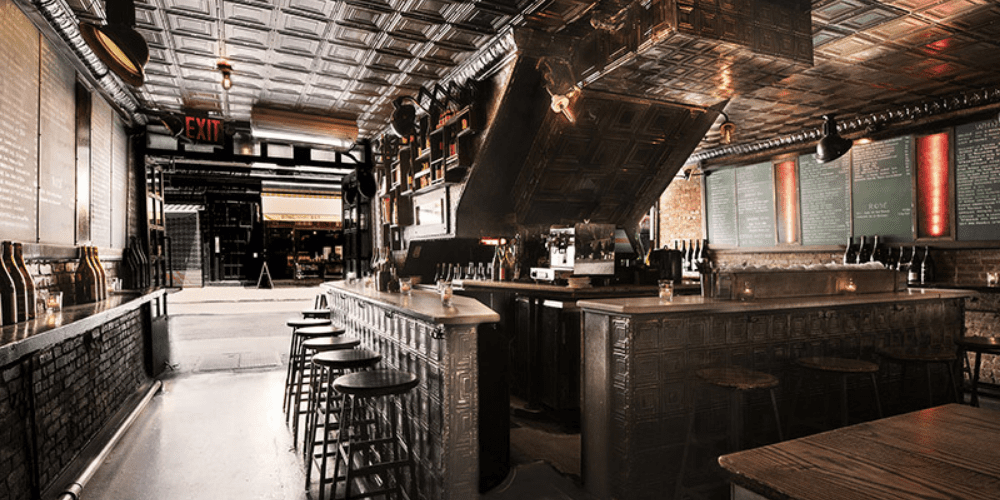 Photo credit: The Ten Bells
The Ten Bells wine and tapas bar is the place to go in New York City for a great selection of organic and natural wines. This laid-back venue is certainly not the place to find grand crus or first growths, but you will find gems such as Le Rouge Est Mis, made from the unlikely pinot meunier grape, and 'cult wines' made in small batches by hands-on 'wine idealists'. The food menu follows the same simple approach and crowd pleasing dishes such as oysters ($2.50) or papas bravas ($5) will keep you satisfied while you ponder the handwritten chalk menus and decide which wine you will discover next.
Top pick for: An unusually comprehensive selection of natural, organic and local wines. (Glasses $13-$18)
247 Broome St. New York, NY 10002
---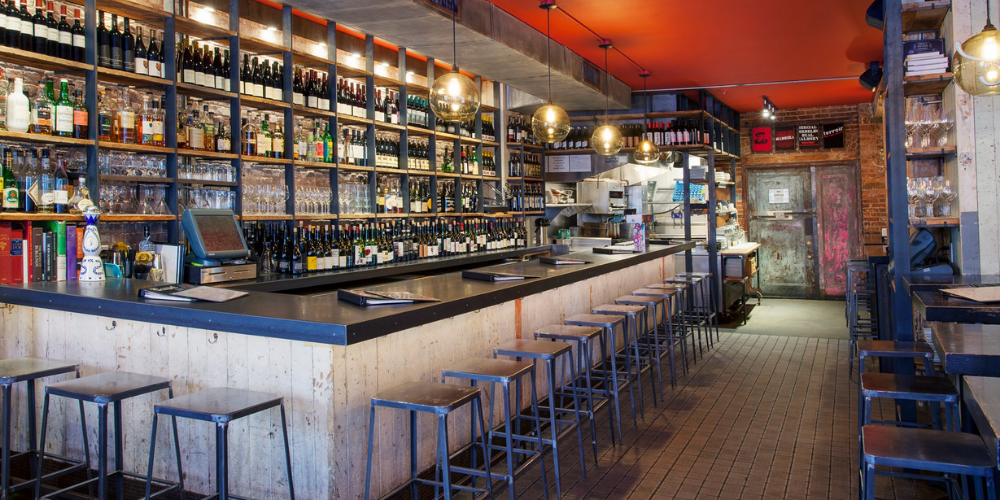 Photo credit: Terroir Facebook
With walls lined with wine bottles, fourteen types of cheese on the menu and a legendary wine list curated by owner Paul Grieco, Terroir sets the gold standard for the coolest wine bars in New York City. The Tribeca establishment is well known for not taking itself too seriously, and locals enjoy the hearty and generous food menu alongside Greico's irreverent and opinionated wine selections. Here, Condrieu from Georges Vernay can be found next to Turley Zinfandels and a good but not inexpensive selection of sparkling whites. Grieco is not subtle about his personal passions either – almost fourteen pages of the wine list are devoted entirely to Rieslings, including a section explaining why 'Obama Needs a Glass of Riesling'.
Top pick for: A great all-round experience delivered in a quintessentially New York way. (Glasses $8-$14)
24 Harrison St. New York, NY 10013
---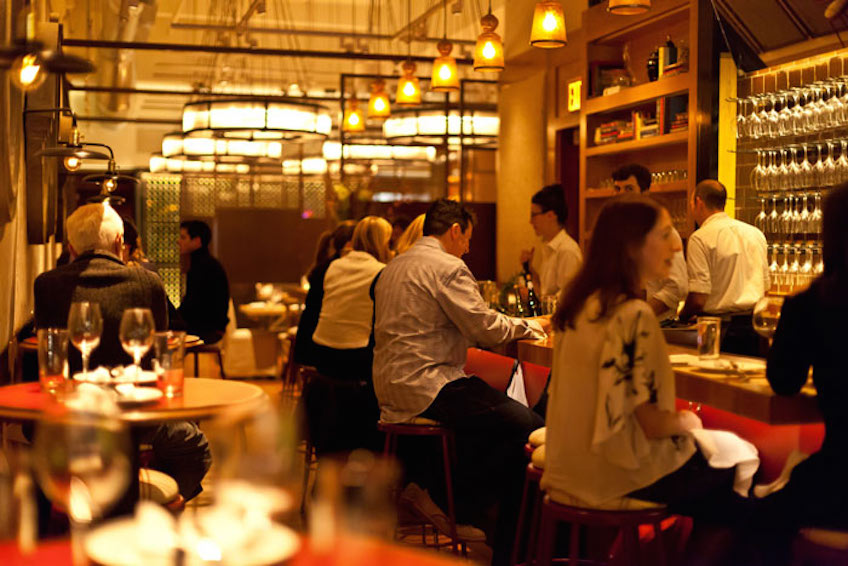 Photo credit: unionsquare.corkbuzz.com
The Union Square branch of this popular Wine Studio is ideally located for drinks and a spot of people watching after a long day in the city. This decidedly grown-up destination boasts ambitious food, an extensive wine list and a 'wine education centre' which runs a variety of classes for those wanting to polish up their knowledge. While the indulgent dishes, such as bone marrow with blue cheese, offer an exciting accompaniment to an unusual range of wines, neither the food nor the drinks come cheap, with small plates starting at $15 and wines by the glass costing up to $50. However, if you're in the mood for a celebration, Corkbuzz's happy hour is unbeatable, their 'Champagne Campaign' sees every bottle of Champagne (and there are plenty to choose from) discounted to half price after 10pm. We'll drink to that!
Top pick for: Trendy decor, fashionable location and the best happy hour in town. (Glasses $9-$50)