The Spring Mountain appellation sits on steep hills of the Mayacamas Mountains that separate Napa from Sonoma. One can spend two days visiting on Spring Mountain and still not make it to every available winery.
Spring Mountain has its own association, own AVA, and own website.
Having worked up on the mountain in the district for several years an easy one-day itinerary is this:
10:30 – Cain Vineyards & Winery – start the day here at this most remote of wineries and work your way down the mountain from here. Cain is at the top of Spring Mountain at about 2000 ft. elevation. One drives from the town of St. Helena at about 300 feet elevation, up a mere six miles (the longest six miles on earth) winding up the mountain.
12:00 Terra Valentine, Fisher Family or Erna Schein
13:30 Robert Keenan Winery (eat your picnic lunch here after buying some wine)
15:30 Spring Mountain Winery or Newton (be sure to make advance reservations for late day visits to any small winery – most of them are gated)
Tip – When visiting Spring Mountain and its wineries always make advanced reservations at wineries of interest with at least two days anticipation. The wineries are all small and privately owned and generally can't accept drop in visitors. There are no stores or amenities of any kind on Spring Mountain so be sure to have a full tank of gas, a sweater, sun screen, water, and pack a no-fuss picnic lunch (you can pick up lunches at Cal Mart in Calistoga, Sunshine Market in St. Helena or Olivers in Santa Rosa).
Written by: Holly M. Evans-White has worked in the wine business as a tour guide, wine educator, wine buyer, sommelier, wine concierge and wine consultant in Napa and Sonoma counties for over twenty years. Holly's expertise is in pairing the wine enthusiast with a wine experience that surprises and exceeds the wine explorer's expectations. Holly, also known as the Cellar Cat, believes everyone can learn to Drink for Themselves, and that only Practice makes Purrfect.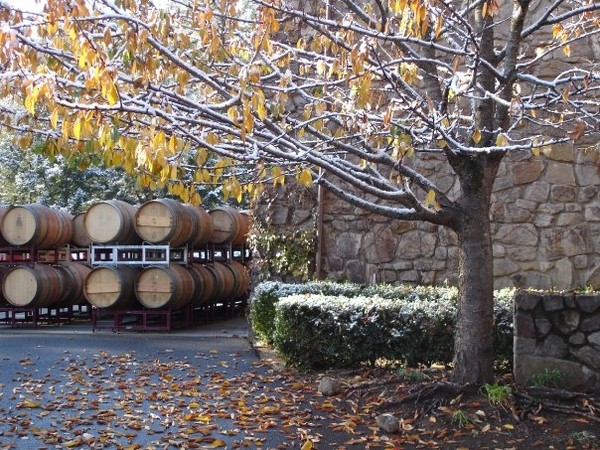 Terra Valentine Winery