Not only is Auckland the biggest city and most significant international transport hub in New Zealand (although not to be mistaken for the country's capital city, which is Wellington) it's also a region of plenty and prosperity which ensures that incoming visitors receive the warmest kia ora as soon as they step off the plane. It's a place where an exciting urban sprawl sits comfortably shoulder-to-shoulder with tranquil paradise islands and rugged, dramatic coastal vistas where the west coast meets the Tasman Sea. In fact, the Māori name for this region of New Zealand is Tāmaki Makaurau – it means 'the maiden desired by a hundred lovers' and was chosen because of the region's bounteous natural resources.
You'll find everything here, from some of the biggest names in winemaking to exceptional cuisine, great nights out, exhilarating experiences (more on that later) and peaceful, isolated beaches where it's easy to just kick back and relax with a bottle of your favourite Kiwi wine. It's no surprise that the city of Auckland regularly wins awards for the quality of life here – it's currently rated third most liveable city in the world (joint third, actually, along with Vancouver and Munich) on the Mercer Quality of Living City Ranking, and is a place universally adored by inhabitants and guests alike.
Auckland at a Glance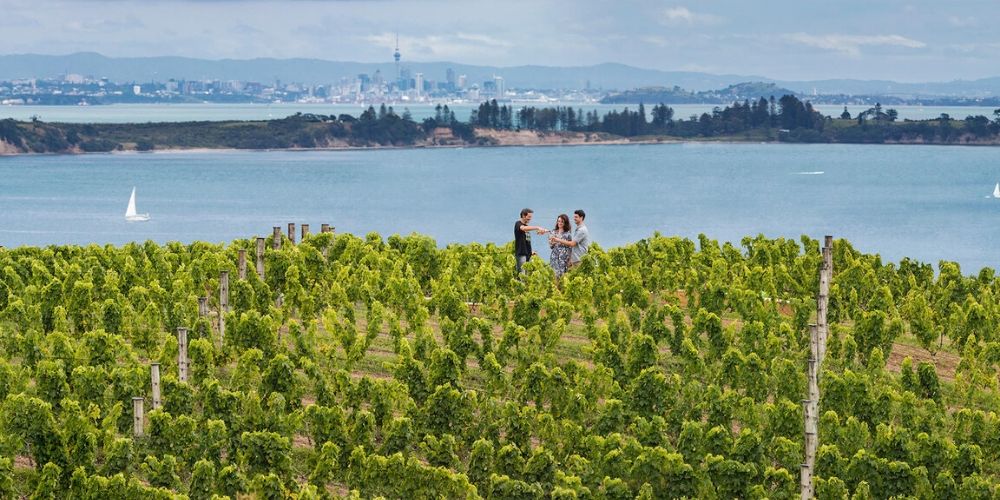 Photo credit: New Zealand
When to go: Auckland basks in a temperate coastal climate which tends to be relatively consistent. Summer averages are between 23°C to 25°C, and winter is rarely colder than 10°C. Rainfall can be significant, though, so make sure you pack an umbrella!
How to get there:
Auckland Airport is the biggest transport hub in New Zealand, with international flights arriving every day from all around the world. An economy round trip from London can cost as little as £650 if booked well in advance.
Currency:
New Zealand Dollar
Time Difference:
+11 GMT
Insider Knowledge:
Seafarers rejoice – Auckland is also known as 'the City of Sails' thanks to the numerous marinas and docks which encircle its harbour location. Observe from the right angle and the sea of masts and billowing sails seems to go on forever!
Regional Highlights
Food & Wine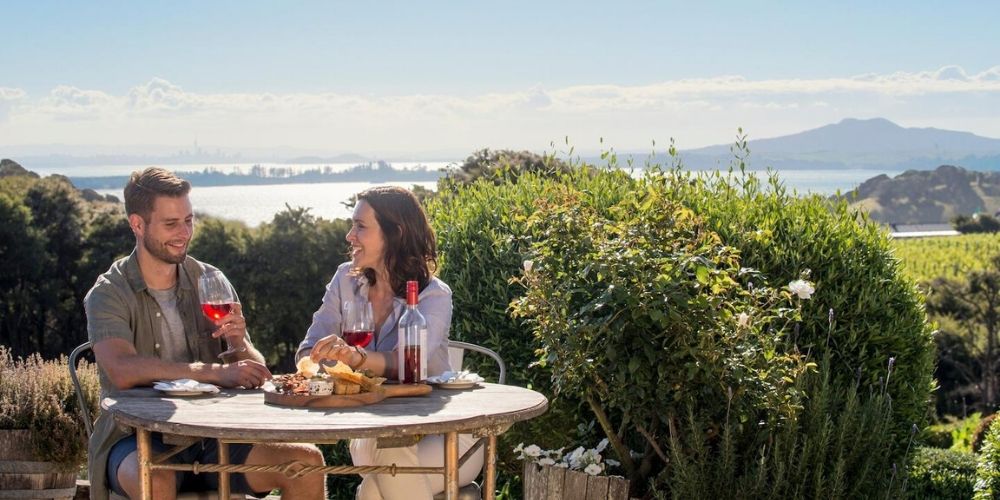 Photo credit: New Zealand
Although relatively small in terms of overall production, Auckland is nevertheless one of the oldest wine regions in New Zealand and home to some serious vinous heavyweights. The name Villa Maria is instantly recognisable as possibly the most famous Kiwi winery in the world – and although they have vineyards in various locations around the country, Auckland is where Villa Maria calls home. The winery sits just ten minutes from Auckland airport and opens 7 days a week for guided tours (a bargain at $5 per person) and tastings (a similar bargain at $15 for a tasting flight of premium wine).
A visit to Waiheke Island is also a must; locals call it the 'island of wine', a mesmerising island paradise where around 30 wineries produce everything from Chardonnay and Pinot Gris to robust, assertive Bordeaux blends. Man O'War Vineyards is a must-visit for lovers of these gorgeously intense red blends, and there's even a cosy cottage for overnight stays if you can't bear to tear yourself away.
As you might expect from such a cosmopolitan region, the food scene in Auckland is also rather fabulous. Stylish bars and restaurants abound in all areas of the city, with harbourside spots such as Viaduct Harbour particularly popular for grabbing a bite in full view of the city's glorious marinas. Elsewhere, organic and gourmet local produce tend to be the order of the day, and wherever you go in the region you are almost guaranteed to happen upon a farmer's market offering an abundance of local treats. Guided food tours around the region are common and an extremely popular way of getting immersed in Auckland's culinary delights.
Art and Culture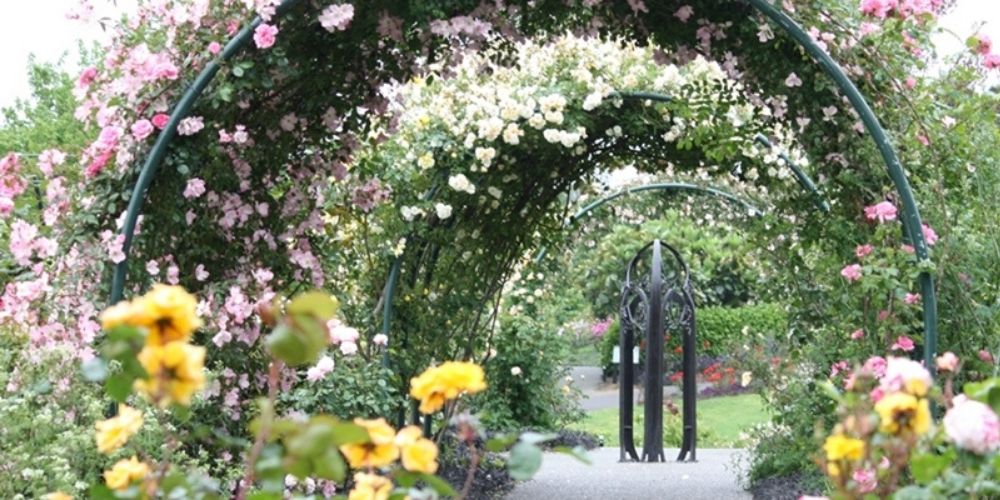 Photo credit: Auckland Botanic Gardens
Auckland is a fabulous place to indulge your creative side. As well as being a UNESCO City of Music thanks to its diverse, innovative music culture (you're equally as likely to stumble upon a Metallica concert as you are traditional Māori music) there is a plethora of fascinating museums and galleries to be discovered by those interested in New Zealand's enthralling history. Before taking in an evening concert, try the New Zealand Maritime Museum in central Auckland, which recounts the hundreds of stories that make up the nation's rich seafaring heritage. The Auckland Museum, meanwhile, houses an unrivalled collection of historic artefacts from Māori tribes and other settlers, alongside some wonderful natural history exhibits.
If you're itching to get out into the great outdoors, there are also a number of magnificent gardens and outdoor spaces dotted around the city. The picturesque Auckland Botanic Gardens is home to a vast, verdant collection of plant species both indigenous and exotic, winding through placid lakes and outdoor sculptures created by local artists. Or, for a tranquil retreat in the heart of the city, the Parnell Rose Garden is a quiet oasis overflowing with thousands of roses in full bloom from November to March – if you time it right (mid-November) you'll happen upon the Parnell Festival of Roses, an enduringly popular celebration featuring live music, food stalls, tours and children's entertainment all taking place against a stunning backdrop of these glorious blooms.
Outdoor Activities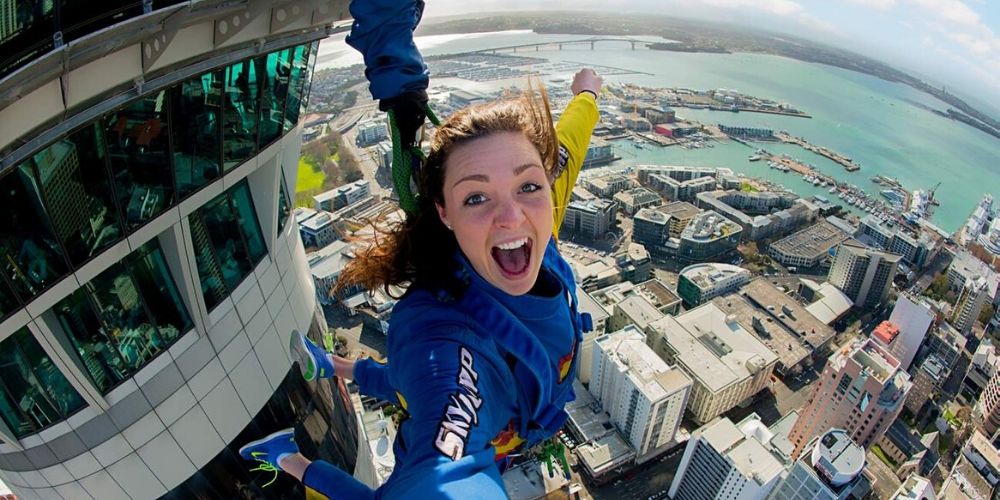 Photo credit: Auckland SkyWalk & SkyJump
Adrenaline junkies, look no further. If giddy heights, total excitement and all things vaguely terrifying are your bag, head to the Sky Tower, the tallest building in New Zealand which at 192 metres tall dominates the Auckland skyline. At the top, the daring amongst us have two options. You can either jump off it (yes, really) or take a heart-thumping walk around the top; no handrails, just you and some truly epic 360° views of the city. It's not cheap – a Sky Jump will set you back $225 – but in terms of once in a lifetime experiences you'll remember for ever, this one is certainly a chart-topper.
If you prefer something a little more sedate, there is a great selection of parks, walkways and trails for keen hikers. The Te Henga Walkway traces a path through the wild natural beauty and rugged clifftops of the Waitakere Ranges on the West Coast, whilst a brief ferry to Rangitoto Island will bring you to the Rangitoto Summit Track. This trail brings walkers to the summit of the island's dormant volcano where it's possible to look back and take in breath-taking views of the Auckland skyline. Rangitoto and the Great Barrier Island are also great for kayaking, dolphin spotting and whale watching.
Towns and Cities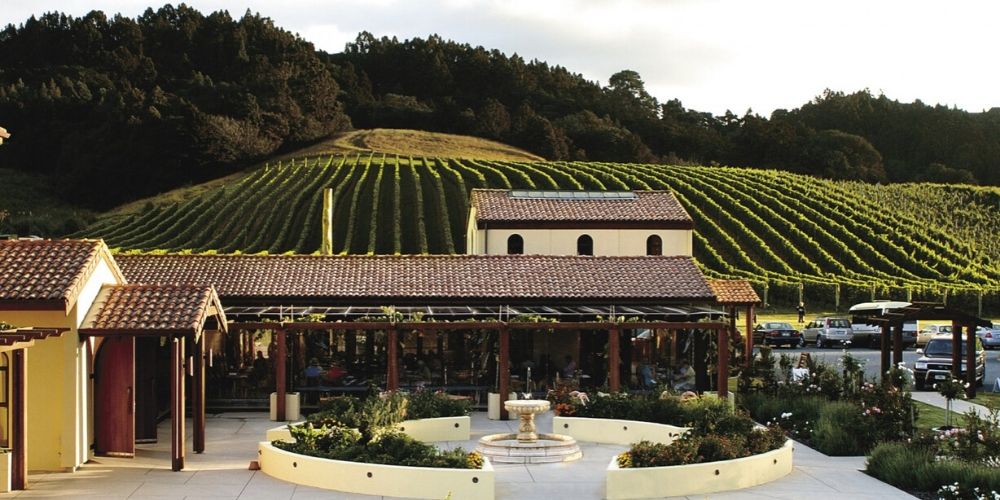 Photo credit: Matakana
Whilst central Auckland of course dominates the region, there are numerous other pretty, friendly towns within a stone's throw of the city centre which provide a little light relief from hectic urban life. It's all about rural bliss in these small towns – Helensville and Clevedon are both idyllic country boltholes set in beautiful surroundings. Rolling hills and serene beaches abound, and there is nowhere better to seek a calm respite.
Matakana and Warkworth sit comfortably together at the northern edge of the region, providing a warm welcome to the beautiful beaches and natural splendour of this part of the coastline. As well as being great bases from which to explore the Goat Island Marine Reserve, Warkworth offers good food, comfortable beds and a pleasant, bucolic atmosphere. It's worth visiting Sheepworld (yes, really) for an insight into one of New Zealand's biggest industries; catch a sheepdog display or lamb feeding time before picking up your own quality Kiwi sheepskin! Meanwhile Matakana, just up the road, is a hub for the more northerly boutique wineries of the region and a great spot to pick up an amazing picnic at one of the regular farmer's markets.
---
If you enjoyed learning about Auckland, why not check out North Island's East Coast and find out why it's a must-visit? Or if you want to explore the small and charming city of Martinborough click here. Perhaps you are interested in organic wines, then why not discover what the New Zealand winegrowers have to say about it?