Small and perfectly formed, the quintessential New Zealand village of Martinborough sits charmingly at the centre of Wairarapa, the most southerly wine producing region on New Zealand's North Island. Martinborough (and the surrounding area) is actually one of three small sub-regions in the wider Wairarapa area and by far the most famous. It's particularly well-known for the Burgundian style of its Pinot Noir, which has established a global reputation for quality and refinement. Producers here are both immensely proud of what they achieve and equally enthusiastic about sharing it with their guests!
This is a passionate community which eats, sleeps, breathes and, of course, drinks wine (not all of those in a literal sense!) and the feeling of joy extends from the vibrant centre of Martinborough village to the rolling miles of vineyards that swell out in every direction. Arriving here really does feel like entering the beating heart of idyllic Kiwi wine country, and tourists flock here in their thousands each year to drink in the mild summer weather, the cheery atmosphere and, of course, the local produce!
Martinborough at a Glance

When to go:
Spring and summer (September-March) are the best time to see the vines in action and catch a festival or two. Daytime is mild, but the nights can rapidly turn very chilly, so don't forget to pack your coat!
How to get there:
Fly direct into capital city Wellington and then it's a simple 1-hour drive into Martinborough town
Currency:
New Zealand Dollar
Time Difference:
11+ GMT
Insider Knowledge:
Martinborough is named after John Martin, an Irish immigrant who began sheep farming here in 1879. The village itself is laid out like a Union Jack with street names such as Panama, Venice and Suez – all inspired by Martin's travels around the globe!
Regional Highlights
Food & Wine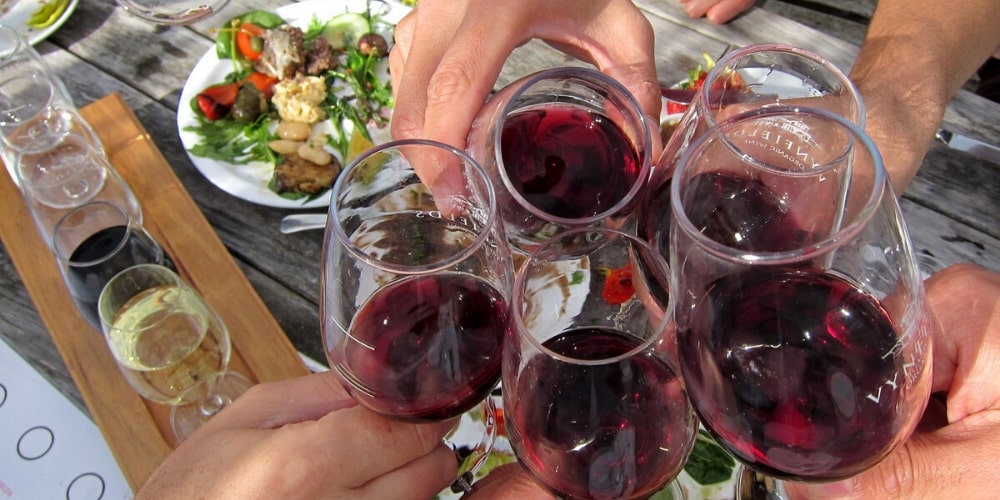 Photo credit: Ezperienza
Few other places in the world are so dedicated to the pursuit of all things vinous as Martinborough. There are around 20 family-run and boutique wineries here – conveniently, pretty much all of them are located within walking or cycling distance of the town centre, so designated drivers need not worry! As a result, guided tours, tastings and wine experiences abound; Ata Rangi, one of the world's most respected New World wine producers, is a special place to start your tour. Do make sure you book a tasting slot though, as they tend to fill up extremely fast. Dry River, Margrain and Te Kairanga are also well worth a visit, although it's important to note that visitors can't really go wrong regardless of whose cellar door they end up knocking on!
In further good news, with great wine comes great food and it's nigh on impossible to eat badly in Martinborough. Many of the wineries have their own restaurants, whilst Kitchener Street is a hotspot of friendly bistros and cafés.
However, perhaps the ultimate Martinborough experience for oenophiles, gastronomes and anyone who loves a party is Toast, a food, wine and music festival which takes place here each year on the third Sunday in November. At this time, the town's population explodes from under 2,000 to over 10,000 people! It's enormous fun, a combination of live music, wine tasting and fresh local cuisine that attracts visitors from all around the globe, and tickets are a steal at $90.
Art and Culture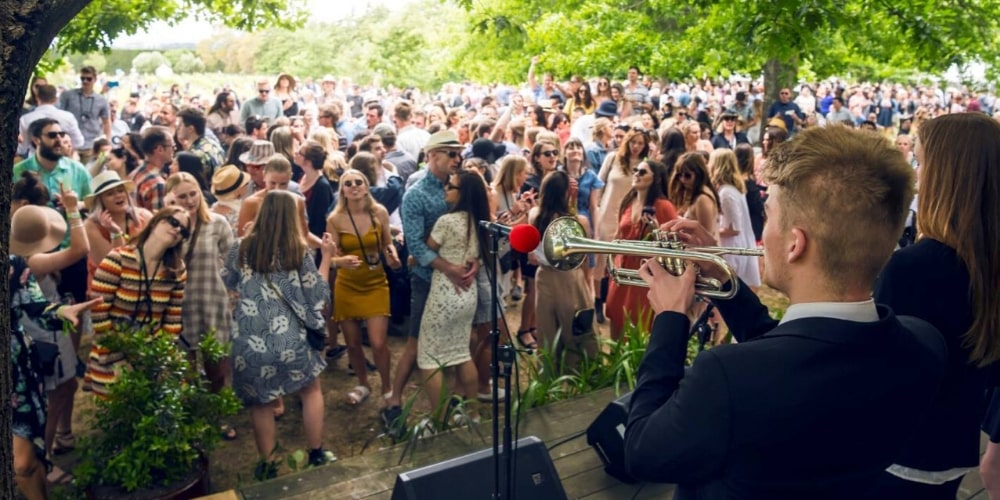 Photo credit: Toast Martinborough
The general rule of thumb in Martinborough is that wine is culture, and culture is wine … as of June 2018, approximately 1,680 people inhabited the town, and you'd be hard pushed to find a single one without a connection to winemaking in some shape or form! However, if you've imbibed all that you possibly can, there are plenty of other ways to enjoy this lovely town.
The Martinborough Fair, which takes place each year on the first Saturdays of February and March, is New Zealand's biggest craft and country fair, with over 25,000 people attending over the two days. The town is transformed by over 400 friendly stands overflowing with everything from plants and pottery to local produce and is a great day out for the whole family – what's more, profits from the event are distributed to various charities around the region, so visitors can have a great time whilst supporting an even greater cause!
Meanwhile, music lovers will adore the Martinborough Music Festival – now in its third year, the festival takes place in late September and is a four-day celebration of classic and chamber music featuring fabulous talent from all around New Zealand.
Outdoor Activities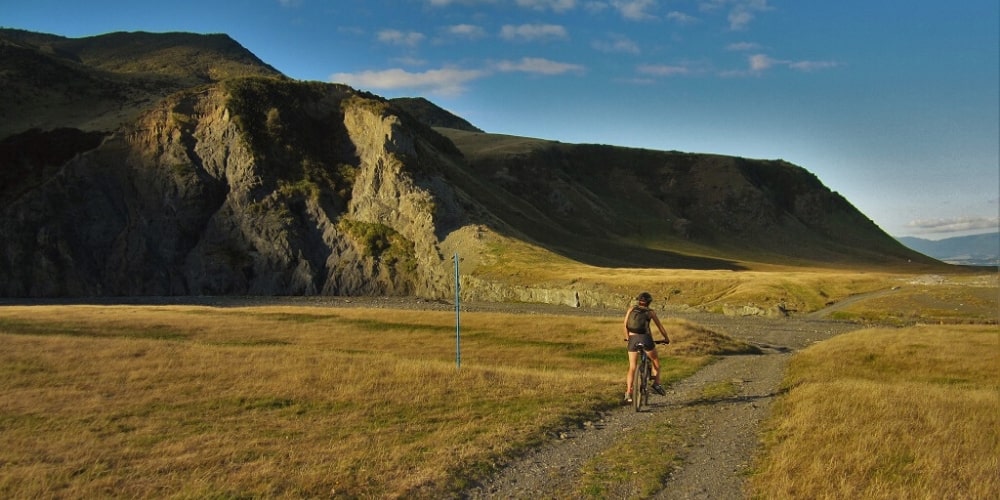 Photo credit: Cycle Remutaka
During your time in Martinborough, you will quickly become accustomed to seeing groups of cyclists traversing the town as they pedal from winery to winery (pay extra care later in the day as they may become ever so slightly unsteady!) Cycle hire shops are plentiful and, once you've had your fill of wine tastings, there are plenty of trails outside the town to explore. The Remutaka Trail runs for 115km from Wellington into the heart of Wairarapa and is a great way to take in the countryside.
Martinborough is also home to an 18-hole golf course where visitors can tee off whilst enjoying stunning views of the surrounding countryside and – you guessed it – undulating plains full of grapevines. However, if all you simply want to kick back and relax then stop in at the Brackenridge Country Retreat and Spa just outside Martinborough town centre for a spot of pampering. Whether it's a massage, relaxing swim or a luxurious lunch, the spa facilities and pleasant atmosphere make this a perfect spot to soothe away the stress of all that indulgence!
Towns and Cities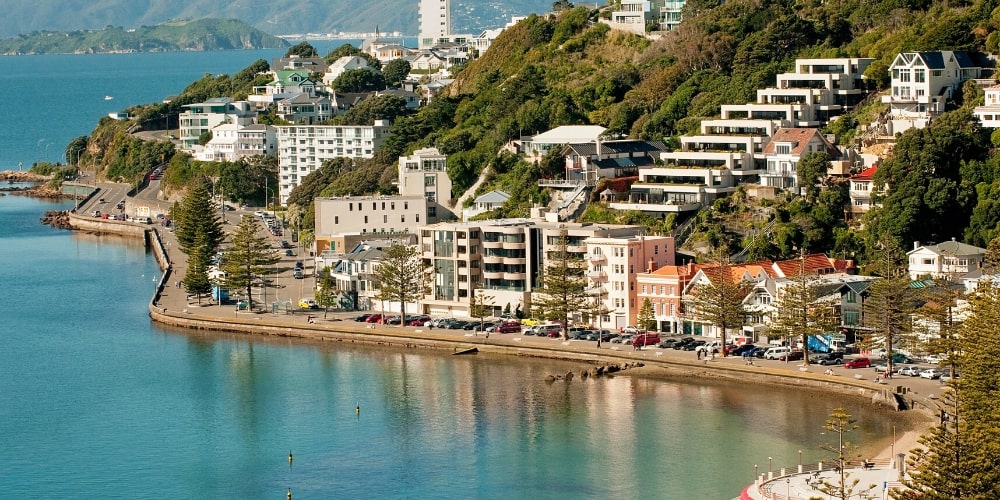 Martinborough town is the heart of the region, but whilst you're in the area New Zealand's capital city Wellington is a must-visit. A bustling metropolis might be a slight shock to the system after the rural, bucolic charm of Martinborough, but this energetic, vibrant city will soon have you back on your feet. There's an incredible coffee culture here and the city is said to have more bars and restaurants per capita than New York (as well as 19 of the 100 best restaurants in New Zealand) so hungry foodies certainly won't struggle here.
Whether you're craving culture, longing for five-star luxury or itching get up close and personal with some of New Zealand's indigenous animals, the galleries, zoos and hotels of Wellington are a fabulous way to spend a few days getting back in touch with the outside world.
---