As London celebrates another exciting new opening in the heart of Covent Garden, Lynn Mueting pays Lady of the Grapes a visit on opening night…
French winemakers call the feast that happens on the 8th of September, the 'Our Lady of the Grapes Harvest'. On this day, some of the winemaker's best grapes are brought to the local church to be blessed and a few of the bunches placed into the hands of the statue of Mary. It's a tradition of thanksgiving for a good harvest and one of respect for the mother's role in bringing forth life, which dates back from well before the biblical Mary. So it's no surprise then, that London's newest wine bar, Lady of the Grapes, proudly boasts that 70% of their 90+ wines are made by women.
Owner Carole Byron believes that women winemakers are grossly underrepresented and has made it her mission to bring them more visibility in the marketplace. She also believes that what goes in the bottle ought to be on the label and she is a firm champion of organic, biodynamic and natural wines, so much so, that you won't find anything else in her bar!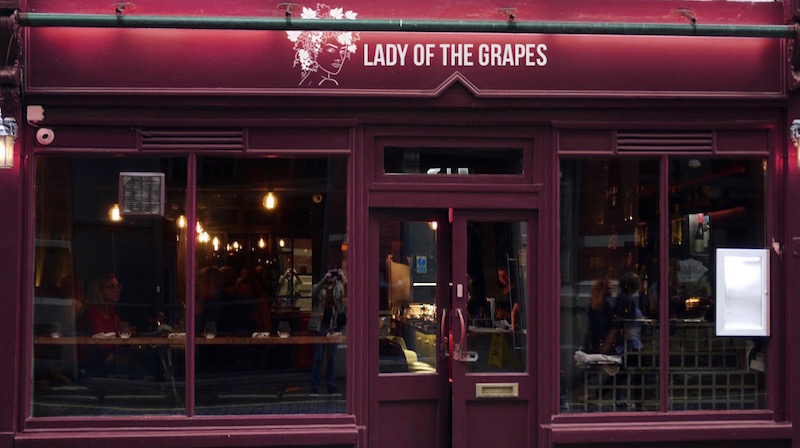 Catalan chef and partial investor, Victor Garvey (of Rambla and Sabarita fame) has created the organic food menu with a decidedly French flair. A high quality selection of charcuterie and cheese are on offer, as are a delightful choice of vegetarian, meat and fish dishes. There are even a few fabulously French nibbles along with wines on the shelf to take away with you, should you prefer to pop your cork at home.

Lady of the Grapes is definitely switched on to the latest trends in wine, food and culture within a cosy and unpretentious atmosphere of friendly hospitality. It's a great destination for a catch up with a friend after shopping in Covent Garden, or anytime you happen to be in the neighbourhood. Go share a glass and a chat with Carole about her favourite wines. You'll be glad you did!
Lady of the Grapes
16 Maiden Lane, Covent Garden,
London,
WC2E 7NJ,
UK
T: 020 7836 4152
Want to explore more of the interesting drinks side of London? Check out our piece on London's first Sake brewery, Kanpai or the Mead brewery, Gosnells right next door to it! If beer is more to your liking, then here is Anthony Gladman's pick of the best beer tours in London. Cheers!