Winerist was invited to Counter Albion, Boundary's little brother, for a natural wine tasting dinner with Doug Wregg of Les Caves de Pyrène, the pioneer of natural wine sales in the UK, held on 25th November.
Natural and orange wines (whites, where grapes were allowed to spend some time in contact with skins which gives these wines orange hues and more intense aromas) are still relatively new and unconventional for the UK market. Although there are bars and retailers where you can find them, the majority of general public is not quite used to the idea yet. Made without any additives in the form of sulphur for example, this is the wine as close in style to the ones our ancestors used to make as it possibly can be in the 21st century. Generally, such wines tend to have more pure fruit expression and lower level of alcohol. They do taste differently which makes some people find them to have only remotely "traditional" wine taste.
ABOUT THE LOCATION
Counter Albion is a lovely rustic cafe and wine bar in the heart of Shoreditch, which serves health natural food predominantly based on British ingredients during daytime and turns into a local wine bar with accent on natural and biodynamic wines in the evenings. It opened its doors for a group of adventurous tasters starting with a half an hour reception and a glass or two of Donati Camillo frizzante Malvasia Rosa, a lovely refreshing and easy drinking light bubbly, which was just right to put everyone in the mood for dinner.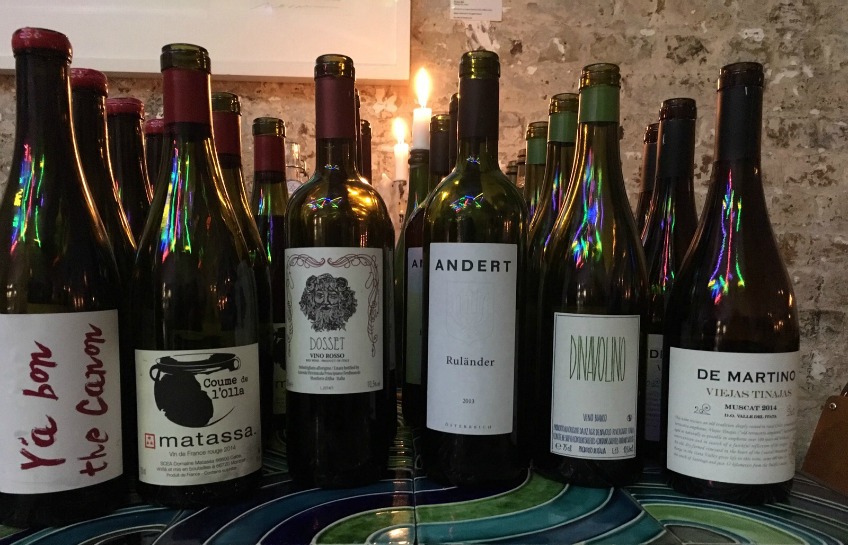 THE WINE AND FOOD PAIRING
As we all settled at the table, the wine tasting started with five colourful wines in very different styles: Muscat Tinajas 2014 (De Martino, Chile), Dinavolino Bianco (AA Denavolo, Italy), Rulander 2013 (Andert-Wein, Austria), Dosset 2014 (Ferdinando Principiano, Italy) and Coume d'Olla Rouge (Domaine Matassa, France). Accompanied by Doug's exciting and knowledgeable comments and the appetisers of Sussex air-dried beef – a good alternative to Italian "bresaola" – and Hackney "Culatello", a drier version of prosciutto, we started the informal tasting. The wines were interesting, but most of our less prepared dinner neighbours looked a bit surprised. Dinavolino Bianco smelled and, frankly, tasted more like a good dry cider. Dosset Dolcetto lacked a bit of intensity and I would say, was slightly 'watery'. However, I definitely did enjoy a lovely Muscat that followed, which was fresh and aromatic. It went well with the Albion terrine with mixed nuts, beetroot, apple and cranberry jam. Usually even dry Muscat wines tend to taste slightly sweet, but this, although sweet on the nose, seemed perfectly dry on the palate. The winner, however, was the Rulander – pink and cloudy Pinot Gris. Red fruit with hints of tomato leaf and tabasco sauce. It was perfect with the main course – creamy, moist and absolutely delicious chicken and oyster pie. Another wine that I really enjoyed was Y'a Bon the Canon 2014 (Anne&Jean-Francois Ganevet, France). With 70% Gamay, it is no surprise it tasted like Beaujoulais: young, fresh and lovely.
To finish off, we tasted three more wines: Mas de Libian 2014 (Rouge Bout d'Zan, France), Ramaz Nikoladze Tsolikouri 2014 (Georgia) and Autrement de Lamery 2011 (France). I think the most interesting from this bunch was the Georgian white, which in itself was surprising. Being born in the former USSR, where Georgian wine was probably the most popular, I have tried quite a few Georgian reds. But I don't think I have ever tried a Georgian white before. It was from indigenous varieties and probably not too complex, but definitely was drinking nicely and easily. Just the way any Georgian wine should be to be served in jugs during heavy meals and numerous family. And unlike in most whites, you could feel quite a bit of tannins there – due to the fact that it has been fermented with at least 10% stems. Both reds, Rhone's Grenache and Syrah blend as well as traditional Bordeaux blend of Cabernet Sauvignon and Cabernet Franc were quite elegant, but in all honesty, if we talk about these regions, I would personally prefer more traditional choices. The all British dessert was a selection of three types of cheese from different parts of the country – Hafod South Wales cheddar, Westcombe cheddar and Lincolnshire poacher. Great choice to finish this British feast!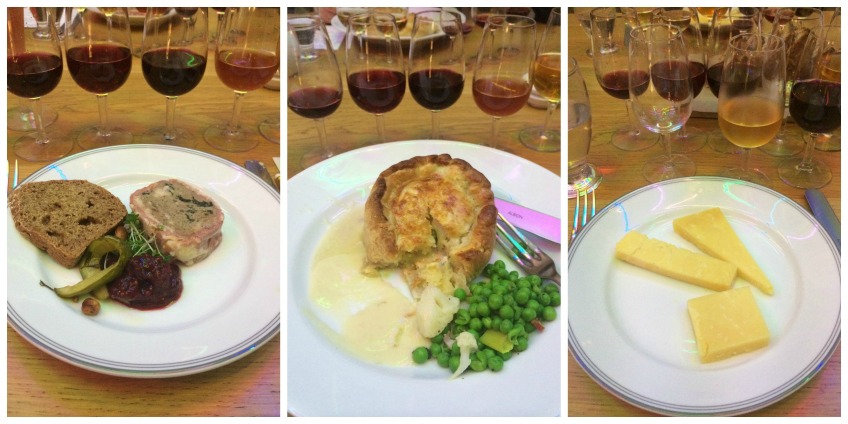 Overall, this evening was exactly what it supposed to be: a friendly good meal in a relaxed atmosphere with some insight into the world of natural wines, which most people at the table I am sure, found very informative. Well done, Counter Albion! Hopefully, more events to follow very soon!