Napa Valley's most northerly town – Calistoga, is a destination location for all seasons. For globe trotters looking for the perfect post holiday, Happy New Year, wine-soaked pick-me-up wine holiday, Calistoga is the place.
Napa Valley's slowest month is January which means a great big bang for the traveler's buck. A quick look at www.calistogavisitors.com gives an in-depth look at visiting Calistoga at any time of year, but the Calistoga Winter in the Wineries passport, shown on the site, offers amazing deals for the mere $50 price of the passport.
Calistoga rests at the base of Mount St. Helena and the home one of the world's largest geothermal steam field reservoirs (tech-talk at www.geysers.com) Geysers of steam escaping up from the earth can be viewed at night anywhere in Lake County (the up and coming wine region immediately north of Napa Valley ), as well as eastern Sonoma County and, of course, Calistoga. Thanks to this au-natural phenomenon, Calistoga is the mud-bath spa capital of the west coast.
With Napa Valley's highest temperatures of summer, Calistoga also boasts its coldest winter temperatures (although rarely below freezing), giving the Napa Valley visitor a variety of amusements in the winter months. In addition to crowd-free wine tasting and spas ranging from down and dirty (literally) to high-end, Calistoga offers two hot-spots of Americana:
Because Calistoga's AVA consumes much of northern Napa Valley, it is home to more wineries that can be visited in just a few days. If you have only one day to go wine tasting, get up bright and early and begin your adventure at:
Chateau Montelena – open at 9:30 a.m. – no appointment necessary for drop-in tasting. Chateau Montelena's fame begins and ends with the 1976 "Judgement of Paris" tasting that catapulted California (back) in to the world of wine. A visit to Montelena includes a chance to peruse the tasting notes from their famous chardonnay wine; an easy stroll around Jade Lake (feed the fun ducks – the winery provides bread for this); see where much of the 2007 movie "Bottle Shock" was filmed; and of course taste Montelena's delicious wines.
After Chateau Montelena treat yourself to a visit to one or two tiny family-owned wineries just around the corner.
Tedeschi Family Winery is delighted to make a same-day appointment for your visit with just a little advance notice. Before leaving Chateau Montelena give them a call and see if you can drop by on your way to Zahtila Vineyards.
Zahtila Vineyards – soon to be better known as Laura Michael Wines (Laura Zahtila having married Michael a few years back). The couple works as a team and so have joined their first names for a rebranding of their adorable winery. The tasting room is open seven days a week and in the winter time the visitor is treated to tastes of top-drawer Zinfandel and Cabernet poured for them by either Laura or Michael, who live on the property and personally receive all their guests.
At this point either take a short lunch break in downtown Calistoga by picking up a sandwich, burger or fish tacos at Palisades deli (it's warm and cozy inside the old train depot, and a fast lunch fix). Or, for a more lingering lunch, continue down the Silverado Trail less than a mile from Zahtila and treat yourself to  Sol Bar, in the Solage Resort. Sol Bar is a regular hang out for wine industry folks (reservations not required for lunch in the winter, and the locals don't dress up so don't fret over your attire). Lunch is served all afternoon and can be as succinct as excellent fish tacos or a sandwich, or more involved with appetizers and full entrée.
After lunch, visit B Cellars (directly across the Silverado Trail from   Sol   Bar  ), where winemaking veteran Kirk Venge concocts delicious and unusual wine blends. The tasting room, inside and out, is a delight and the staff warm, fun and inviting.
A great way to conclude a leisurely wine tasting day is to continue south just to Dunaweal Lane and make a right hand turn here, pull over and take a photo of beautiful Canard Vineyard. Continue down Dunaweal where on the right Clos Pegase winery and its luminous outdoor art collection appear. A slow spin through Clos Pegase's parking lot provides an idea of the treasures just inside the courtyard and the winery buildings. The wine is good, the staff friendly, but tasting is not required to stroll through the winery and its grounds to take in the substantial art collection.
Continue to the end of Dunaweal, take a right back up Highway 29 and in minutes you will return to downtown Calistoga, where dinner and a cozy bed await.
Because Calistoga has more beds per visitor than any other town in  Napa Valley and because charming, authentic, rustic Calistoga feels a world away from Yountville and St. Helena, excellent overnight values abound. If planning to spend much of the day at an Inn, then spending extra money for extra amenities. But if your day will be spent away from your bed, go for the better deals offered this time of year.
If a long day's wine tasting has you hankering for a simple supper, stumble in to Buster's BBQ, easy to find at the Y intersection of Highway 29 and  Lincoln Avenue . The resident dog is happy to clean up any spills.
If no-fuss table service sounds better, a delicious dinner can be had right downtown at All Seasons Bistro (California  cuisine).
For more upscale fare make reservations at Jole (this foodie's favorite), or at Michelin starred  Sol Bar   around the corner on the Silverado Trail.
Calistoga, at the crown of   Napa   Valley , can't be seen in one day or even one week. Great fun can be had taking a gondola ride at Sterling Vineyards (also on Dunaweal Lane), a hot air balloon ride early in the morning, a visit to amazing Castello Di Amarosa, soaking in a mud bath, hiking in one of the State Parks, or tasting world class wines at Twomey, Larkmead, Bennett Lane, Envy, Canard, Cuvaison, Frank Family, Schramsberg, a list of fine wineries that goes on and on and on.
And then there are those other Napa Valley towns…
Written by: Holly M. Evans-White who has worked in the wine business as a tour guide, wine educator, wine buyer, sommelier, wine concierge and wine consultant in Napa and Sonoma counties for over twenty years. Holly's expertise is in pairing the wine enthusiast with a wine experience that surprises and exceeds the wine explorer's expectations.Holly, also known as the Cellar Cat, believes everyone can learn to Drink for Themselves, and that only Practice makes Purrfect.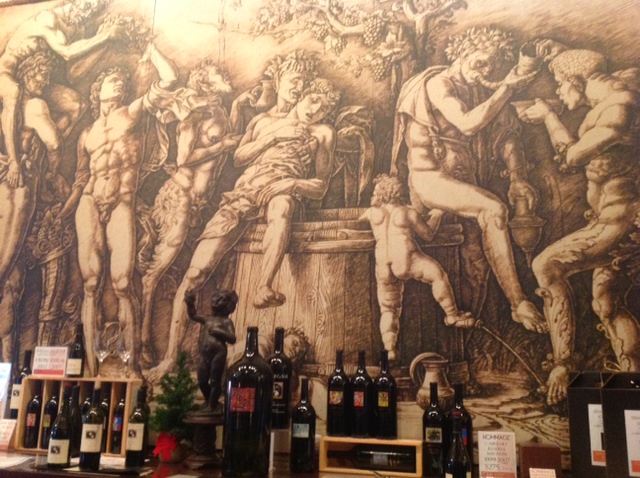 Tasting room at Clos Pegase Winery