It's hard to imagine a country more dependent on wine than Moldova and Moldovans even like to describe their country as resembling a bunch of grapes dropped into the map (possibly after sampling a few glasses of local wine). It's not on most people's radar as a must-visit wine country but it should be. Here's our guide the the key wine regions of Moldova with some facts and figures thrown in…
An overview of the key wine regions of Moldova
Vines are everywhere you look as the country grows more vines per person than anywhere else on earth, as well as boasting some of the world's most impressive cellars (Mileștii Mici is even recognised by Guinness world records for its huge underground collection of around 1.5 million bottles).  Wine and the story of Moldova are closely intertwined so it's a great excuse to visit, experience the culture and rolling unspoiled countryside, while tasting some superb wines. There's a fascinating background story of passion for wine and the unique political challenges Moldovan winemakers have had to face too. This is a country at the crossroads of east and west that has frequently borne the brunt of political warfare, changing hands at least nine times in the last 200 years.
Moldova Regional Facts and Figures
Moldova lies on the same latitude as  Bordeaux (46 to 48°N), but is climatically closer to Burgundy as it is much more continental. The landscape of gentle rolling hills has an average altitude of just 147 metres and only reaches 430 metres at its highest point. It's a landlocked nation with Romania to the west and Ukraine to the north, east and south. The Dniester river runs along part of this border, and between Moldova and the self-declared breakaway Republic of Transnistria. Vineyards for noble wine grapes today cover 81,000 hectares – second only to Romania in Eastern Europe, and bigger than both Bulgaria and Hungary.
Annual sunshine hours range from 2,100 to 2,500 and rainfall is from 350 to 600 millimetres per year, much of which falls during the summer months. Most producers find irrigation is rarely necessary because the vines root deeply into the limestone bedrock. Top soils are typically rich chernozem – a type of fertile black soil and this combination of nutrient-rich top soil and limestone bedrock is great for grapevines. Most of the vineyards are on gently sloping sites, and forested hilltops give protection from high winds and winter frost – important given that it can drop to -30°C.
Moldova has three protected geographical indications for wine, accepted by the EU in 2013:
The Centre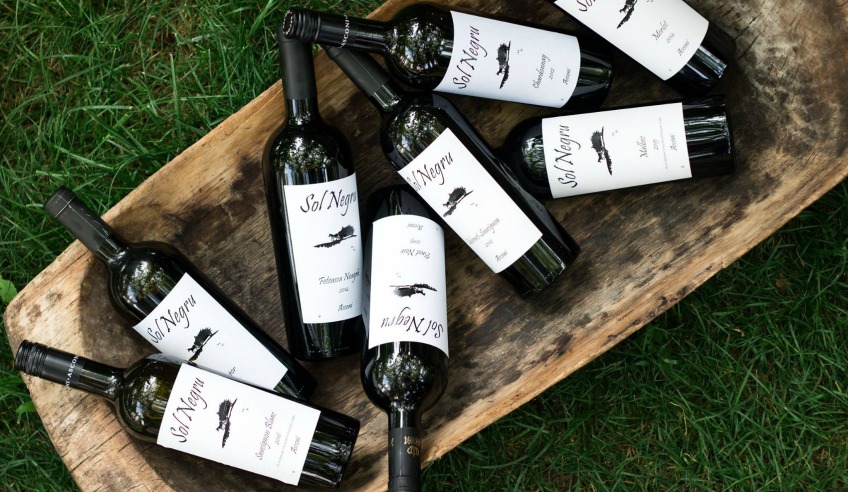 Credit: Asconi Winery
Codru is the central region of Moldova, and since 2016, also includes vineyards in Transnistria, so it has the largest area of grapevines. It is the coolest wine region with a continental climate and 2,100–2,200 sunshine hours per year. Winters are long, but not usually extreme, while summers and autumns are warm. Altitude above sea level is 100–150 metres, and over three-quarters of the zone is on slopes with lots of forested hills that provide favourable microclimates and protection from frost. The region is particualrly noted for white grapes as the relatively cool climate ensures bright acidity and good aromatic expression. In warmer locations, reds can also be grown successfully, and perhaps the most famous is a long-lived red blend called Codru, based on Cabernet Sauvignon and Merlot.
Codru is the closest wine region to the capital Chișinău and there several wineries within easy reach. The state-owned Cricova cellars are just 15km away and have been designated part of Moldova's national cultural heritage by law. Cricova is based in a 15th century limestone mine and has 120km of cellars in an underground wine city, with 'streets' named after grapes and wines. Sparkling wines are the stars, produced here since 1950s as the cool underground tunnels provide perfect ageing conditions. The job of hand-riddling bottles is fiercely protected and is still handed down from mother to daughter. A visit to Old Orhei is worth it for dramatic views and the historic cave monastery. A traditional lunch at Butuceni will give you a taste of Moldova's great food and wander the village for a snapshot of traditional rural life. Chateau Vartely in Orhei itself is not far away – one of the first of the new wave of smaller private wineries – the bright whites and gorgeous ice wines shouldn't be missed. Another must-see is the beautifully restored Castel Mimi in Bulboaca village. Originally built in 1893, it became the biggest single wine factory in the whole Soviet Union in 1960s. The Frolov family bought and renovated the historic mansion to stunning effect, with very good wines and an excellent restaurant too, showcasing traditional Moldovan food with a modern twist. Don't miss Castel Mimi's fresh whites and smooth red blend, Roșu de Bulboaca. Asconi winery in Puhoi village is another option for a day trip. Family-owned and early to grasp the idea of producing quality wines – they were the first in Moldova to pick Sauvignon at night to ensure maximum freshness.  There's a traditional restaurant complex with guesthouses, all built by local craftsman.
Heading South East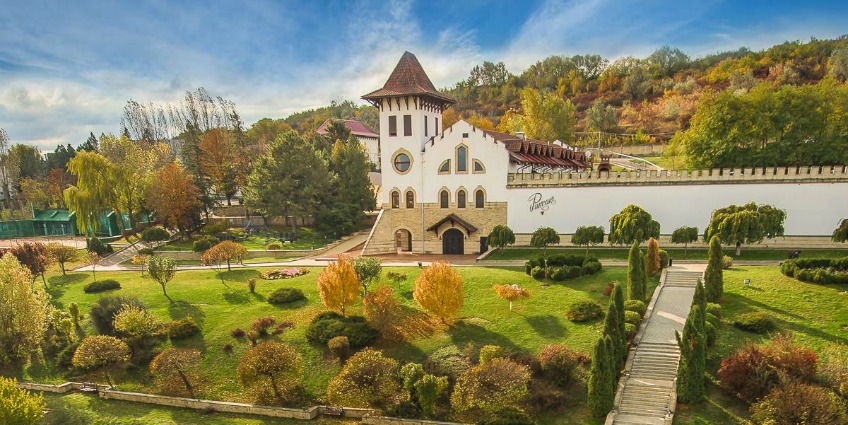 Credit: Purcari Winery
The Ștefan Vodă region lies in the south-east of the country. The climate here is moderate continental, influenced by the Black Sea and Dniester River, and it enjoys 2,200–2,300 sunshine hours per annum. This extra warmth and sunshine mean the region is particularly noted for fine reds. Possibly the country's oldest winery still in existence is Vinaria Purcari which was founded in 1827. It won Moldova's first international wine gold medal in 1878  and produced the only wine exported from the whole Soviet Union with an English label – destined for the British royal family. Since the current owner took over and renovated the building and cellars, the historic Negru de Purcari has had a new lease of life, returning to glory as Moldova's flagship red blend. It's based on Cabernet Sauvignon with Saperavi and the local speciality Rară Neagră (which you can also try on its own). Other good wines include Freedom Blend, Alb de Purcari and Vinohora, along with good food in the winery restaurant. Not far away the small family winery of Et Cetera should not be missed. It was founded by two brothers who got a taste for wine while working in the casinos in USA. They came home to set up the first small wine estate with the winery actually among the vines. There's a small restaurant with probably Moldova's best plăcintă (a kind of cheese-stuffed pastry) made by the brothers' mother. Great wines here include Cuvée Rouge, Serendipity Red and a classy Merlot.
The South West Corner

The Valul lui Traian (Trajan's wall – named for the remnants of the Roman defensive fortifications) region in the southern part of Moldova is the warmest and driest. It has a Mediterranean climate and warm, dry summers with the longest sunshine hours per year (2,500 hours). Vineyards are on the slopes of the Dniester and Prut river valleys and reach up to 310 metres. The region is noted for red grapes, full-bodied whites and sweet red wines. It's a long drive and not so many wineries here are set up for visitors though you can visit some if you call ahead. For the moment it's better to taste the wines in Chișinău. Wineries to look out for include the excellent Gitana (superb clay-fermented Saperavi, very good Autograf range, Riesling and Petite Sophie) and Fautor (Fete Negre, Albariño, Fumé Blanc, Ice wine). Also new on the scene is Novak winery near Comrat (and it's just opened a wine shop on the town) with exciting and rare Alb de Onițcani and cracking Saperavi.
Moldova is easier to get to than ever before with direct flights from London, Frankfurt, and Vienna so it's a great time to explore before everyone else discovers this gem of a wine country too.
See our Moldova Wine Travel Guide for winery tours, hotels and food and wine tours around the country. If you'd like to know more about Moldova's key wine grapes and styles ahead of your trip too, see Caroline's other article here. And if you need more inspiration to visit Moldova, then check out our features on its National Wine Day in October, how to drink like a local in Moldova. Cheers!