The restaurants of Hungary's capital city have changed in recent years as a result of young cooks and renowned names in international gastronomy descending on the nation's capital. To cater to a younger generation of foodies who value regional, sustainable, and artisanal goods, Hungarian traditions are evolving and are being restored. From fallow deer stew (dám pörkölt) and tarhonya (handmade traditional Hungarian pasta, also called « egg barley ») to körözött (paprika cottage cheese spread) and brassói (pork shoulder and bacon cooked in a thick gravy of tomatoes and paprika with roasted potatoes), our guide will introduce you to the best places to eat modern authentic Hungarian dishes, and the chefs who bring pride to their restaurants.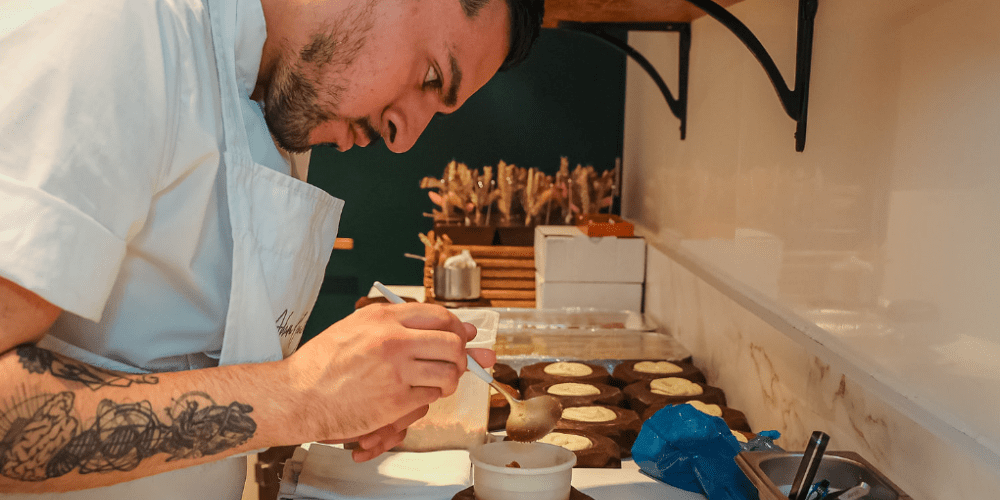 Chef Endre Kollar: St. Andrea bar and restaurant, bringing distinctive wines from the Hungarian vineyard of the St Andrea wine estate into the spotlight
I don't like to put too many ingredients on a plate [….] one shouldn't feel the technique behind the dish.
Located in the Eiffel Palace, St Andrea bar and restaurant offers the full modern fine-dining experience. As a young boy, Kollar began working in his family's orchard of the Hungarian region, Zsámbék, where he learned how to care for, and butcher, wild creatures in their natural habitat from his grandfather, as well as how to prepare food over an open fire in the finest Hungarian style. While his grandfather was the avid hunter, his grandmother was a forager who taught him how to make the most of every ingredient in the kitchen, sparking his interest in the zero-waste custom he now uses.
Becoming a top chef relies on more than just one's culinary expertise, the presentation of the food is also tantamount. Since traditional Hungarian cuisine is known for its generous portion sizes, Kollar admits he struggled to adapt to creating the small portions fine dining requires, especially since his food is inspired by his traditional family recipes that deserve to be celebrated. And Kollar takes pride in this celebration, which his book of twelve signature recipes, set to be published next year, will evidence. However, a cookbook is not the only way that Kollar is able to share his knowledge of family food; here modern technology has also come to his aid. When his well-known dish trógombóc (cottage cheese dumplings) was shared on the Guide Michelin's Instagram, it sparked a lively discussion. The dish left a lasting effect on many Hungarian food enthusiasts since it offered a means to preserve a cooking tradition while being very technical and offering a delectable new take on an old classic.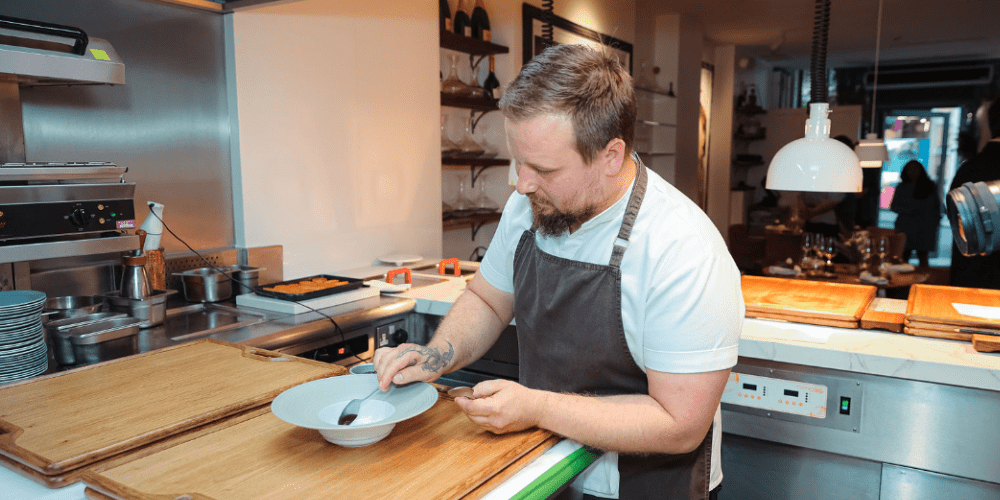 Chef Dániel Katona: Bistronomy restaurant Felix Kitchen & Bar, where stylish and entertaining cuisine on the Buda side can be enjoyed
With views of the Danube, a lovely riverside patio, and a stylish, traditional interior design, this venue is a favourite of the Hungarian elite mostly due to the attractiveness of Chef Katona's cuisine. Having studied in France and traveled extensively, he has worked in Spain for the past 6 years including alongside one of the best local chefs, 6 Michelin-starred Jordi Cruz. Katona's dishes are rooted in Hungarian tradition and follow international trends. The exclusive ingredients are provided by vendors representing the highest quality standards, shipping their products from local farms but also from Parisian, Japanese and Australian producers.
István Szántó: Spago Budapest, offering impeccable international cuisine
I love raw ingredients; I need to understand the ingredients [….] You don't need to mince every vegetable into perfect little cubes 
An elegant restaurant with a modern design, Spago is a freshly rebuilt neo-baroque structure from 1902 housed on the ground floor of the famed Matild Palace.
Initiated by Wolfgang Puck, a renowned chef from California of Austrian origin, he added his distinctive touch to a menu that included all of Puck's signature dishes from around the world, creating a well-balanced menu where all of the Hungarian meals and Spago classics have been combined. Although Wolfgang Puck's original Beverly Hills, California restaurant's concept is still evident at Spago Budapest, it unquestionably incorporates Hungarian specialties and ingredients.
The beef goulash soup is still offered, but in a refined, airy version: Chef István prepares the ingredients individually rather than cooking them all at once (a traditional Hungarian cooking method) (French gastronomy technique). The paprika broth is both light and flavourful, and the vegetables are soft but not mushy. His presentation strategies are undoubtedly original, as evidenced by his take on the traditional Hungarian dessert somlói galuska (rum-infused sponge cake with vanilla custard, whipped cream, and chocolate cream). The meal is shaped like a hard-shell golden ball that melts when you pour a rich, silky hot chocolate sauce over it, revealing the dish underneath.
Your experience will be complete with a glass of wine from one of the 300 on offer. Máté Horváth, the head sommelier, is a passionate advocate for Hungarian wines and will be pleased to suggest a bottle of Furmint or Kadarka from the area or give you a tour of his lovely glassed cellar.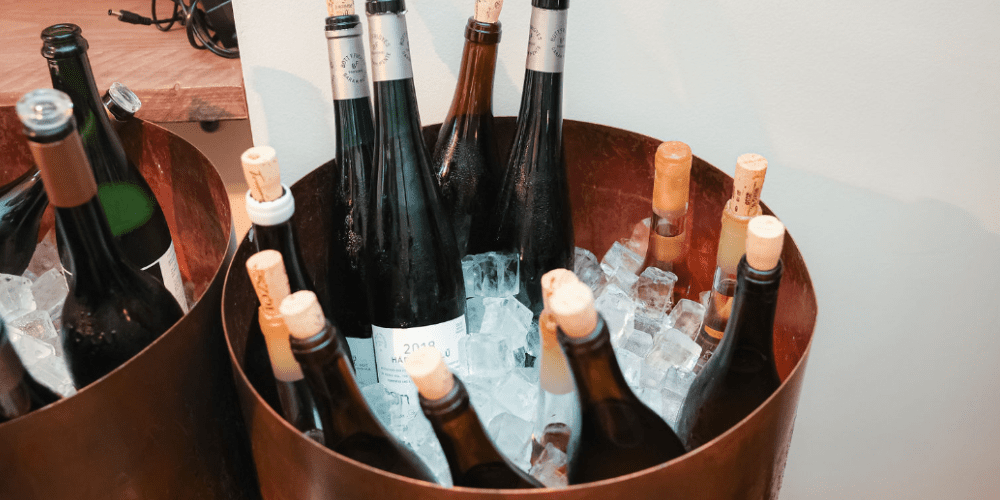 Chef Márk Molnár: Costes Downtown at Prestige Hotel
This Michelin starred restaurant serves a delicious breakfast to hotel guests, but anybody is welcome to stop by and sample the sophisticated morning meal where a mixture of Mediterranean and Hungarian components, made by Costes Group Executive Chef Márk Molnár, are combined. These early visitors will notice the open kitchen and the chef's table as soon as they enter. The chef's table is dotted with the usual breakfast fare, including granola, fruit, juice, and bread. Some of the items are authentically Hungarian, like the paprika salami or the exquisite körözött (paprika cottage cheese spread), but others take on international influence. Even though it's "just" breakfast, Chef Márk's morning menu is unquestionably excellent and uses local foods to shorten the supply chain. In this way, Costes Downtown can provide its customers the freshest food possible.
The Central Market Hall (Vámház boulevard 1-3.).
It is the ideal location to try some regional dishes and is open every day, except Sunday, from 6 am. Additionally, one of the best Sunday morning farmer's markets in town is located in Szimpla Kert, which is in the Jewish neighbourhood at Kazinczy st. The little stands sell artisanal cheeses, cured sausages, organic veggies, and jams produced from homegrown plums and cherries. At one of the tables in the courtyard, near the disco balls, one can even grab a quick snack.
Chef Márton Irtó: Hoppá
When I was a child, my friend's family had a Chinese restaurant [….] It inspired me to cook a traditional dish of goose liver with a sour plum sauce and millet, shaped as a Chinese roll.
Situated in the vacant space left by Budapest's restaurant industry between a well-liked bistro and a fine-dining establishment, Hoppá delivers great traditional Hungarian food with a contemporary touch. It's a fantastic place to learn about the fundamentals of Hungarian cooking as experienced by a chef from the younger generation. You may have a flawless and up-to-date serving of chicken paprikash, the wildly popular chicken stew, a dome of foie gras mousse, or the ubiquitous cottage cheese dumpling dessert known as trógombóc here. In keeping with Hungarian tradition, the amounts are large, but the preparation is expert and the quality of the ingredients is unquestionably higher. He is constantly attempting to outdo himself since he is fixated on the positive idea of developing his abilities.
I used my grandmother's recipe when I first started cooking trógombóc (cottage cheese dumplings). I started experimenting with different variants after working in several eateries. I've made more than a thousand different batches of trógombóc, and I'm still perfecting it. Hoppá serves groups of friends that enjoy ordering a sizable entrée, local wine from small wineries, and artisan beer as well as serving generations from grandparents to grandkids. It is moderately priced and uses only the best ingredients, like the Hortobágy beef, which is farmed exclusively for the restaurant on a small farm close to Budapest.
Ákos Sárközi: Borkonyha Winekitchen
This bustling Michelin starred restaurant offers over 200 wines, roughly a fourth of which are available by the glass. The cooking is kept simple by selecting premium products and allowing them to shine. The dishes are expertly prepared and visually appealing, with subtle Hungarian influences.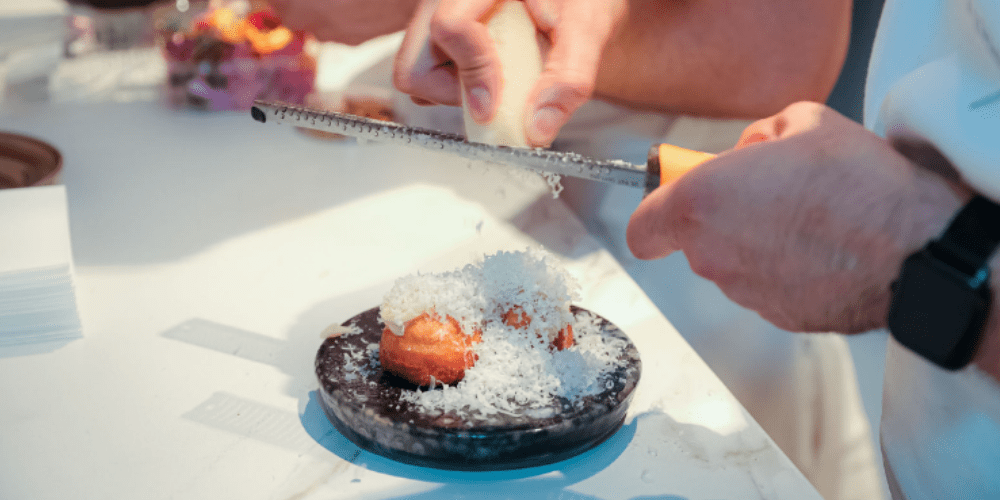 Chef Jenő Rácz: Rumour
An evening spent at the restaurant [Rumour] can be compared (with a little exaggeration), to an intimate dinner with a small number of friends.
A theatrical restaurant with an eleven-course meal that combines elements from his travels around Europe and Asia with the hues and aromas of his Hungarian heritage. Chef Jen began his culinary career while he was still in school. He made an apple pie in a housekeeping lesson that amazed his teachers and classmates. He received his training in London, moved to Copenhagen (where he interned at Noma), and eventually travelled to Singapore to work for Jol Robuchon, the first Western chef to ever envision an open-kitchen "show" at a restaurant in 1989, which is likely what inspired the idea for Rumour. He relocated to Shanghai in 2016 and began working as Chef Stefan Stiller's chef de cuisine at his restaurant Taian Table, where he quickly attained a Michelin star.
The ingredients and cooking methods vary from province to province in China. It was fascinating for me to combine local Chinese products with European cooking methods at the time, he says. China has given me such a wide variety of flavours today that I include them heavily in my cooking. His Asian-inspired twists on classic Hungarian meals occasionally matches them with surprising wines, such as the traditional (and delectable) pan-fried foie gras served with a red wine from Veneto in Italy. Every dish must, in Chef Jen's opinion, have a backstory, which is energizing Budapest and the local food scene.
Chef Ádám Mede: Laurel, a fine-dining kitchen where Asian influences offer regional products and cuisine a distinctive twist
Laurel is a quiet treasure located on the Pest side of the river. A short distance from the bars and the Baberligét bookshop, in a gorgeously arched cellar, lies this unique fine-dining restaurant. In keeping with the buzzing neighbourhood of Erzsébetváros, where young people from all over the world and Hungarians alike love to party, Laurel's idea, directed by Gergely Báthory, is sharp and distinctive. In addition to dining in the restaurant downstairs while admiring the glassed-in kitchen run by young chef dám Mede, visitors can come to read or purchase a book of contemporary Hungarian literature. A leisurely drink upstairs in a quiet, cosy setting marks the conclusion of the informal fine-dining experience. The superb collection of wines from Hungary and other countries hosted by Sommelier Peter Tü.
Chef Mede is passionate about Asian cuisine, especially Japanese, and loves to travel to new places to learn new skills and explore new ingredients. A meal of Hungarian water buffalo is sparked by the subtle, tingling flavour of sudachi kosho, a citrus fruit related to the more well-known yuzu. Shiso leaves give a delicious traditional plum strude,l created by the highly skilled in-house pastry chef Zsuzsanna Ötvös, a scent of cinnamon and clove.
To satisfy all guests, even those with dietary requirements, an eight-course vegan meal that beautifully combines Hungarian ingredients, French technique, and Asian elements is also on offer. Japanese seaweed and green tea meet local apples, and kumquat meets tarte Tatin.
Chefs Szabina Szulló and Tamás Széll: Stand25, for perfect Hungarian food
We are taking care of Hungarian traditions, we feed our families with comfort food. It has to feel like a traditional Sunday lunch, we want our guests to forget everything that happened during the week.
For both chefs, a married couple who began their culinary careers in Onyx in 2007, Hungarian cuisine deserves to be honoured. To guarantee consistency in quality, they are establishing a network of farmers, foragers, and producers. They are renowned for turning common regional dishes like goulash, brassie (roasted potatoes and pork shoulder cooked in a tomato-paprika gravy), trógombóc (cottage cheese dumplings), and Somlói galuska (a rum-infused sponge cake with vanilla custard, whipped cream, and chocolate cream) into works of art. The meal at Stand25 is robust, richly salted—just how Hungarians like it—and served in generous portions. Like in any decent bistro, the dishes are simple and delicious.
Under the direction of sommelier Bence Gulyás, the Hungarian wine pairing is similarly flawless. The couple also have future aspirations, Szabina wants to create a restaurant in the popular Tokaj wine region with Chef Tamás and they are also working on their second star. With a quiet smile, Szabina says, "We are merely elevating Hungarian cuisine on a global scale."
Chefs Szabina Szullo and Tamás Széll also have a Michelin starred fine dining restaurant called Stand.
It is safe to say that Hungary's rising culinary stars are contributing to the evolution of international cuisine, while establishing their own reputation as a country of unique dishes and producers of flavour combinations to look out for.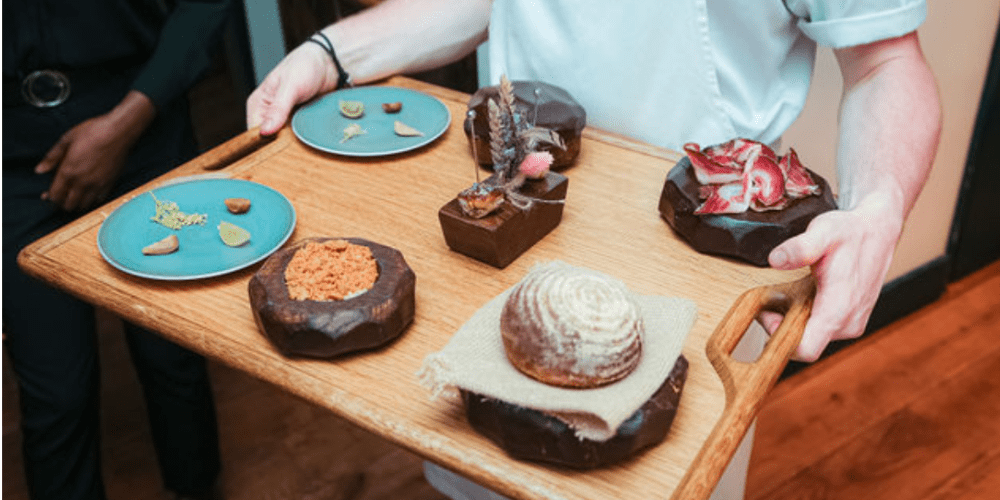 The photos in this article were taken on 7 June in London, at a Four Hand Dinner inspired by Hungarian gastronomy, organised by the Michelin Guide. The dinner was prepared by Adam Handling, chef of the one-star Frog restaurant, and Szilárd Tóth, chef of the one-star Salt restaurant in Budapest.