To continue our theme of  'why you would rub wine into your face' and of course, the fact that it's En Primeur week in Bordeaux, this week's Meet The Partner encompasses all three things rather beautifully…
Les Sources de Caudalie, wine spa and hotel
Nestled between a forest and the leafy vineyards of Château Smith Haute Lafitte just twenty minutes outside the bustling city centre of Bordeaux, Les Sources de Caudalie is our one of our all time favourite, getaway-from-it-all places. Here's a run down of our recent stay to show you just why:
Les Sources de Caudalie does not feel like 'just another hotel'. Perhaps this is because it's a family business, that Alice and Jerome Tourbier who own and run the place, do so with their core values of generosity, authenticity and high-quality service, ingrained into every part of the guest experience.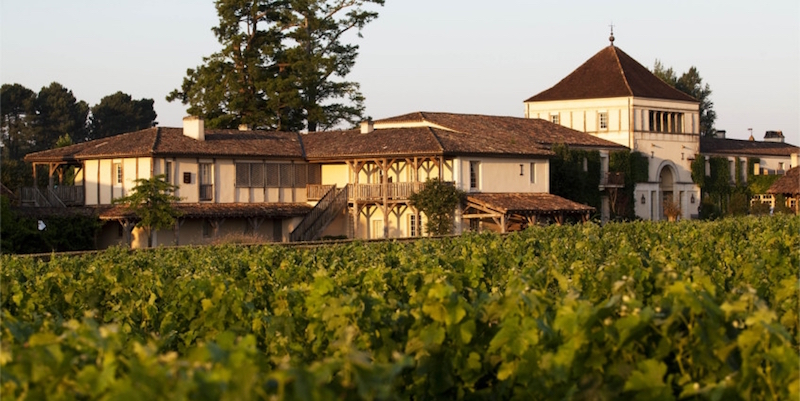 Photo credit: Les Sources de Caudalie
As we walk in, the huge windows looking onto nature and the light they let in, bring a sense of calm and well being. Every single item of décor seems to tell a story. Romain Tarate on the front desk puts us at ease immediately and his attention to detail lets us know that we are truly in for a treat. We walk from the main entrance to the lake surrounded by the vines and to the individual suites which look out onto the green of the vineyards. The rooms themselves are all unique with an elegant rusticity; preserved old beams in the ceiling and antique mirrors help strike the balance between luxury and cosiness.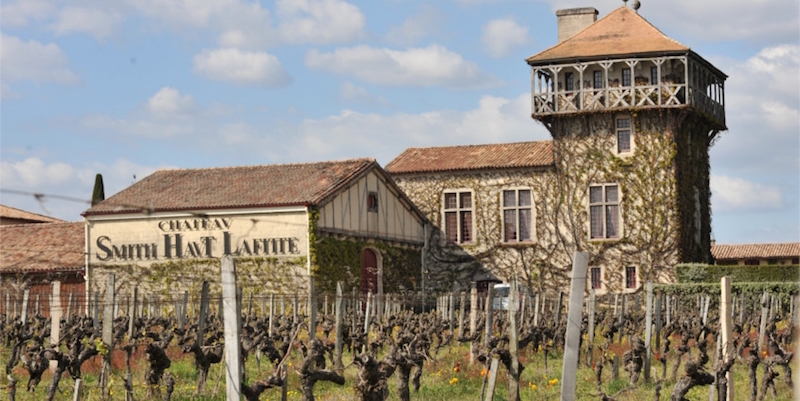 A divine wine spa
As spas go, 'divine' probably covers it, but with this being the case, it does get booked up quickly. Their products are renowned globally for their use of wine grape extracts (see our feature on resveratrol) and here you can have all kinds of scrubs, tubs and treatments, all paraben free. We couldn't get enough of the pool room: rustic, romantic and yet luxurious, with big wooden beams overhead and large windows and skylights, which let in lots of light offer the feeling of swimming outside!
Two restaurants on site
People come from all over the world to eat at the Michelin star restaurant that les Sources de Caudalie has on site, but for those who don't want that every night, there is another, more relaxed restaurant called La Table au Lavoir. We enjoyed their playful menu and were impressed by the wine list both in terms of selection and price. And so to the wine tasting…
Wine tasting at Smith Haut Lafitte
One huge advantage that Les Sources de Caudalie has is its location, five minutes away from Château Smith Haute Lafitte. You can have a fantastic wine tasting tour here (we've wangled you a free one if you book your Caudalie stay through Winerist). The Château  is owned by Alice Tourbier's parents, Florent and Daniel Cathiard, which brings a palpable family synergie between the two businesses.
So if you're looking for a quiet, luxurious getaway where you can be treated like royalty and eat like a king, you've found it. Prices vary according to package, so contact us here for a bespoke quote and see more about Les Sources de Caudalie here on Winerist.com