One of three hotels in the Hotel Castilla Termal Spa series, this gorgeous 4-star thermal spa lies half an hour from Valladolid in northwest Spain. Established in the ruins of a 12th-century Mudéjar Sancti Spiritus convent, the Balneario de Olmedo thermal resort offers more than just total relaxation. There is an indoor pool constructed in the old cloister leading onto another just outdoors. This beautiful 8-centuries-old convent has been adapted and enhanced by the addition of two spectacular modern buildings, allowing the hotel to offer 82 rooms for guests, including three junior suites. The unique environment offers a more widely encompassing idea of well-being, one that comes from more than simply the spa, as is a key part of Hotel Castilla's ehtos.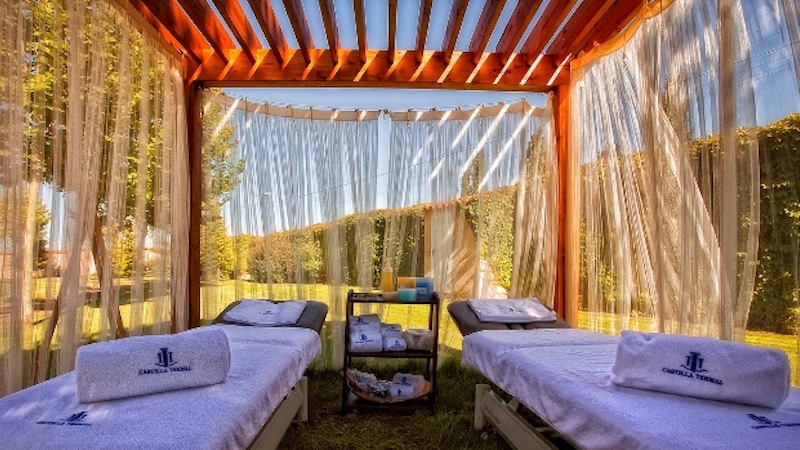 Unwind, restore and renew yourself in the superb spa with its famous, mineral-rich medicinal waters: they relieve stress, increase blood flow, and have both analgesic and anti-inflammatory effects. You will leave with improved metabolic and endocrine functions, as well as deeply relaxed. What's not to love?
The spa itself, beautifully tiled and sumptuously lit, is clearly the hotel's focal-point (and a luxurious one at that) but you can make your trip here especially memorable and enjoyable with the hotel's myriad other offerings. Here at Winerist we are particularly thrilled that there is also 'La Bodeguita' where you can taste a variety of local wines. Take some time for R&R but make sure your recuperation involves a glass or two…
A spa and winery may not scream 'child friendly', but Hotel Castilla Balneario de Olmeda manages to come up trumps again. The hotel offers a playroom for little ones, as well as an outdoor pool and paddle court – they certainly won't be left out. Parents can unwind while the kids tire themselves out, and everyone can enjoy the excellent food on offer. The hotel's main restaurant, El Hontanar will let you dine luxuriously on local produce paired with perfect local wines! If you like a little bit of everything – culture, history, gastronomy, relaxation – you can find it all here.
Castilla Termal Balneario de Olmedo
Pago de Sancti Spiritus. 47410 – Olmedo. Valladolid, Spain.
Want to stay at this hotel? BOOK HERE! Or try their two sister hotels in Ribera del Duero: Castilla Termal Monasterio de Valbuena or Castilla Termal Burgo de Osma