Spotlight on Clos Figueras
An introduction to the region
In the 1980s, a group of wine enthusiasts led by René Barbier and Alvaro Palacios recognised the potential for producing world class wines in the Priorat – a wine region within Catalonia. They began to make their own wine in an abandoned chicken farm outside the village of Gratallops, eventually catching the attention of the international wine press and putting Priorat back on the map as one of the great wine producing regions of the world.
Today, the region enjoys the prestigious 'Denominacion de Origen Calificada' appellation, which has been granted to only two regions in Spain – Rioja and the Priorat.

The Grapes of Priorat and Clos Figueras
Clos Figueras was purchased in 1977 by Christopher Cannan and his family when it was little more than an abandoned vineyard, and the property has been at the forefront of Priorat's exciting wine scene ever since. The estate now covers 18 hectares of land, 12 of which are vineyards. The remaining acreage is used to cultivate Clos Figueras's excellent olive oil.
The primary grapes are Grenache Noir, Syrah, Mourvedre and Cabernet Sauvignon, and, after a mix up made by the supplier of the original vines, Viognier is also thriving. Today three red wines and one white wine are produced : Clos Figueres from the old vines, Font de la Figuera Tinto from the vines planted back in 1998 and the recently launched Serras del Priorat, a more fruit driven wine for early consumption while maintaining all the classic Priorat characteristics. Finally the Font de la Figuera Blanco from the "mistaken" Viognier.
Critical acclaim for Clos Figueras
Clos Figueras wines have received much critical acclaim over the years, and have been highly rated by the specialised press. Their reputation has grown internationally and the wine has become established in several markets, thanks to their single minded passion and commitment to producing wines of excellent quality.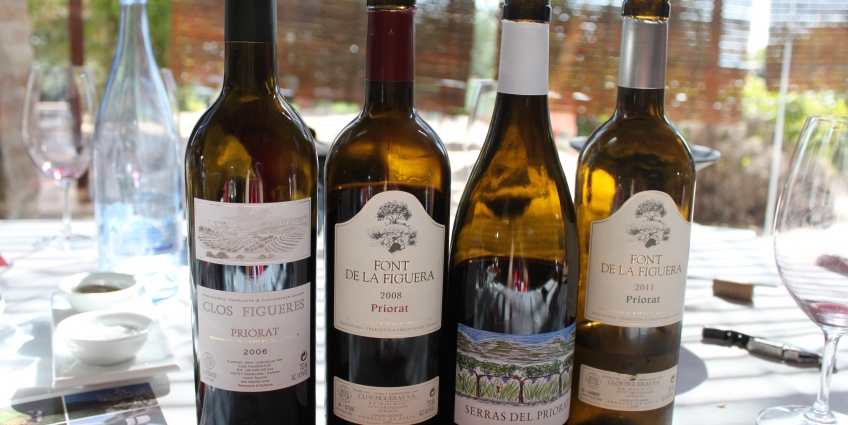 A warm welcome awaits…

Today, the winery welcomes guests to stay and enjoy the beautiful surroundings, wander the vineyards and taste world class wines. An on site restaurant named "Les Figueres" offers simple but high quality local cuisine and wine tastings for the numerous visitors to the area. Always operating with ecology in mind, the restaurant also houses a kitchen garden where they grow vegetables and keep hens.
The location of the vineyard is not only ideal for growing grapes, it is also an area of outstanding natural beauty, with panoramic views over the Ebro valley to the mountains beyond, and stunning vistas of the famous Hermita hill and Montsant mountains, which protect the land from cold northerly winds.
A world class reputation, award winning wines and breathtaking views, Clos Figueras really is the place to go in Catalonia for wine lovers. Don't wait, plan your getaway today with the help of our wine-loving experts!