Spotlight on Entre Cielos
In 2009, a group of 12 Swiss wine aficionados moved to the fertile grounds of Mendoza in Argentina, and created the luxury wine hotel and spa Entre Cielos (which translates to 'between heavens'). Situated just outside the city centre, the 20-acre property benefits from wonderful vistas of the Argentinian mountains and clear star-lit skies, which is why this group of Swiss friends knew this was the place to make their dreams come true. The hotel features 16 individually-designed rooms overlooking the mountains, and has won multiple design awards thanks to its breathtaking architecture.
Simply Spa-ctacular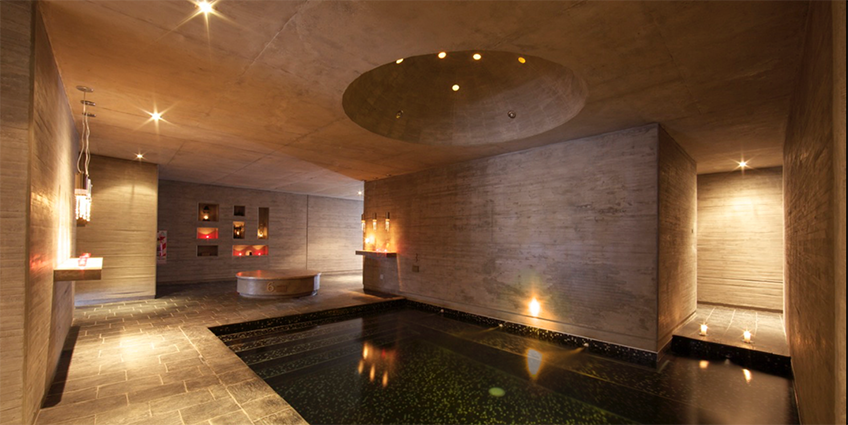 Photo Credit: Entre Cielos
To tie in with the hotel's holistic lifestyle approach, founder Cécile Adam decided to build a spa, featuring Latin America's first traditional six-stage hamam experience, so that guests can relax their mind, body and soul through rituals such as herbal steam baths, relaxation pools and nourishing body treatments. As if that weren't enough, guests also have the opportunity to experience a variety of Vinotherapy treatments connecting spa-goers to the surrounding vineyard, such as a Grape Seed Exfoliation or a Grape Extract Wine Bath, in addition to more traditional relaxing massages with a selection of natural oils. It therefore comes as no surprise that Entre Cielos's spa has recently been awarded the title of best spa in South America!
From wine aficionados to winemakers: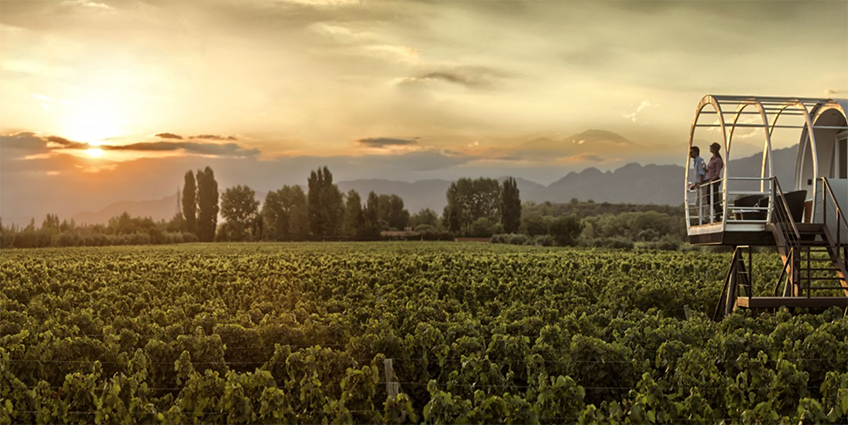 Photo Credit: Entre Cielos
It has been a life-long dream for the three founders Cécile Adam, Daniela Wäger-Spreafico and David Wäger to become wine makers, after having been wine enthusiasts for so long. As a result, the hotel also produces its own wines thanks to the on-site 8-acre vineyard, which is located in Lujan de Cuyo, one of Latin America's best wine regions and birthplace of the Malbec grape variety. Entre Cielos produces three lines of its own exclusive wine 'Marantal', named after a big bright star in Orion constellation that is visible from the hotel itself. Using three grape varieties: Malbec, Chardonnay and Sauvignon Blanc, the wines produced here have received very high ratings from multiple wine critics and the Malbecs have even won some awards.
Dining at Entre Cielos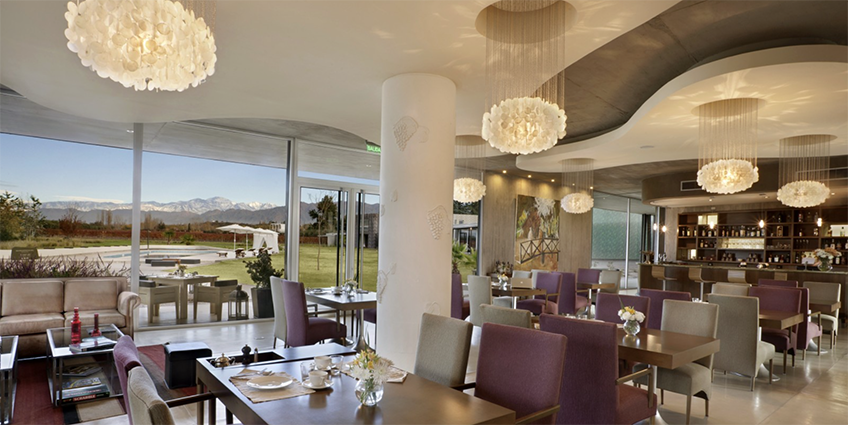 Photo Credit: Entre Cielos
The hotel also features two restaurants: Katharina Bistro (named after one of the founders' grandmother) which serves Argentinian classics with a modern twist and The Beef Club, a casual and relaxed setting where guests can mingle with locals. Naturally, the wine list is extensive, and features over 100 labels to choose from, so you're guaranteed to find a great wine to pair with your meal.
From picturesque views, to delicious food, to relaxing spa treatments, the holistic approach that the three Swiss founders have adopted guarantees that any guest at the Entre Cielos will be able to reconnect with themselves, commune with nature, sip wine, and indulge in authentic gastronomic experiences.
Perfect for couples or a getaway with friends, don't wait any longer and book your tranquil stay here.