If you've tried the finest wines from Tuscany, chances are that they've been touched by the hand of the most famous wine family in the region, if not the country: Familglia Antinori. All those beautiful names – Ornellaia, Sassicaia, Massetto, Solaia, Tignaello – have been blessed with the Antinori magic and most of them, still are. But this is not a story about the famous Tuscan region of Chianti, where wine tourism mechanics move like well-oiled machines. This is about another part of Tuscany; a part that's still rugged, still being discovered and gorgeously authentic. What's more, it has already formed a reputation for making wines that breaks the rules but in doing so, have created fine wines to rival the very best in the world. We're talking about the Maremma, which is coastal Tuscany. It's an area that splits into three sub regions: Upper, Central and South, but it's the Upper or 'Alta' Maremma where the very best wines are being made. Sassicaia, Ornellaia, Massetto – yes, but there's a new kid on the block steaming through the ranks and it's made by Lodovico Antinori's team at Tentua di Biserno in Bibbona.
From Bolgheri to Bibbona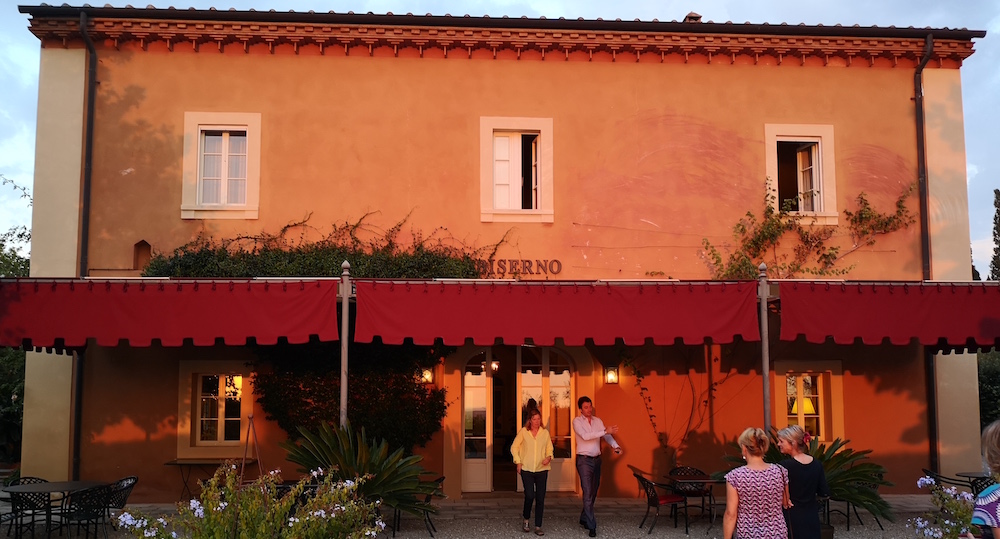 Marchese Lodovico Antinori came across what would become the Biserno Estate (Tenuta di Biserno) back in 1995. Located in the Alta Maremma, just north of Bolgheri in Bibbona, the area boasts wild, sweeping landscapes, pine forests, hilltop castles and stunning views all the way down to the Tyrrheniansea. Most importantly however (for the wine in any case), the combination of this climate, cooled by the sea breeze with the unique soils of the area made the Marchese sit up and pay attention. At the time, he had been looking for land with which he could extend his beloved Ornellaia vineyards, but he soon realised that the terrain was much hillier; much stonier than it was at Ornellaia and so would need to be a separate project with different grapes. In a surprising move that some might say is a sad regret for the family, Ornellaia was sold (a long story for another time), but this now meant that Lodovico could devote time to pursuing a new story in this incredibly exciting, undiscovered terroir on just the other side of the fence.
The Birth of Biserno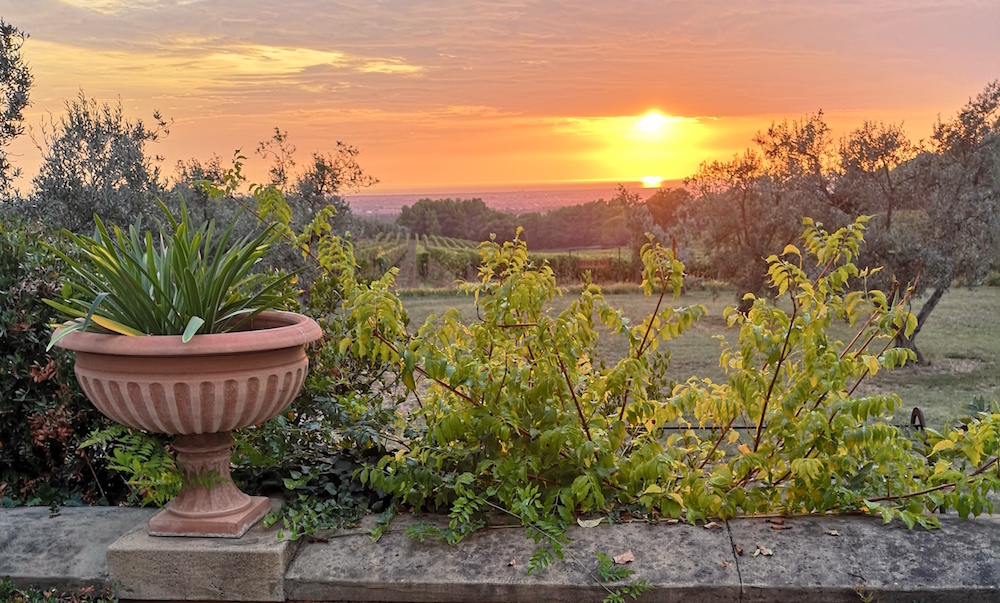 In the midst of the vines, the lemon trees and olive groves and with a gorgeous infinity pool, sits the Biserno guest house. Originally destroyed in 1850, it was rebuilt in the 1950s and while not open generally to the public, the eight bedrooms can available for exclusive, prearranged visits, which can include wine tastings, personal tours of the region and cooking classes on request. Tiziana, the in-house chef buys fresh produce daily from the local market and makes food with stunning simplicity with the lightest of touches (contact Catherine on concierge@winerist.com to organise your trip). It is the vines and the wines however that demand even closer attention.

The Biserno wines
49 acres of vines were planted at Biserno between 2001 and 2005. The clay element of the terroir particularly led Lodovico to plant Bordeaux varietals; Cabernet franc, then some Merlot with, interestingly, a generous dollop of Petit Verdot and a smattering Cabernet Sauvignon. Within these 49, there is a patch of 6 acres, which stands above the rest and is home to the star wine of the Tenuta's stable: Biserno 'Lodovico'.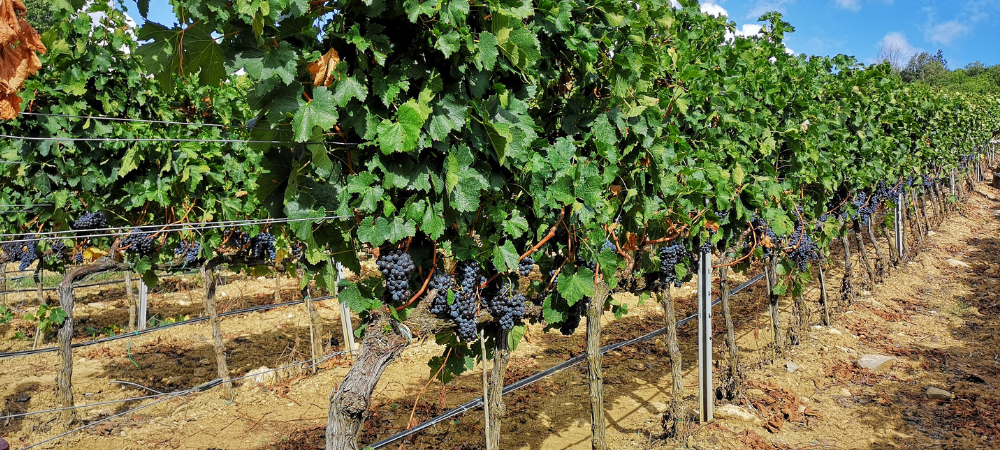 Just like Sassicaia at the very beginning of the Super Tuscan story, Bibbona does not have its own DOC, so all wines, no matter how great, can only be called IGT (Indicazione Geographica Typica). This may change as it did for Sassicaia (Sassicaia was only granted its own DOC in 2013) but to be honest, they may not even want that. A DOC means rules after all – and we all know that Bolgheri didn't get where it is today by following those! Here's a look at what Tenuta di Biserno produce and where you can find them: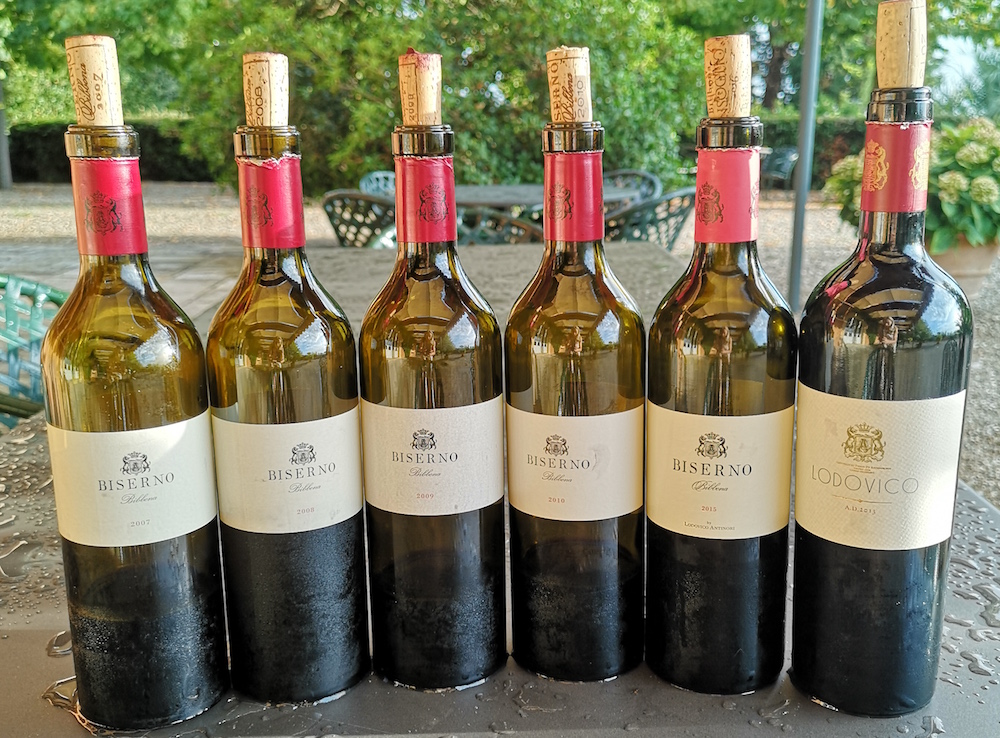 The Tenuta di Biserno wine range
Rosé – Sof A brand new rosé, named after Lodovico's 21 year-old daughter Sofia who came back from travels demanding they make a dry pink. It's made with more or less 50 % Cabernet Franc and 50% Syrah. 2017 is the first vintage and it has a very pretty, vibrant pink colour with a refreshing prickle of CO2. On the palate, bright red fruit settles to soft, strawberry cream and a saline finish.
£24.50 from Corney & Barrow and by the case at Champagne & Chateaux
Red – Insoglio del Cinghiale (The wild boar's hideout): Always mostly Syrah (it's the only red Biserno wine with Syrah in it). Made to be released a year after production and meant for immediate drinking. The 2016 has a lovely purple hue and a typical Syrah garrigue character; herbaceous and violet-scented with bramble fruit a touch of smoked meat. There's a cool, saline seam running through it too, which appears in many of the Biserno wines.
£21.50 from Corney & Barrow and by the case at Champagne & Chateaux
Red – Il Pino di Biserno: A step up from Cinghiale and where Cabernet Franc starts to come into its own, with some Petit verdot, a splash of Cabernet Sauvignon and Merlot – like an inside-out Bordeaux blend. With a deeper colour and more complexity than Insoglio and with a year in oak barrels and 6-8 months in bottle before release, the 2015 had a generous, silky red fruitiness and spice amongst the brambles.
£42.20 – £47.95 depending on vintage from Corney & Barrow and by the case at Champagne & Chateaux
Red – Biserno
With Biserno, Lodovico put the wheels in motion for the next Tuscan icon wine. 2007 was the first vintage and the blend is predominantly Cabernet sauvignon, Merlot, Cabernet franc and Petit verdot. The left banker of Biserno, as it were. You can see the vintage variations throughout the years. We tasted the following vintages:
2007: Animal, meaty and powerful. Lots of garrigue herbs. Not shy!
2008: More refined tannins; silky, with a mineral core.
2009: A warmer vintage, shown by lots of baked fruit, blackcurrant compote. Fleshy texture.
2010: Very cool, wet year creating a very elegant and cool mineral vintage that's drinking well already. Not typical.
2015: Surprisingly drinkable given its youth. Very strawberry up front, with fine, tight tannins and secondary notes of spice just starting to show.
£95.95 – £102.95 depending on vintage from Corney & Barrow (also available in magnum and double magnum) and by the case at Champagne & Chateaux.
Red – Biserno 'Lodovico'
The first Lodovico vines were planted in 2012 and every year made a difference. Helped by Michel Rolland, the Marchese always has the last say on the blend. Lodovico is generally around 95% Cabernet franc with 5% Petit Verdot. The 2013 had quite long skin contact (21-28 days) and was aged for 16 m in mostly new French oak. It showed immediate ripeness of fruit with sweet spiciness, concentration, fleshy and complexity. The production is generally small (5 – 10,000 a year) depending on the vintage and it's only made in best years. Releases so far are 07, 08, 11, 13, 15, 16, 17.
£220-£240 from Corney & Barrow (2012 also available in magnum) and by the case at Champagne & Chateaux.
If this has given you a taste for Tuscan wines, check out our full-day, Chianti and Super Tuscans tour. For the foodies amongst us, why not try a sunset food tour in Florence or even a Tuscan cooking class? It's in a winery, of course. We are Winerist after all!