The jewel in the crown of the Castilla Termal trilogy of hotels is the 79 room, Monasterio de Valbuena in Ribera de Duero: a luxurious wine and spa hotel situated over 18,000 square metres in the perfectly preserved, 12th century Cistercian monastery of Santa Maria. As you would expect with a monastery setting, there is an overwhelming sense of peace and calm, not least in the spa area, which boasts several thermal pools over a staggering 2,000 square metres, 16 treatment rooms, a children's pool and a water circuit. There's little wonder that this was the first spa hotel in the greater Castilla y León region to receive five stars. The water here is said to have healing properties, which, within the monastic architecture and with the history that sounds the place, ensures a totally unique experience for visitors. It is also remarkably child friendly.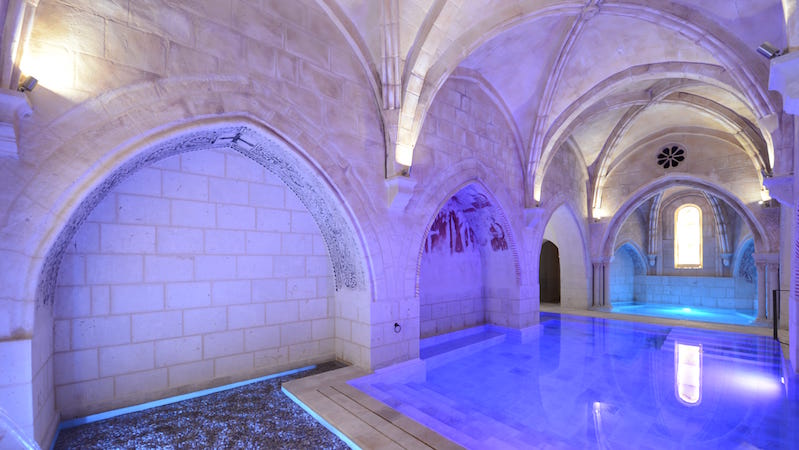 The Spa in San Pedro's Chapel at Valbuena
Wine and food at the Monasterio
It's not just your body that will be nurtured at the Monasterio de Valbuena; it's your stomach. Organic vegetable and spice gardens, the abundant produce of which will be found in the kitchens, surround the buildings and there's also a small vineyard, producing wine. There are three restaurants on site for every occasion, from 'Converso', an à-la-carte restaurant effortlessly blending modern and traditional Spanish cuisine from local ingredients, to the slightly more relaxed 'La Bodega de los Monjes', serving lighter dishes and fabulous D.O. wines and finally,  'La Cilla' café with its own sunny terrace for snacks and small plates.
Culture and activities there and beyond
Art and culture is also on offer at the Monasterio. The hotel is currently home to the headquarters of the 'Ages of Man' Foundation and very soon, will be opening a stunning, 600 metre squared building facing the river Duero to house workshops for religious art. What a location to do that! Of course, there is plenty to visit in the area too. The hotel is located on Ribera's 'Golden Mile', which makes it the perfect spot to discover the abundance of winery tastings and tours available in the area and have days out to local villages. Spend the day sipping, then come back to relax and soak up the calm in this true Spanish paradise.