When it comes to love, we tend to forget that wine and food matter. Winerist has decided to take you to a tour through the best wine options according to different life's moments.
Here are our suggestions for what to drink when…
What to drink… with your lover? Because your true love deserves the best attention, you need a wine perfectly balanced to impress. Here comes Bordeaux! Indeed, a Bordeaux is almost always a blend of grapes that include Cabernet Sauvignon, Cabernet Franc, Malbec, Merlot, and Petit Verdot. Thanks to these subtle and spicy grape varieties, you cannot go wrong. White or red, you choose.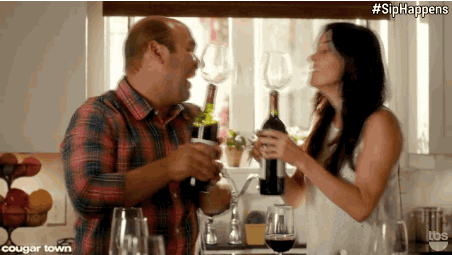 Source: winemind.com
---
What to drink… after work at a rooftop bar? The idea is to relax, forget work and have a good time with some friends, so probably we will choose a white light wine.

Source:reddit.com
---
What to drink… with your favourite TV show on Valentine's day? Valentine's day often rhymes with celebration or is a good excuse for celebration. Therefore, a nice bottle of Champagne, brut or rose, will be advisable. For a glamour touch, the rose offers a good blend of sweetness and fine acidity.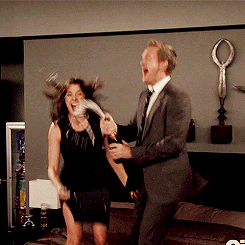 Source:reddit.com
---
What to drink… at dinner with friends? Bring with you a bottle of Cabernet Sauvignon and Merlot blend. Don't forget friends who are not accustomed to strong wines: take a semi-sweet Viura and Moscatel white wine and everybody will love you.

Source:tumblr.com
---
What to drink… at your best friend's birthday? Bubbles and popping corks are a must. Champagne is the most common sparkling wine related to celebrations, but a semi-sparkling Frizzante, an Italian Prosecco or a Spanish medium Cava are great fruity choices that let you to celebrate in a different way.

Source:gifhell.com
---
What to drink… on a date? A couple enjoying a romantic night might plump for a fruity warm red wine while a pink rosé will be also a great and tempting choice to create a special atmosphere.

Source:notoriousmic.tumblr.com
---
What to drink… when you're home alone on #WineWednesday? Give yourself a treat and open that bottle of wine you always wanted to! How about an Argentinian Malbec, or another New World wine to enjoy your relaxing evening alone?

Source:buzzfeed.com
---
What to drink… during the day? We usually prefer lighter wines, younger, fresher-tasting and lower in alcohol (especially if you're enjoying a liquid lunch!). Perfect matches would be an Italian Prosecco, a French Beaujolais, a Verdejo or Viura with wine, or a Sauvignon Blanc from New Zealand.

Source:andiwaslikewut.tumblr.com
What to drink… near the end of the day? Our preferences tend to change, preferring heavier and stronger wines, usually aged and full-bodied, higher in alcohol, deeper in colour and complex in tasting. If the night is on, surely we will choose a Shiraz from Australia, a Tempranillo from Rioja, a French Cabernet Sauvignon, a Californian Chardonnay, or, if we want something fortified, a Portuguese vintage-style Port.

Source:hhnbb.tumblr.com
---
What to drink… when the weather is hot? The types of wines people tend to drink when the day is sunny and the temperature rises are chilled, paler in colour and refreshing.

Source:weheartit.com/entry/46984470/via/me_and_my_self4
---
What to drink… when the weather is cooler? An opulent wine or a strong, red fruit flavour and warming red wine would be a great choice for colder days.

Source:sarah-griffis.tumblr.com
---
What to drink… when you have meat for lunch? Red wines with black fruit flavours and aromas, and assertive tannins like Shiraz, Merlot, Tempranillo or Cabernet Sauvignon.

Source:gaj0romar1ogifs.tumblr.com
---
What to drink… with fish and chips? Yes, white wine is the answer. That's because most fish need a wine with high acidity in order to pair well with it. Choose a Spanish Albariño or a French Muscadet and you will have it. If the fish is stronger, a Chardonnay will match perfectly.

Source:blog.giphy.com
---
But if we want to go further, we can play with the choice of the wine depending on the ingredients of the food we are eating. An Italian meal? Focus on the sauce. Spicy food? Lower alcohol and dry wines if you want to cool down. Even with cheeses we can enjoy a white wine, preferably with high acidity.
So knowing what to drink depends on a lot of variables such as climate, time of the day, season of the year, and food served on the plate. The idea is to harmonise our senses with wine, food and moments, in order to enjoy as much as we can of what we are tasting.