Lee Osborne has the lowdown on where to eat, drink, visit and shop in the vicinity of Portugal's cosmopolitan capital
LISBON
---
Bairro Alto
---
EAT
Taberna da Rua das Flores (€€)
Rua das Flores, 103

You could be forgiven for thinking you're at the haberdasher's store when you first arrive at this pint-sized Chiado gem, headed up by chef André Magalhães – 'Merceria' is the only sign visible from the taberna's bottle green front door. As a foodie you'll be au fait with Venice's affiliation with cicchetti and the Iberian Peninsula's connection with tapas, but did you know Portugal has its very own incarnation, pesticos? These are snacks, generally smaller versions of larger plates, something to have a pick at while you have a Super Bock or, in this case, a tumbler of Vinho Regional Lisboa with friends. Waitresses bring the menu to you on a huge chalkboard, squatting down intently to talk you through the dishes of the day with outstretched arms clinging to the top of the board, giving their arms a tonal workout in the process. Sample traditional dishes such as meia-desfeita (cod salad with chickpeas) or Iscas com elas (thin strips of cow's liver, sautéed in white wine and garlic, served with boiled potatoes). A word of warning though, make sure you arrive unusually early by Portuguese standards at 6:30pm to avoid disappointment. 
Belcanto (€€€€)
Largo de São Carlos 10

I first sauntered past this restaurant in the chic neighbourhood of Chiado, on a late afternoon stroll. It was closed in anticipation of the evening sitting, but outside its rather unassuming cream and brown exterior sat head chef José Avilez under a brown veranda. Slightly reclined and in full chef's whites, his profile enveloped by a golden halo formed by the setting sun. A very befitting image I thought, given his restaurant was the first in Lisbon to earn two coveted Michelin stars. Regarded by many as the finest restaurant in the country, it serves up modern takes on Portuguese classics crafted by the exuberantly inventive chef. Belcanto, had been around for many decades in its former guise as a gentlemen's club, before Avilez moved in and gave it an elegant face-lift and entirely new, slightly avant-garde menu back in 2012.  I took my seat on the patined tan leather banquette, set against a wall masquerading as an art-installation awash with poppadom-resembling dinner plates, and opted for the Menu Lisboa with 6 wine pairings. The food journey began with the rather wonderfully-entitled The Garden of the Goose that laid the golden egg – followed by A Dip in the Sea. 
SHOP
Sapataria do Carmo
Largo do Carmo 26

Where the (and pardon the pun) well-heeled of Lisbon go to invest in some of the finest footwear in the city. Men's and women's shoes of the finest repute housed in a yesteryear emporium in the heights of chichi Chiado. Think monk straps and derbies for the gents, and braided loafers, oxfords and ballerinas for the ladies. 
DRINK
Duque Brewpub
Calçada do Duque 51
A visit to the city's proliferation of microbreweries is a must while you're in the city and Duque is a good benchmarker. Located in the dizzying heights of the Bairro Alto with fabulous views of the city spread out below, Duque Brewpub was the first to open its doors back in 2016. Work your way through all 9 Portuguese brews on tap, including the divine Palestation IPA, and if that's not enough, there are 50 more ales available by the bottle – surrounded by a hipster crowd of moustachioed gents and cool Dr. Martens-clad chicas.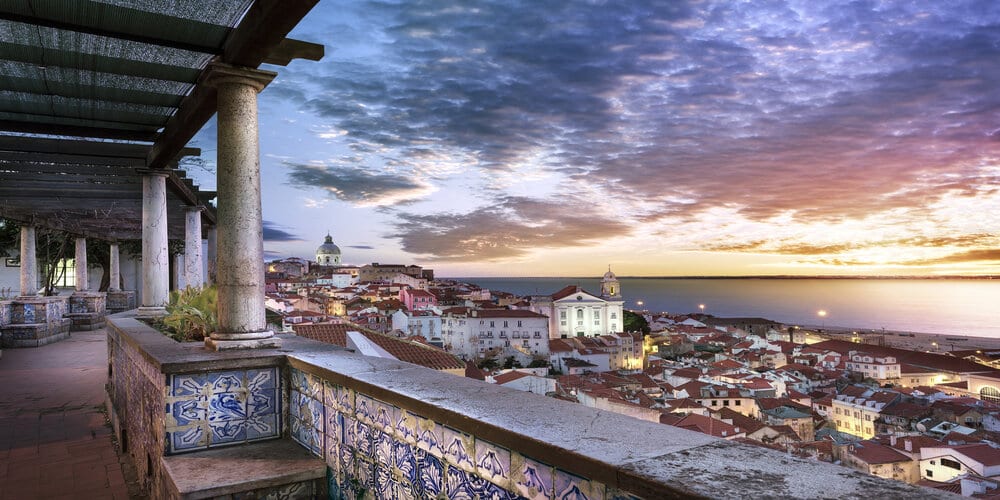 ---
Principe Real
---
EAT
Atalho Real (€€)
Calçada Patriarcal, 40
Located at the rear of the beautiful Embaixada concept store, Atalho Real has taken residence in the former kitchen of the Ribeiro da Cunha Palace, overlooking the paradisiacal Botanical Gardens of Lisbon. Choose from a variety of carefully selected cuts of meat from around the world, including Maminha Black Angus, Wagyu or Atalho's esteemed Entrecôte Maturada. The place marries edgy with tradition – black and white street art style murals sit harmoniously side by side with Portuguese azulejo tiles. A laid-back vibe presides throughout and a plentiful wine list of solely Portuguese offerings is available by the glass and bottle – from the local palatable red Palha Canas from Lisbon (a steal at €3,80 a glass) to the big-hitters of the Dão, Douro and Alentejo.
SHOP
Embaixada
Praça do Príncipe Real 26
Embaixada is simply magnificent, concept shopping with genuine wow factor: rather like a Portuguese version of a Moroccan Riad with the domes and minarets of Brighton Pavillion thrown in for good measure  – the Ribeiro da Cunha palace has opened its doors to a number of conceptual stores that feature lesser-spotted brands that you won't find in larger retailers. Spread across two floors that look every bit as though they've been furnished by House & Garden, it is a beautifully curated showcase of products. Of the menswear brands on present, Jak, who offer some of the best value all-leather and suede sneakers on the market – no surprise given Portugal's shoemaking excellence, together with their rather wonderful sister brand Officina who offer smarter oxfords and beautiful laced Derby boots, were my pick of the bunch. 
DRINK
Gin Lovers (€€)
Praça do Príncipe Real 26

After all that concept shopping you'll be in need of some liquid refreshment. Seeing as you're already at Embaixada, it would be rude not to pop in and try one of 60 international gins available at the phenomenal Gin Lovers. An oasis of calm on the first floor of the Neo-Moorish palace complete with its own resident DJ Miss K on the decks, you can be assured of tunes resonant to whatever time of day you rock up. Daytime sees fado, jazz and bossa nova come to the fore giving way to more pulsating beats at night. Opt as I did and give Gin Lovers twist a whizz: blending Beefeater 24, the world's most awarded gin, with tonic water, orange blossom and lavender, aromatized with grapefruit zest and juniper. Absolutely sublime. The space is also home to an incredible mural by Portuguese rising artist Marió Belém entitled Aparatosa Envolvência Botânica in Portuguese and is the artist's interpretation of the key botanicals that gin comprises.
---
Graca
---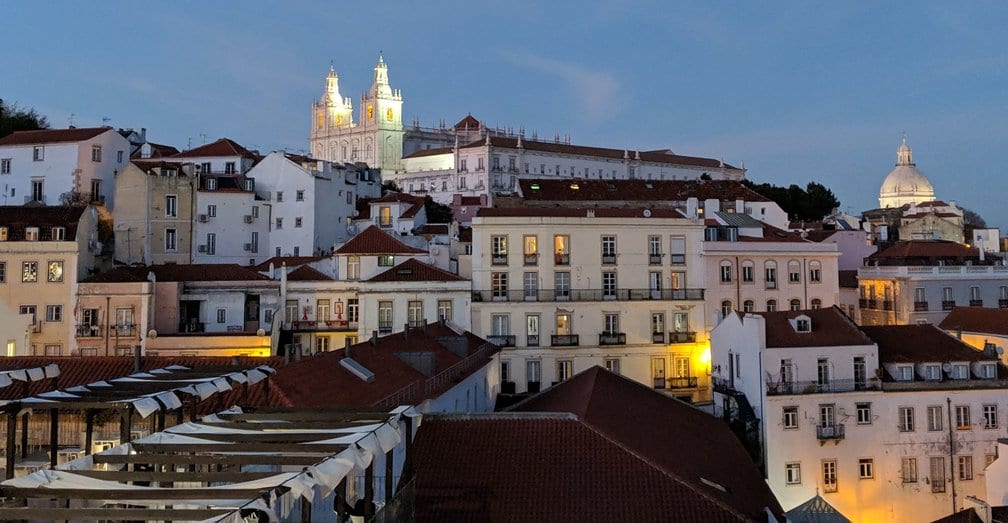 Ceia (€€€)
Campo de Santa Clara 128

I first discovered the über-talented Pedro Pena Bastos when he was Head Chef at the Herdade do Esporão wine estate in the Alentejo. I remember the property's esteemed oenologist David Baverstock singing his praises and promptly booking me in for lunch. I'm forever indebted to him for doing so as it was arguably the finest meal of my life. I've tracked the effusive bearded chef ever since, from a brief stint in Porto to his current residency at Ceia* – the Portuguese term for supper, within the four walls of Hotel Santa Clara 1728. The concept at Ceia is to gather 14 individuals around a communal table for each sitting – albeit friends, family or complete strangers. It's a convivial mix of foodies from the world over – on the night I dined I shared conversation with inhabitants of Lisbon, Melbourne and Puerto Rico. Course after delectable course ensues, each presented as edible art installations. Expect to chow down on anything from Razor clams, shimenji and pine nuts to Iberian pork with walnuts and kale tops, all washed down with fabulous wine pairings from sommelier Mário Marques woven in-between.
12-course Dinner only: €100; 12-course Dinner with wine pairings, €150.
*at the time of writing Bastos had just taken over as Head Chef at the Four Seasons Lisboa
---
Marvila
---
DRINK
Dois Coivos Tap Room
R. Cap. Leitão 94
Dois Coivos, founded by Susana Cascais and Scott Steffens in late 2013, is another noteworthy craft brewery in Lisbon – this time in the former warehouse district of Marvila, producing distinctive craft beers in this edgy neck of the city. While 17-taps of craft beer await your delectation, start by ordering a flight of beers (5x ⅓ pints) and you'll have your list of favourites whittled down in no time – in our case the incredibly moreish Metropolitan, a 5.2% ABV American Pale Ale. Fear not, bar snacks such as pizza slices and meat platters are available to soak up your indulgences.
CASCAIS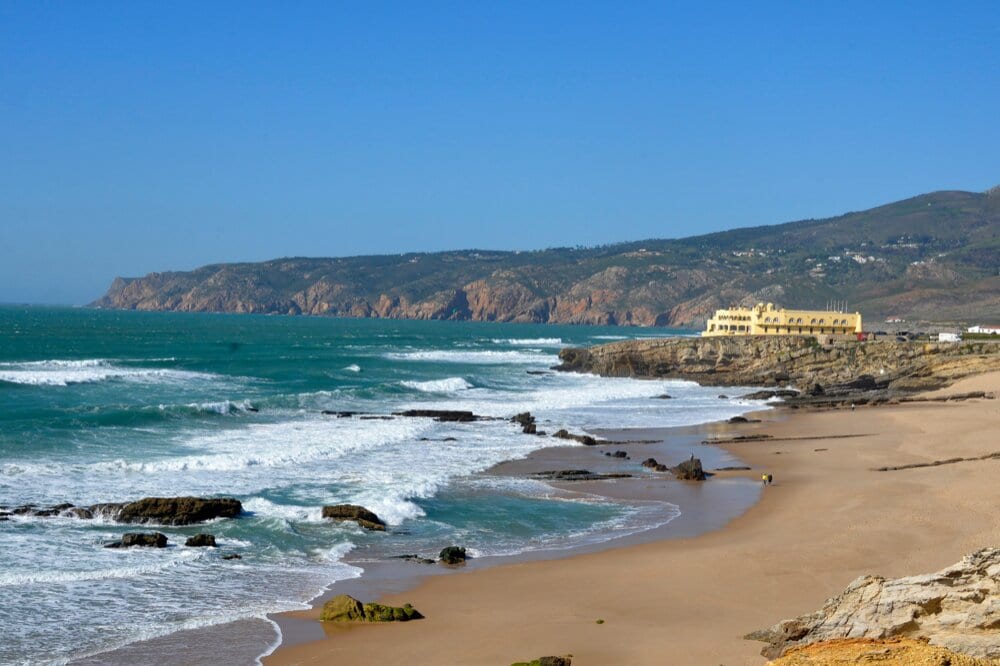 EAT
Reserva da Villa (€€)
R. Fernandes Thomás 1, 2750-342 Cascais
A more archetypal Portuguese restaurant you could not wish to find – Reserva da Villa is a symphony of 19th-century blue and white azulejo tiles which reference the grandiose noble houses of the Douro Valley in the north of the country. The former residence of poet Maria Amália Vaz de Carvalho, the property was transformed by interior designer Paulo Lobo and is as beautiful on the outside – the restaurants' terrace has arguably the best view of the Bay of Cascais – as it is within – Cubist style wooden shelves replete with wine bottles clinging to mesmerising Jaipur blue walls. The restaurant's USP is its propensity to dispense 48 different Portuguese wines by the glass from an automatic Enomatics vending machine, leaving you to hand-select a different wine to accompany each course. An Azulejo (House) Rosé kicked off proceedings accompanying entrees of patatas bravas with spicy aioli and lime-marinated mackerel, followed by two different variants of Herdade Papa Leite: C50 a delicious Moscatel, Chenin Blanc and Viognier blend and C51 with the addition of Sémillon. Quinta da Bacalhoa tinto (yes, a red with fish)  accompanied the next course, sea bass with corn xarem and green asparagus while Symington's flagship Chryseia was its usual velvety self and a perfect pairing for grilled Txuleton (Gallegan steak) with potato strips and market vegetables. Desserts of Chocolate mousse and lemon meringue pie were made even more sublime with the addition of a Blackett 10-year old tawny port.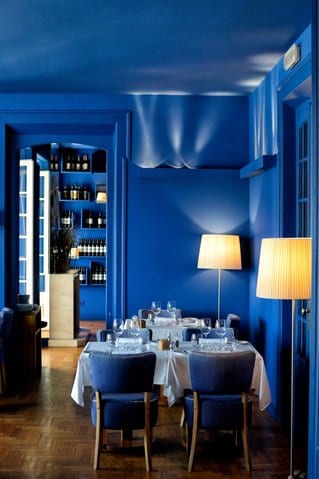 Bairro dos Museus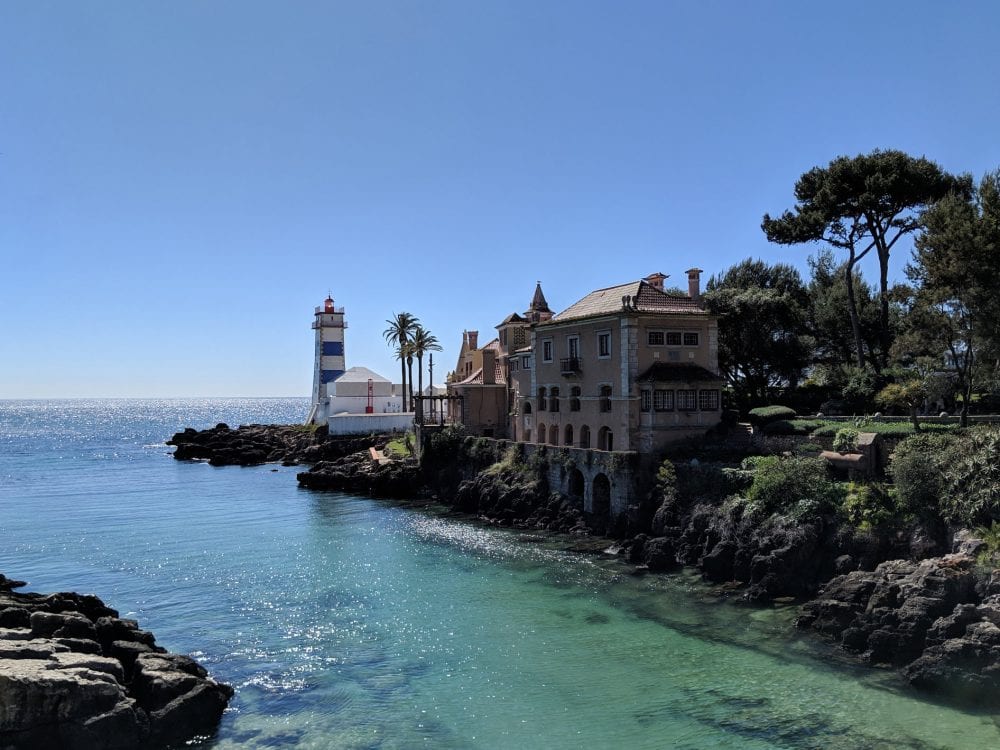 Cascais is a small enough town to be able to walk everywhere. A short stroll from the seafront is the Museum Quarter, boasting 12 individual museums, two parks and countless experiences for the culture savvy: from the Centro Cultural de Cascais, a multidisciplinary space dedicated to visual arts, to Cascais's iconic blue and white striped lighthouse, part of a complex which houses the Farol Museu de Santa Marta – showcasing the building's history and technological advancements as well as the daily life and routine of its former lighthouse keepers. Don't leave Cascais without sampling a legendary ice cream from Santini, hailed as the finest gelato in the country.
SINTRA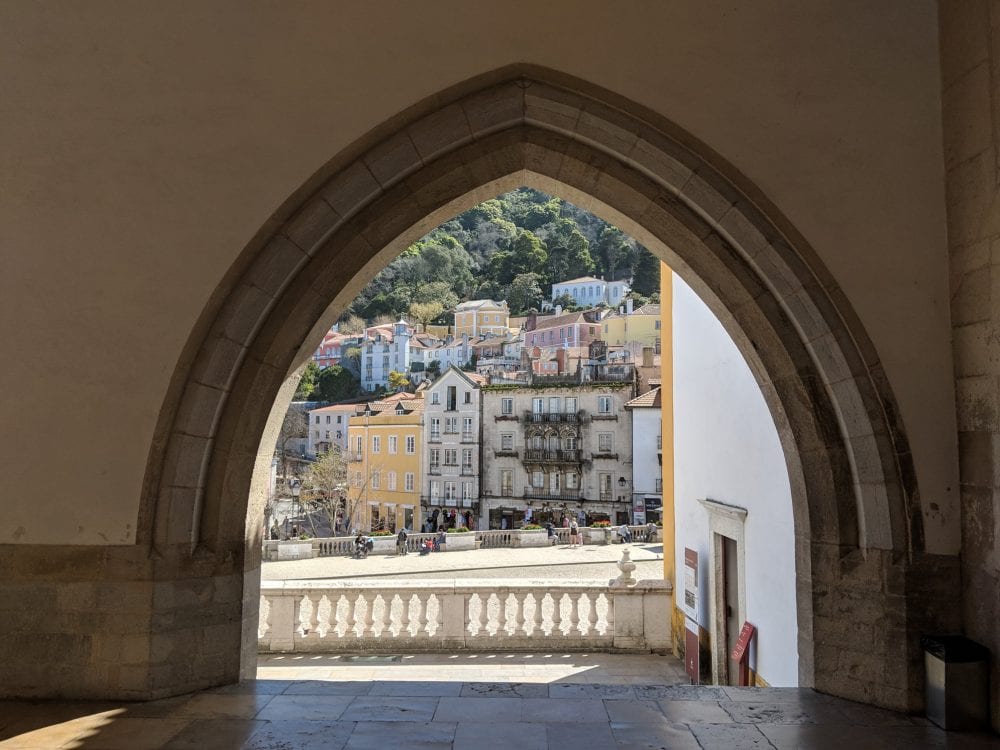 EAT
Café Paris
Praça da República nº 32 a 36, 2710-616 Sintra
Somewhat of an institution in Portugal's Capital of Romanticism Sintra, bang in the centre of town opposite the Palacio Nacional with its iconic whitewashed protruding chimneys, the best-kept medieval royal palace in Portugal. It has served the great and the good of visitors to the town – from European Royalty, Heads of State to artists and writers since its inception in 1945 and an air of yesteryear still presides – including a most divine 18th-century French palatial-style dining room. Fish, as you would expect being so close to the Atlantic Ocean, is the star of the show here. Seabass, grilled sardines (depending on season) and Bacalhau com Broa top the list, or if you're more partial to red meat the Café Paris steak is legendary – all complemented by a well-informed sommelier's selection of Portuguese wines.
VISIT
Pena Palace, Sintra
Estrada da Pena, 2710-609 Sintra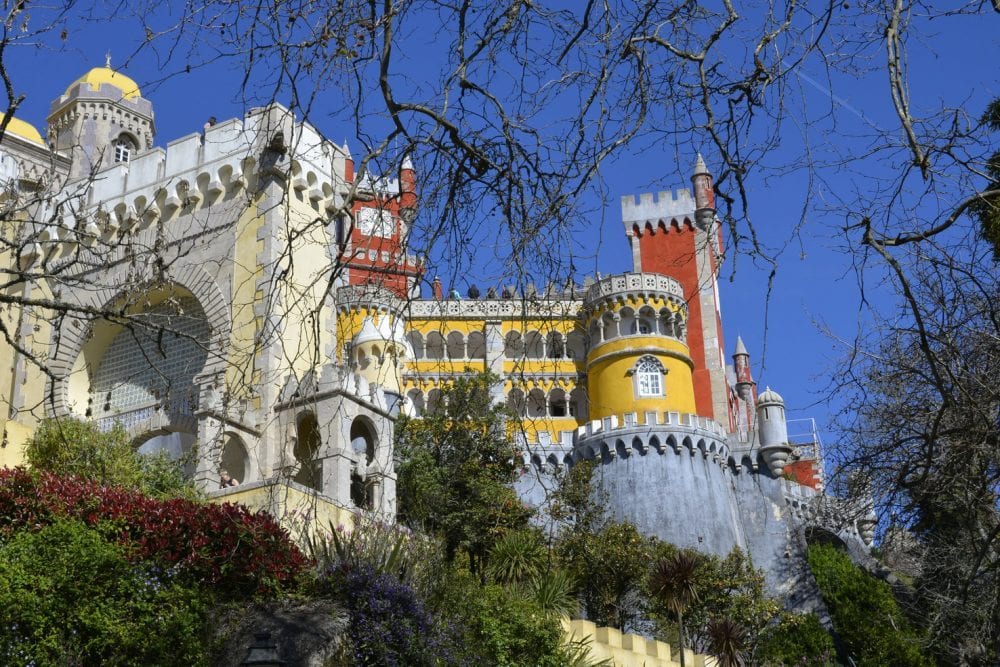 Winerist runs a fabulous day trip to Sintra. Departing at 9am outside Lisbon's iconic Condes cinema, now a Hard Rock Café on Avenida de Liberdade, it's a 35-minute mini-bus ride to the fairytale surrounds of Sintra's eye-popping primary coloured Pena Palace – a mish mash of contrasting architectural styles which spectacularly collide to form a Disney-like medley of whimsical proportions. But first it's a leisurely stroll through the mysterious Pena Park with its abundance of flora and fauna up to the summit of the Pena National Palace, affording amazing views of the valley which stretch out towards the Atlantic Ocean beneath. Our guide went above and beyond the call of duty purely for my benefit, taking us on a detour to a fabulous spot called the Queen's Throne to photograph the whole panorama of Sintra spread before our very eyes. The itinerary allows a one hour refuelling stop in Sintra's Old Town afterwards – don't miss the opportunity to try the delicious local sweet delicacies queijadas and travesseiro and wander the quaint backstreets. From here it's on to the Roca Cape Cliffs for a blustery photo opportunity at Europe's western-most point before taking in the vast expanse of Guincho beach, a surf and kite-surfing paradise surrounding Duna da Cresmina sand dunes in Cascais. There's just time to stop at the Boca do Inferno viewpoint and a drive back through Estoril spying the famous Casino.
Lee Osborne is a lifestyle photographer, writer and blogger
www.sartorialee.com; @sartorialee