Every year, the third Thursday of November in France announces the arrival of Beaujolais Nouveau Day with fireworks, music and off course lots of wine. Beaujolais wine is released this day at 12:01 AM, just few weeks after the grape's harvest. Festivals are held throughout France and around the world to enjoy the new vintage for the first time.
Is Beaujolais located in Burgundy or Rhône?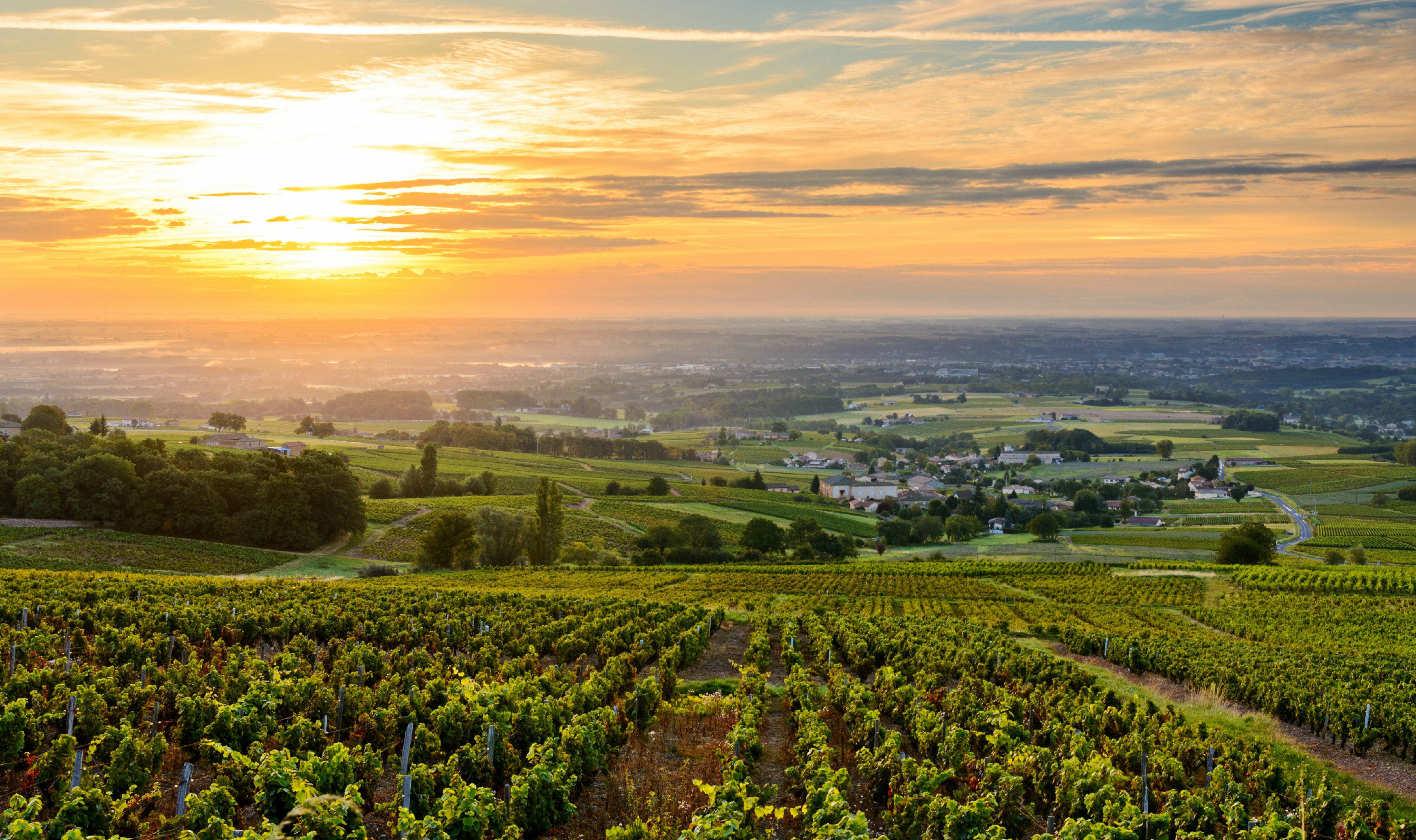 The wine takes its name from the historical Province of Beaujolais, which is located north of the city of Lyon with the rest of Burgundy to the north and the Rhône wine region to the south. Beaujolais is part of the world famous wine region of Burgundy, but the wine has enough individuality and personality to be considered apart from Burgundy and Rhône.
From which grape is Beaujolais wine made of?
Beaujolais wine is appreciated and loved around the world for its vibrant and fruity personality. It is made from handpicked Gamay grapes which have a thin skin and low tannins. The region is best known for its light red wines, which offer a great refreshing flavour, but a small amount of white and rosé is also made in this wine region.
How is it possible to enjoy wine just few weeks after its grape harvest?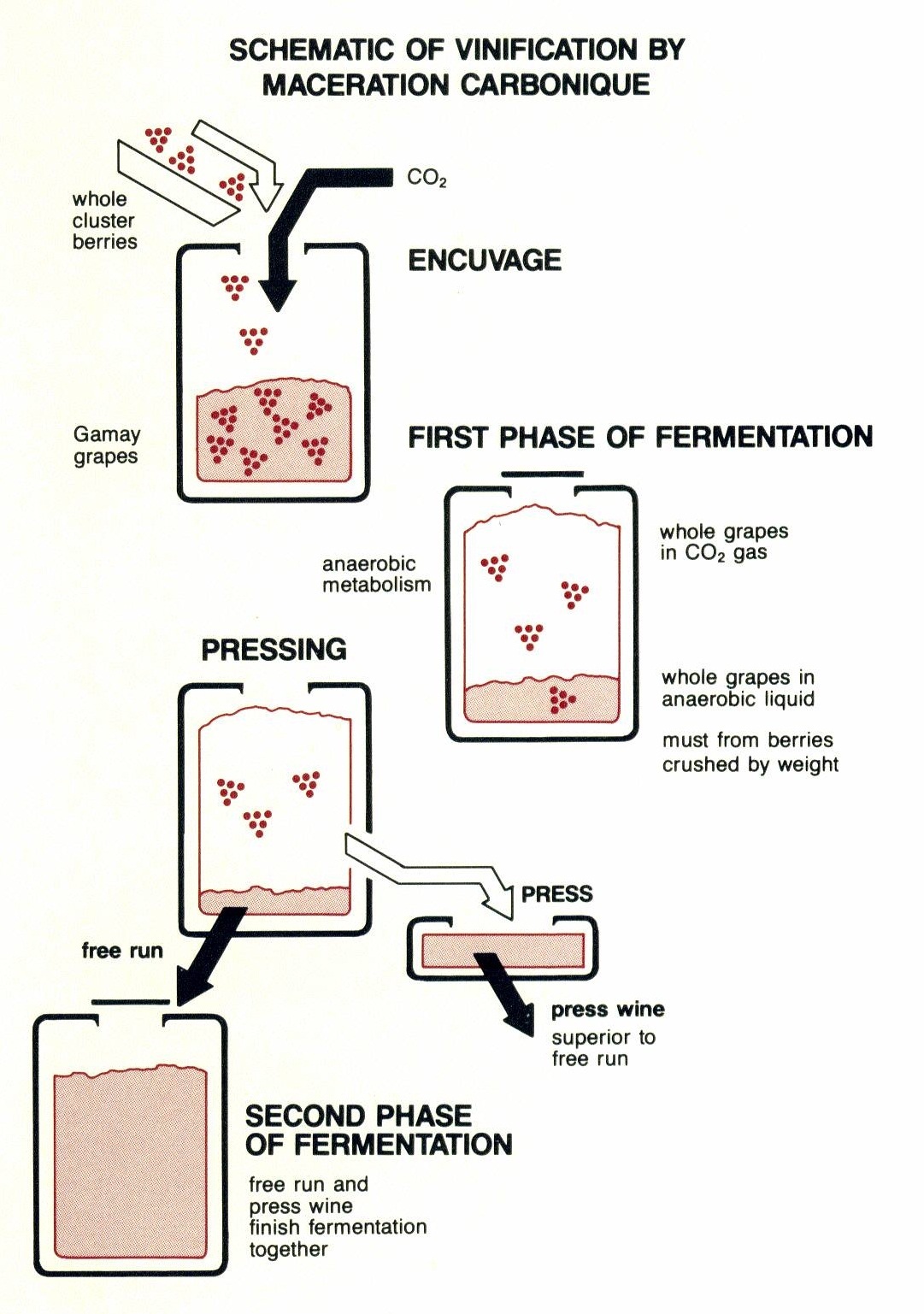 Photo credit: http://enofylzwineblog.com/2014/07/25/wwd-carbonic-maceration/
Instead of the traditional winemaking process where crushed grapes, sit in open tanks with the active yeast and sugars working together, in the Beaujolais winemaking process, Gamay grapes go through a Carbonic Maceration process. With this method, grapes are put into large, covered tanks, un-crushed. The bottom grapes are crushed under the weight of those on top. Since the tank is covered, the resultant juice starts to ferment and saturates the upper grapes with the carbon dioxide that is given off by the fermenting grapes, creating an anaerobic atmosphere. In the absence of oxygen, the uncrushed grape berries begin to go through an enzymatic, intracellular process. This causes intra-cellular fermentation, where the grapes ferment as a whole berry, producing  a brightly coloured wine, with nice strawberry, cherry and raspberry fresh notes. Beaujolais wine in unoaked for a fresh and young style.
How can we pair Beaujolais wine?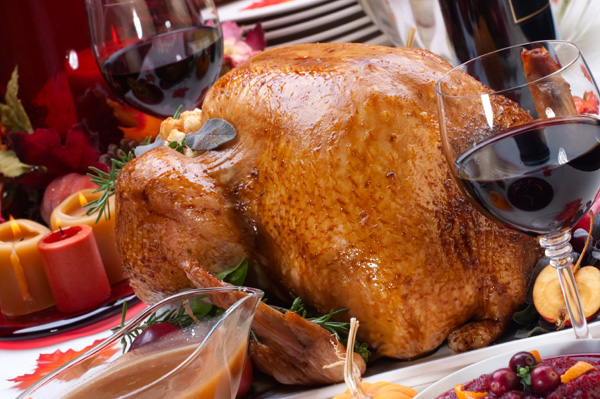 Photo credit: www.sheknows.com
Beaujolais wine is the perfect refreshing alternative to heavy reds wines. They are famous for having a unique talent to be chilled. Because of its bright acidity, fruity aromas and soft tannins, Beaujolais wines pair very well with a wide range of meals. Even if it's red, I recommend you to serve it slightly cool, at about 55 degrees Fahrenheit, it will be more refreshing and its forward fruit more apparent than if you serve it at room temperature.
Some pairing ideas?
·        Grilled or roasted chicken
·        French Quiche
·        Pork chops
·        Roasted turkey
·        Non matured cheeses
·        Berry desserts
·        Chicken or bacon salads
·        Sushi
·        Grilled tuna or salmon
·        Strawberries with a fresh Beaujolais poured over them.. delicious!
10 Things you didn't know about Beaujolais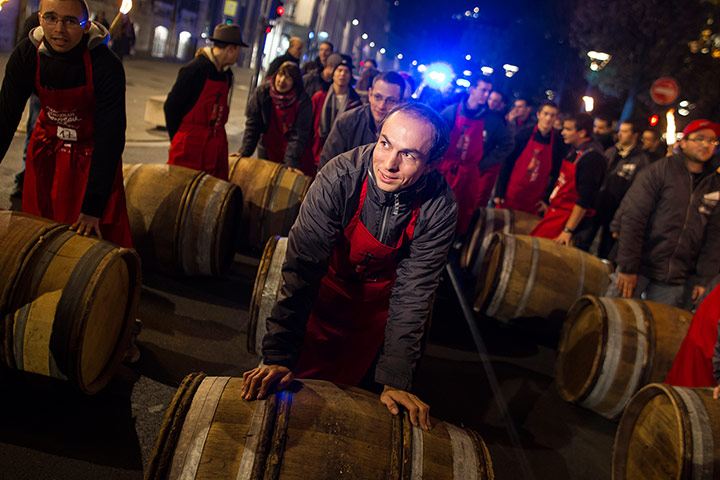 Photo credit: Steven Doyle
The town of Beaujeu, after which Beaujolais is named, has a five-day festival called Les Sarmentelles to celebrate and enjoy the new vintage for the first time.
All the grapes used to make Beaujolais wine must be picked by hand.  Beaujolais and Champagne are some of the sole wine regions where hand harvesting is obligatory.
Beaujolais Nouveau is always released the third Thursday of November, regardless of the date of the harvest.
Beaujolais Nouveau began as a competition to see who's new harvest's wine could reach Paris first.
Gamay noir is the only grape allowed for Beaujolais. Even if some wineries in California label their wine "Gamay Beaujolais" it is not the same grape variety grown in Beaujolais region.
The secret of Beaujolais Nouveau easy drinkability is its carbonic maceration winemaking process.
Beaujolais Nouveau is meant to be drunk young and it should be consumed by the following May after its release. So I recommend you to enjoy it now because it may not survive much time stored in your cellar.
Approximately a third part of the entire crop of the Beaujolais region is sold as Beaujolais Nouveau.
The region of Beaujolais is known for its wonderful food. The city of Lyon which is very close to Beaujolais is considered the capital of the French Gastronomy.

Beaujolais Nouveau began as an early release wine, drunk by the workers of the Beaujolais vineyards, to offer them something to drink after their hard work and to celebrate the end of harvest. Then the wine started to become more famous at local cafés and bistros.