Languedoc-Roussillon is a region on the move. Stretching from the Rhône Valley down to the Spanish border, its over 280,000 ha of vines are farmed by winemakers who are increasingly focusing on quality rather than quantity, and some pioneering producers have turned to wine tourism to boost their business.
The Languedoc grape harvest of 2012 was a record-breaker: with crops down worldwide this year, the southern French region's estimated 11.7 million hectolitres (figures from October 1, 2012) was an all-time low.
Historically, the gathering in of Languedoc's grapes spans a two-month period, starting mid-August, but this year's vendanges ran up to two weeks later into the autumn. In Saint-Saturnin, north-west of Montpellier, Virgile Joly of Domaine Virgile Joly finished bringing in his crop on October 4, "but normally, we're done by September 25 at the latest," he explains.
The need to be ever-vigilant in the vineyard was illustrated by Catherine Wallace of Château de Combebelle (AOC Saint-Chinian), near Béziers: "Overcast, humid days in spring and summer meant we had to proactively protect against oidium and mildew. Overall, I'd say it was a good, but not a great, vintage."
Near the Mediterranean coast, at Montagnac, Jonathan and Anne James (Domaine Saint Hilaire) had a good vintage and took their first steps towards natural wine making, hand-harvesting their Vermentino grapes, avoiding the use of sulphur dioxide during harvest and letting natural yeasts get to work in the winery.
Further south, in the Corbières, Karine Mirouze of Château Beauregard-Mirouze is quietly confident. Her vines were in good shape when picking started, and "the summer nights were quite cool, even if the days were rather hot; that distinct difference in temperature has always been a sign of a great vintage for us," she comments.
Eat, drink… and be merry!
The wineries mentioned above welcome Winerists and wine lovers!
Domaine Virgile Joly hosts food and wine tastings throughout the year. The next event on November 24th will match their wines with Lebanese cuisine (for more details check Domaine Virgile Joly).
Visitors to Château de Combebelle can stay in stylish, self-catering accommodation (complete with use of pool) and enjoy home-cooked meals, wine-tasting and vineyard visits (www.combebelle.com) from April to October.
Wine lovers can discover the more luxurious side of Languedoc at Domaine Saint Hilaire, where wine tasting, blending, vineyard and winery tours, picnic lunches and four well-appointed guest rooms await.
Château Beauregard-Mirouze regularly organises wine-related events that feature live music and art exhibitions. Their next event will be in May 2013, when runners will tackle a a nine-kilometre "Nature et Vins" course through the vineyards, sustained by… wine and charcuterie! (www.beauregard-mirouze.com)
By Louise Hurren
Louise Hurren has lived in Languedoc-Roussillon since 2002. She is a wine marketing and PR specialist, working with wineries and producers in the region.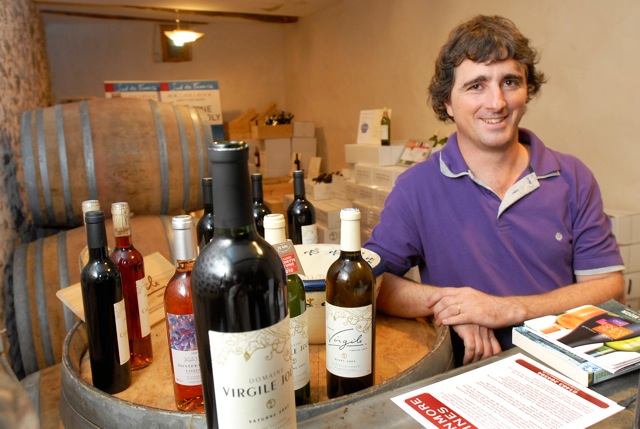 Virgile Joly of Domaine Virgile Joly in Saint-Saturnin