Florentine artist, Elisabetta Rogai is well established in the international art world, as she has successfully represented Florence and Italy over the past 10 years in major exhibits held in Europe, Asia, South America and the U.S.
But her latest innovation is what the wine world (and wine enthusiasts all over) is intrigued by. Using wine as her medium to paint with she has been able to create paintings with images that "age" on the canvas, in what some call the "Dorian Gray" effect, with the exception that her portraits become more beautiful in time.
She tells of how the idea came about, at dinner at a friend's home, when some red wine had spilled on the tableclothand she was captivated by how the wine spread in the fibers. She began thinking about how she could use the wine as a medium in her art.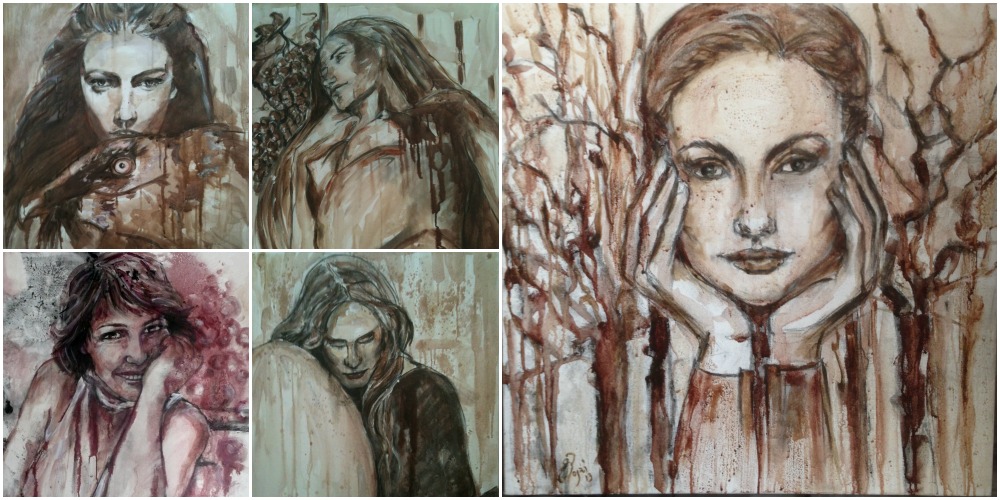 Since the process of the wine aging, as it does when bottled, is accelerated on canvas, Elisabetta Rogai has studied with a chemist from the University of Firenze to come up with a secret composition that allows the wine to set. It will change in tonality and shade in time, but will not fade. She uses red and white wine, each varietal or blend having colours and characteristics as unique as the wines themselves.
She actually sketches the canvas with a burnt twig from the vines-as a way to bring together the wine and the vineyard.
Interesting aspects of her works are "performances", where she actually creates a painting in the midst of a vineyard using the wines from the winery. She has performed at Vinitaly, as well as at many well-known vineyards in Tuscany.
She has exhibited all over the world, with an upcoming exhibit at the Palazzo Medici Riccardi in Florence (December 2014) and in Rome at the Chiostro del Bramante (Spring 2015).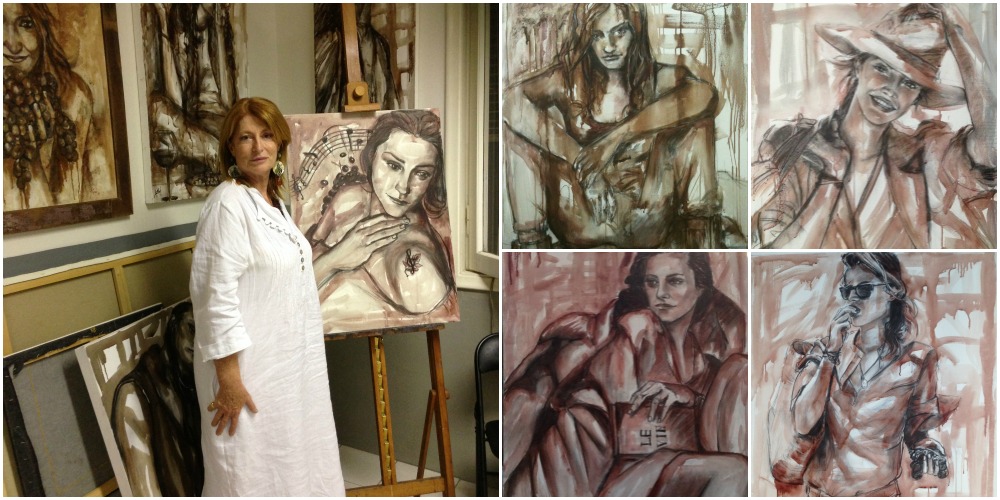 Elisabetta Rogai is internationally recognised as one of Italy's most esteemed artists. She is a female artist and an artist of women; her paintings capture ordinary moments of everyday life, in quite an extraordinary way. Her portraits have the power to draw you in and make you wonder, as the artist herself tells it, she wants people to think. Her creative engine is in constant evolution as she has the ability to astonish with her innovative techniques. Other than her classic paintings on canvas she has painted on jeans, silk and cashmere, making her art "wearable".
For more information about Elisabetta's art, please click here.
This article was written by Sandra Cemulini, our Tuscany Travel Guide Expert. Sandra lives in Florence where she developed a passion for Tuscan wines. Her background is as a restaurateur, having owned fine dining restaurants in Italy and the U.S. She currently travels and offers wine tastings and cooking lessons focusing on the regional food and wines of Italy. Interesting travel tips and recipes can be found on her blog.
---
Thinking of taking a trip to beautiful Tuscany? Find out the top things to do before you go.