When most of us think of whisky (as opposed to its American cousin, whiskey) it is of course Scotland which immediately springs to mind. Scotland is full of wonderful things, not least men in kilts (my personal favourite) and haggis – and is also the ultimate whisky lover's destination with an unrivalled heritage of distilling dating back to at least the 1300s. Some of the most famous distilleries in the world are here; from magnificent Glenmorangie with its 'giraffe' stills, to peaceful Talisker nestling on the Isle of Skye, and the iconic Glenlivet on Speyside. For many, there is nothing better than settling down with a glass of single malt, and there is absolutely no doubt whatsoever that Scotland produces some of the best 'water of life' going…
However.
Whilst I am not for one moment debating the quality or prestige of Scotch whisky, there is an intriguing, relatively new kid on the block in the world of whisky that's making quite a splash… We've seen some fabulous and innovative whiskies pop up in unexpected locations all around the globe, from Japan to Australia, but in this instance we're staying a little closer to home. I'm talking, of course, about England. Whisky purists, stay with me here.
Full-Day Scotch Whisky Tour in Edinburgh
From £160 / person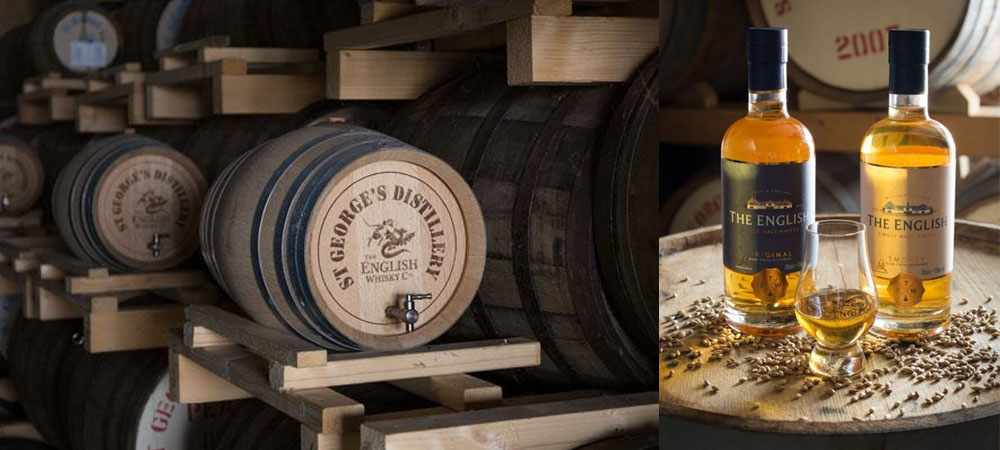 Credit: englishwhisky.co.uk
English whisky? Are you sure?
England does in fact have a legacy of whisky production that's more similar to Scotland than many of us realise. Whilst it's not quite as ancient a history as our Celtic cousins, there are references to distilleries producing malt and grain whisky in England as far back as the 1800s. However, the last English distillery closed around 1905 and for a century the Brits forgot whisky and threw their energy into gin, wine and beer.
Fast forward to 2006 and head across to Norfolk. Norfolk, like Scotland, is full of many wonderful things (although sadly there are fewer men in kilts) and many wonderful, enterprising people who have brilliant ideas and love a drink. Did I mention I'm from Norfolk?
Anyway. One of these enterprising Norfolk people is James Nelstrop. James Nelstrop had a rather good idea. Having spent his life working in agriculture, he knew that Norfolk produces a huge amount of high quality barley, a key ingredient in the distilling process (in fact, barley was historically sent from Norfolk to Scotland for just that reason!), has crystal clear freshwater springs and is generally just a cracking place to be. Bearing all these things in mind, the Nelstrop family decided that Thetford was perfect spot to set up St George's Distillery, the first English whisky distillery to be opened for 120 years. And so, in 2006, the English Whisky Company was born!
A very English affair
St George's now produces some truly outstanding whiskies, the majority of which are oak-matured in casks imported from America which have previously held bourbon – the result is a plethora of perfectly pale, multi award-winning whiskies which are certainly giving their Scottish cousins a run for their money.
Since then, more and more English distilleries have continued to spring up around the country from the Suffolk coast to the Cotswolds, each of which is producing some unique whiskies which are just as diverse and as enjoyable as Scotch, Irish, American or any other of those famous whisky/whiskey-producing nations. Even more are currently experimenting or laying down casks for release in 2019 and beyond.
One to watch is James Chase, drinks entrepreneur and owner of the highly successful Chase Distillery in Hereford which produces a range of premium gins and vodkas. Chase, amongst others, is currently experimenting with whisky production with the aim of adding even more to the English whisky portfolio. What a time to be alive!
Sussex English Wine Tour from London
From £125 / person
Time to Taste
If you're now convinced that it's time to stop thinking about men in kilts then put your Glenlivet aside and try something that's produced a little closer to home. Here are a few of our very favourite English whiskies to get you started.
The English – Original
The English Whisky Company
The classic whisky from our favourite Norfolk distiller, this unpeated single malt was a Gold Medal winner at the 2017 San Francisco World Spirits Competition. It's aged in carefully chosen Bourbon casks imported from America, giving it a gentle, creamy profile offering those characteristic vanilla notes.
On the palate it's nutty and clean – expect almond and hazelnut to caress your taste buds, alongside some zesty orange and tropical fruits. Fabulously easy-drinking and a great one for lovers of a softer tipple.
£36.99
Adnams Triple Malt Whisky
Adnams Southwold
To many, the Adnams name is more familiar in the context of excellent craft beers – but in sunny Southwold on the Suffolk coast, their whisky distillery is also creating wonderful things. Their Triple Malt is aged in new American oak and combines wheat, barley and oats for an unbeatably smooth, creamy taste sensation.
Look out for bold, boisterous flavours of coconut and vanilla thanks to the barrels, whilst the palate provides a complex, luxurious taste profile featuring everything from honey and citrus fruits to some decadent chocolate notes.
£37.99
Cotswolds Single Malt
The Cotswolds Distillery
This exciting single malt is the first whisky to come out of the Cotswolds Distillery, and its much-anticipated release did not disappoint. The distillery only uses Cotswolds barley, and showing the variety and farm where the barley was grown on each individual bottle is a lovely touch.
Aged for three years in premium Kentucky bourbon barrels and reconditioned American red wine casks, this whisky has a light, sweet nose delivering a delicious hit of butterscotch, marzipan and some peachy, fruity goodness. The palate is deeper, tantalising your taste buds with dark sugar and treacle alongside some intriguing dark fruits on the finish.
£44.95
Love whisky (or whiskey)? Don't miss our article on haunted distilleries around the world.. And why not try it as an ingredient in one of these delightfully summery whisky cocktails?