Nestled deep in the countryside of Newbury, site a wine and food lover's dream. For those who are fans of spacious, Californian-style wine hotels complete with fine dining restaurants and spas, this is your chance to relax and indulge surrounded by nature. Winerist went to visit during a recent team day and fell in love with the West Coast wonder of the place, especially those rather epic wine rooms…
The Vineyard Hotel
With 30,000 bottles of wines onsite and 100 on offer by the glass, the moment you walk in, you know that this hotel place takes its wine seriously. This fact is not surprising at all when you consider that the owner is Sir Peter Michael: founder of the Peter Michael Winery in the revered Knights Valley, Sonoma in California. This is not to mean that the only wines here are Sir Peter's. Oh no. While you'd be very happy drinking only his famous Chardonnays, Pinots and others, there are some other names on that wine list that will leave you wine-star struck. See if you can spot some of them in this 50-second video:
The Wine and Wine Events
As you've noticed by now, wine is pretty much everywhere at The Vineyard. True wine geeks who ask nicely may be shown the special wine room, where great vintages of Pétrus, Romanée Conti and others sit, waiting for someone to pick them off the list. The hotel also offers wine courses in their wine school and iconic dinners. This week, they are celebrating their 20 year anniversary with a series of 'Back to the Vine' dinners with seven chefs over seven days. See more details here!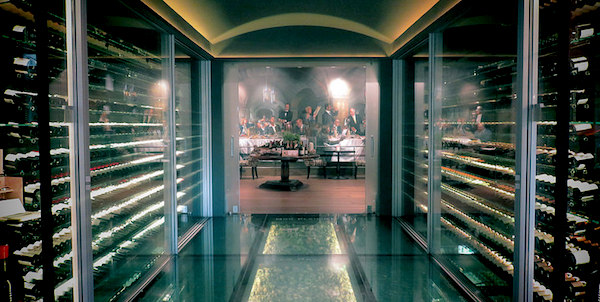 How to Get There
The Vineyard Hotel is located in Stockcross, just on the borders of Newbury, two hours drive from London and not far from the M4 corridor. The nearest station is Newbury and it's a ten minute taxi ride if you're not driving yourself.
The Vineyard Hotel
Stockcross
Newbury
Berkshire
RG20 8JU
TEL: 01635 528770
Want to experience California IN California? Check out this wine, beer and food walking tour in Santa Barbara.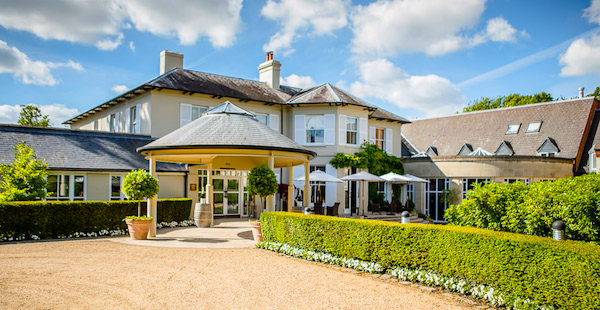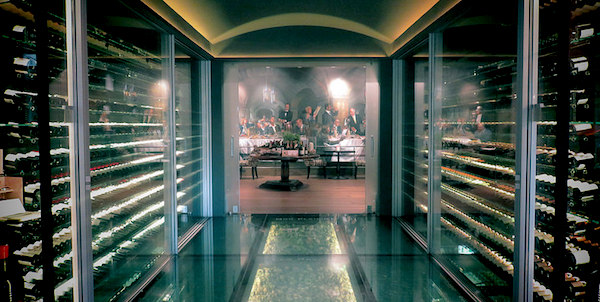 Rooms at The Vineyard
There are 49 luxurious rooms at the hotel, not that you'd notice as the place is so calm and quiet. You can choose from a relatively simple doubles up to Grand Suite, with 5 levels of size and comfort. We loved the size of those beds and the enormous bath in the Atrium suites. Each room is named after a well known Californian winery or wine, which adds a frisson of excitement to the die hard winos like us.
The Spa at the Vineyard Hotel
After a busy week, the jacuzzi was an incredibly appealing thought and turned out to be a perfect place for a head to head. Well, we made it so. The circular pool is a good size and works well for a cool dip once the bubbles have warmed you up. Treatments are available downstairs, with wine-based products chosen for their respective properties. Who said wine wasn't good for you?
The Restaurant
Famous in Newbury for its 3 AA Rosette status, the kitchen is currently under control of Executive Chef Robby Jenks and is enjoyed for its simple combinations of seasonal ingredients. While we were there, one of the guests dining was Heston Blumenthal, which shows how highly the food is generally rated in the area. No pressure there, Robby.
There are several dining options for groups and even weddings. It works as a romantic getaway spot a place for team building or bigger celebratory events.