Stepping into East Dulwich's newest wine bar, Terroirs, on a cold and rainy night in January, it's a treat to hang up your coat, take a seat by the fireplace (there's not actually a fire burning, but the fireplace is comforting nonetheless), and settle down with the huge wine list, as if you were curling up in an armchair with a well thumbed copy of your favourite novel. The exposed brick interior, the long, open bar and the flickering candles make for a delightfully warm, inviting and unpretentious atmosphere, where the carefully curated (and truly tome-like) wine list can really shine.
The menu is simplicity itself – it changes daily, and consists of a few appetisers (order the thick crusty bread with salted butter to tear into while you make your other choices), a selection of charcuterie, small plates, main dishes and desserts. The chef puts it together based on what's in season and what he can get his hands on (and, presumably, what he feels like making), so you know you'll be getting fresh local produce, whatever you choose. There are some fantastic meat dishes to choose from and delicious (if sparing) vegetarian options. The small plates (£6-£10) are perfect for sharing, which is what Terroirs really seems to be made for – sharing good food and good wine with friends.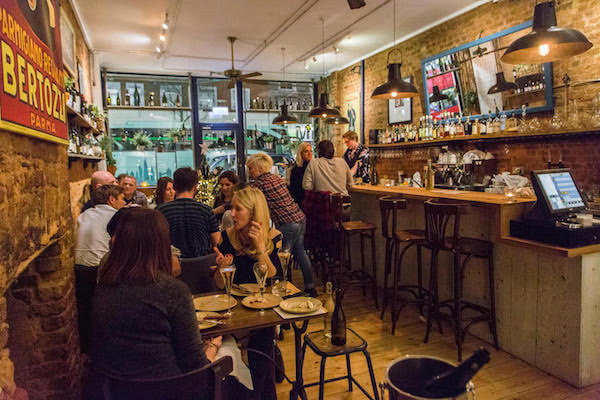 In case you can't face wading through the entire wine list, there's also a condensed weekly 'what we're drinking' list, which highlights new arrivals and staff favourites. If that still sounds like too much work to do when you're cosied up next to a fireplace, simply ask your sommelier for a recommendation. Our sommelier, Max, was friendly and knowledgeable, and brought us a few wines to taste for each course. Terroirs keep a selection of wines open, so do feel free to order by the glass and really get the food pairing right for each dish.
The globe artichoke – smothered in lemon, parsley and garlic, and designed to be torn apart by hand – was quirky and flavoursome, while the pork rillettes – served on a bed of light, fresh lentils and greens – were a masterclass in great quality, uncomplicated food. The star dish, surprisingly, was the chickpea soup – perhaps the simplest thing on the whole menu – it was packed full of incredible flavours and fresh veg, and has me thinking of it wistfully even a week later, an impressive feat for a humble bowl of soup!
In the spirit of eating our way through the menu (easy enough to do, and pretty tempting), we also tasted our way through an excellent Grolleau, a German Riesling (new that day to Terroirs after a visit from the winemakers), and a dry white wine from Georgia. Max's recommendations were spot on, and it's clear that he's heavily involved in the process of selecting each wine, as well as building the wine scene in South London by reaching out to young producers and supporting emerging winemakers. Terroirs pride themselves on choosing wines that truly reflect the place from which they originate (hence the name – Terroirs), and this extra care makes for a diverse wine list with a few special bottles that you're unlikely to find anywhere else.
Whatever you do, make sure you leave room for dessert. While that's probably quite good advice for life in general, it particularly applies at Terroirs, because you don't want to miss the dark chocolate mousse with salted caramel sauce (mouth wateringly good without being sickeningly sweet), paired with an incredible dessert wine from Terroirs' selection. This is a course to really linger over, and the mellow, convivial atmosphere invites you to do just that.
If you'd like to try out Terroirs for yourself (perfect for impressing a discerning date or enjoying a cosy meal with a group of friends), mention Winerist.com to the barman at Terroirs East Dulwich for a complimentary glass of their natural tap wine. (Valid Sun-Thur until 28th Feb 2018) With thanks to Terroirs for kindly hosting us.
 Don't miss Terroirs' famous Sunday roast, every weekend, and look out for their upcoming events – a charity cheese and wine night with Androuet of Spitalfields (1st of Feb) and an evening of Crepes and Bubbles (what could be better?) to celebrate our two favourite holidays: Pancake Day and Valentines Day! (13th of Feb).