If you (like us) were inspired by Joe Fattorini's visit to San Sebastian in this week's episode of The Wine Show, you can sample some incredible Basque cooking right here in the UK.  Tucked away just behind London's Marble Arch, Lurra is a Basque restaurant inspired by an 'unplanned' day trip the owners once made to the Spanish city of San Sebastian. Stepping into the clean, airy space and being immediately greeted by the sights and smells of the bustling open kitchen, it's easy to understand how they were so immediately captivated by these rich flavours. Just walking through the door produces the same kind of excitement you might feel after walking in your own front door and smelling your favourite meal in the oven. It feels, quite effortlessly, like a home from home, and that's not something that's easy for any restaurant to achieve.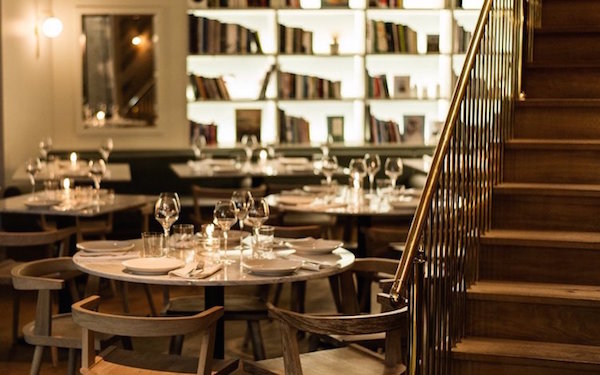 All this before we've even taken our seats, which are at the back of the restaurant, in a cosy (but not cramped) dining area, full of pale wood furniture, gold accents and a white floor-to-ceiling bookcase, with a great view of the open kitchen. In fact, the whole place feels vaguely Swedish, and the stylish, unfussy decor means you can focus your full attention on the food. Our waiter, Jure, has a fantastic knowledge of the menu (which is short, but bursting with great dishes), and describes each of the specials to us in mouthwatering detail. This restaurant is perhaps best known for its 14-year old Galician steaks, but there are plenty of other fantastic dishes which make it a great option for any kind of diner.
An authentic approach to Basque cooking
The focus here appears to be on quality ingredients and great flavours, without any unnecessary distractions. The meat is grilled to perfection and then served by itself – a bold move that pays off as these flavours really are able to stand alone. There's fish on the menu too, carefully sourced and authentically served, while the vegetable dishes include a chunky tomato salad bursting with flavour, a slab of tiny green padron peppers smothered in sea salt, and crispy fries with a creamy aioli dressing.
The tapas-style small plates encourage sharing, and Lurra's no-frills approach to authentic Basque cooking focuses on great quality key ingredients, meaning the flavour of the food is never smothered by unnecessary additions. Jure recommends a Galician white wine, Joaquin Rebolledo Godello, which is fantastically textured on the palate, aromatic, and bold enough to stand up to the flavoursome dishes on our table.
San Sebastian's Sweetest Traditions
After such an impressive main menu, dessert hardly seems necessary, but in the spirit of discovery we ordered the Basque cheesecake, a sweet dish made in San Sebastian which eschews the common 'biscuity base' and is served in thick, creamy slices with a burnt 'creme brulee' like top. Lurra have clearly nailed this traditional dish, as the slice we were served was truly a masterpiece. Light as a feather, sweet and luxuriously velvety, with a gently caramelised finish, my dining companion described it as 'unreasonably delicious', and I had to agree.
A friendly and inviting hideaway in the middle of London, Lurra truly is a gem. This is the ideal place to sample some authentic Basque food and wine, and would be perfect for intimate dates or small groups. Keep this one in your back pocket for the next time you want to go somewhere really special.
Lurra is located at 9 Seymour Place, London W1, opposite its sister restaurant, Donostia. Kitchen opening hours: Monday 18:00-22:30. Tuesday to Saturday: 12:00- 14:30, 18:00-22:30. Sunday 12:30-15:30.
An evening meal is approximately £40 a head, plus drinks and service.
For bookings and enquiries, visit www.lurra.co.uk