A truffle and Dom Pérignon dinner. What could be more hedonistic? Our friend, chef Sven-Hanson Britt, gives us a chef's eye view of a very special location and dinner…
Coworth Park, Dorchester collection's country house hotel in Ascot, is somewhere I've always wanted to visit, and never had the chance. So, when chef Adam Smith uploaded his truffle en croute preparations to Instagram and showed the world what he was preparing for their collaborative evening with Champagne house Dom Pérignon, I just had to go. Not even the snow from the 'beast from the east' would stop me getting up the M3 to that truffle. For some reason, I was the only person on the road that night.
"This is not a champagne dinner!"
The ice didn't stop the event filling up and whilst we all enjoyed some little, crisp canapés and a glass of their 2009 vintage (from magnum) Mr. Pierre-Louis Araud, the Dom Pérignon champagne ambassador introduced the evening with the perplexing line "This is not a champagne dinner!" He was very firm about that. His aim was to introduce Dom Pérignon as a fine wine house with beautiful wines to accompany every course of any lunch or dinner. And they really did just that.
The menu that Adam Smith paired with these champagnes was exemplary. It was thoroughly delicious throughout and shows why Adam is getting such rave reviews at Coworth Park. Adam impressed on us that the Coworth Park wine and champagne dinners are very special occasions that give him and his team of chefs an opportunity to cook exciting dishes that just wouldn't and couldn't be on his Michelin starred menu. The chefs work hard with the front of house team as well as the various wine producers to create some truly unique experiences on various Thursday's throughout the calendar.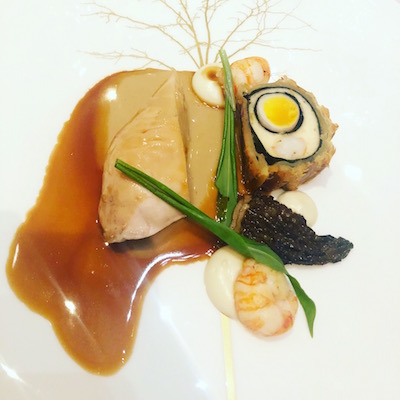 For this event, we were served the first of the spring asparagus from France which was lightly cooked and served with a citrusy cured turbot and caviar alongside the '09 vintage blanc; a wonderful, refreshing paring. The second course, the one I was most looking forward to and what initially led me to come here, was the truffle. We were each presented with a whole black truffle, baked inside puff pastry and a mousse of duck liver and served with celeriac puree, a beautifully perfumed truffle sauce and sautéed fresh duck liver. You cannot even imagine the aroma that filled the room at this point. So delicious! This was served with the 2000 P2 'Plénitude Deuxieme': the second release of their 2000 vintage champagne. Initially released in 2008, the second release of this wine has a new vitality and depth. It accompanied the richness of the truffle en croute perfectly with its biscuity, brioche flavour.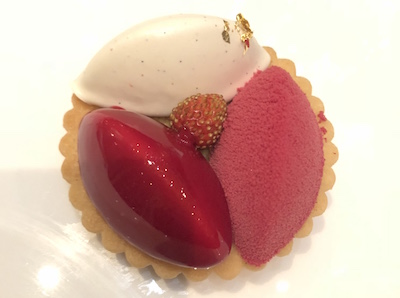 The third wine was the revered Dom Pérignon 1996 Rosé P2, again another 'Plénitude Deuxieme' and was the wine that everyone at our table was looking forward to the most. We were also offered the 2005 vintage to compare the differences whilst we ate a wonderful main course of Norfolk chicken with langoustine, wild garlic and morels and then moved on to the first of the Gariguette strawberries with yoghurt for dessert. These wines were really very special.
After salted caramel chocolates and coffee, Adam Smith and Mr. Araud took questions in the room and the Coworth Park Hotel team introduced the upcoming wine events to much excitement. Details of the dinners can be found below. Unfortunately, the snow was just so bad, I had to book myself a room for the night… The sacrifices I'm willing to make, honestly, but it did give me a chance to experience more of their beautiful hotel, which is definitely now one of my favourites. So, a big thank you to Adam and Pierre-Louis and all of the fantastic team at Coworth Park for creating such a memorable experience. I'll see you all at the next wine dinner.
Fancy some wine dinners at gorgeous locations in England? Try the Gallivant in Camber Sands for longs walks on the beach and a fantastic choice of English sparkling wines. Or if you want to read about more gourmet places in the UK, see our piece on The Black Swan in Yorkshire, recently voted 'the best restaurant in the world'!