Valencia DO
Second day brought even more pleasant surprises. After a short stroll through the Valencia town centre with a quick visit to the market (where I could just stay forever walking along the stalls heavy from the richness and diversity of meat, fish and seafood, jamon, cheese, fruits and vegetables, nuts and wines), we headed to the Valencia DO Headquarters for the wine and regional food pairing.
We had some good, though not extraordinary matches of Merseguera and goats' cheese, Garnacha and hard nutty cheese from Pays Basque. The most unusual and interesting combination was probably the frizzante rosé Estrella de Murviedro and mustard marinated herring – fresh and lively medium sweet wine with low abv, full of cranberry and strawberry flavours provided a very satisfying match with saltiness and oiliness of herring. But the highlight of the morning, and I would not be wrong to say, the highlight of the whole trip, was tasting an unbelievably good Cuva Vella Vintage Muscat 1980. This limited edition (only 2500 bottles) Muscat of Alexandria liqueur wine is made using the traditional method called "Mistelas" by adding alcohol to the partially fermented grape must. The story of the wine is unique: it has been discovered by chance in the old chestnut vat, where the name of the wine comes from (cuva vella – old cask in Spanish), by the Valsangiacomo winemakers. The wine is aged in a solera system which started in 1980. This discovery was so exceptionally delicious, the Valsangiacomo family decided to bottle it for the first time in 2013. Dark iodine in colour, it offers a rich sensation of coffee, toffee, raisins, figs, caramel and liquorice flavours, well-balanced by acidity and slight bitterness. Without doubt, it would be a perfect accompaniment to desserts and chocolate. However, we tried it with Stilton cheese which was a great match and good alternative to traditional Port-Stilton pairing.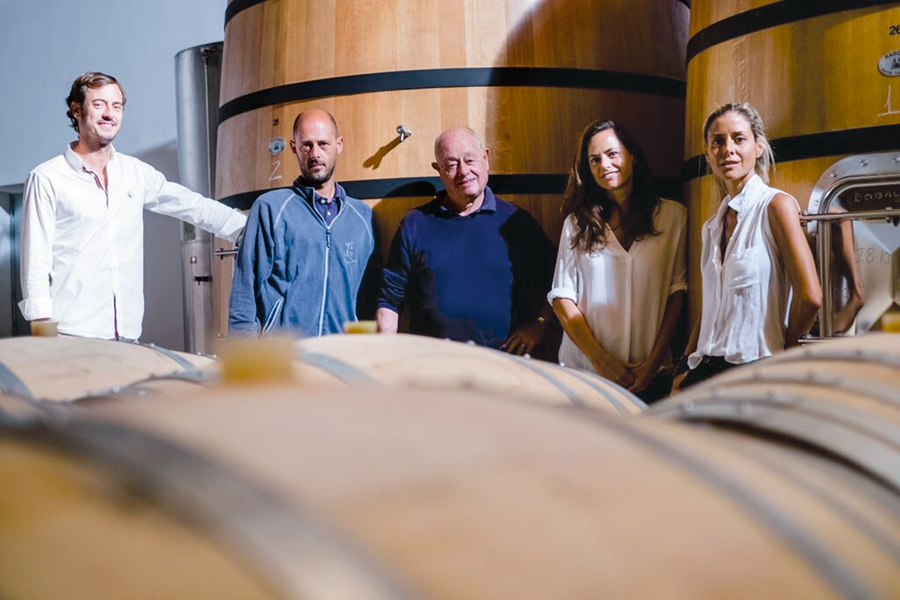 ---
Throughout history, wine played an important role in Valencian life with Roman times bringing more commercial and important approach to viniculture. In the waters near Valencia numerous amphorae were found indicating active trade and wine export to other countries. Winemaking remains of same importance today. Reds from Valencia are based on traditional grape varieties of Monastrell, Garnacha Tintorera, Tempranillo as well as international Merlot and Cabernet Sauvignon. As for the whites, traditional Moscatel, Merseguera, Malvasia, Macabeo and Verdil are now frequently blended with Chardonnay and Semillon.
The evidence of the long term affair of the region with wine is clearly seen at the Celler del Roure, situated in the so called Valencian Tuscany with extremely picturesque landscapes. Here modern winemakers felt it would be a shame not to use their inheritance of the amphorae in their 500 year old cave for the wine production. And I should admit, they did a great job! They now produce two reds and one white aged in amphorae. Paratet 2012 (Monastrell and Mando blend) was one of my favourites and definitely worth trying!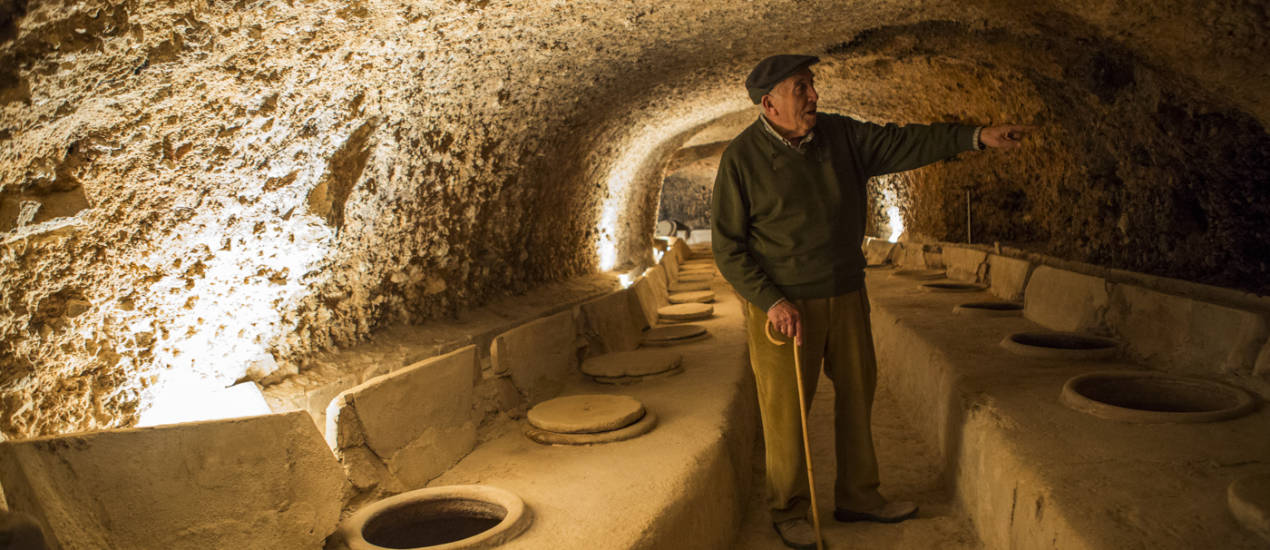 Celler del Roure
---
We were then welcomed at Bodega Los Frailes for the wine tasting and lunch with winemakers. The estate was founded by the Jesuits friars and bought by the Velasquez family in 1771 at a public auction. In 1999 the 13th generation of the Velasquez family started the project of reviving the winemaking tradition of the estate, reorganising the vineyards to pay most of their attention to Monastrell, going back to the traditional organic and biodynamic agriculture and restoring the old cellar. Their elegant "1771" Monastrell says what a great job they did better than words. From more than 75 year old vines with low yields, having spent 12 months in large oak vats, with its high and well-integrated tannins, this wine is a clear and precise expression of the terroir and the family tradition.
Among other wines presented to our group, my favourites were organic Casa Benasal 2014 Gewurztraminer and Muscat blend by Pago Casa Gran; excellent Paradigma 2009 100% Monastrell by Bodegas Enguera; Mallaura 2012 (Tempranillo, Cabernet, Garnacha Tintorera and Monastrell blend) by Heretat de Taverners with a lovely and bubbly winemaker Nacho who was a perfect companion over lunch! Food again deserves a few extra words: the starters were fantastic! But of course, traditional Valencian paella was a real queen of this feast. It was an absolute perfection. So was the dessert! What looked like a simple sponge cake appeared to be so good, I had to ask for another piece.
After such a pleasant afternoon we were driven to Alicante to finish the day with welcoming cocktails at the Alicante DO Headquarters and the view on the hilltop with an old castle.
---
International Monastrell Congress
With a variety of soils, climates and grape varieties, Alicante DO has very diverse wines on offer: white, red, rosé, sweet, fortified, sparkling. Everyone may find the wine to suit their taste. The most distinguished grape varieties for this region are Monastrell, Muscat of Alexandria and Garnacha Tintorera. A wide spectre of other varietals are used here as well: Airen, Tempranillo, Planta fins de Pedralba, Malvasia, Macabeo and a range of international grapes among others.
However, this day was all about Monastrell, which is a 4th most planted variety in Spain, after Tempranillo, Bobal and Garnacha Tinta. The plantings of Monastrell prevail in the DOPs of Yecla, Jumilla, Alicante and Bullas (with at least 65% and over in each of them). Monastrell is the 14th most cultivated grape in the world nowadays with Spain having most significant plantings by far, France with its Mourvèdre being second. However, this grape is no news for the USA and Australia either.
The showroom between morning and afternoon sessions as well as after the Congress offered a perfect opportunity to taste the variety of Monastrells from Spanish as well as international producers. Tinto Cono 4 by Primitivo Quiles (Alicante) is a good example of young Monastrell with elegant character, full-bodied and woody. However, the best discovery for me was Delit by Finca Collado (Alicante) – complex, intense and full-bodied with well-integrated tannins and long finish became another personal favourite and a good example of what Alicante Monastrell is capable of.
Valencia proved to be a beautiful and rich wine region which so far has been underestimated and overshadowed by its big neighbours of Rioja and Ribera. Yet this land has so much to offer in terms of wine and food experiences that it is definitely worth exploring. And in the course of these three amazing days I also understand one thing: the main treasure of this area is not its rich historic past or even its excellent culinary and winemaking traditions, but its people. With so much love for their land, so much enthusiasm for showing its beauty to others and so much passion in whatever they do, it is hard to find more welcoming, positive and kind people to be around. They know how to live and how to enjoy it fully. It deserves the praise at the least. But to me, on top of the great wine secrets, this was the lesson which was well worth the trip.
---
If you are keen to discover Valencia and Alicante, we would most certainly be happy to help!
Click here to read Part 1 of the Winerist Trip to Valencia and Alicante!