As it's the hottest day of the year so far (not hard, tbh) I was invited back to TalkRadio to taste some summery rosé wines with Mike Graham & Georgia Frost. Here are the three we tasted to try and get a handle on go-to styles, where you know what you're going to get…
Pale and dry rosé wine
Your go-to style: Côtes de Provence
Provencal pinks are incredibly popular at the moment and should be your go-to choice if you want something dry and sophisticated. The unique 'terroir' of Provence gives these wines a slightly saline, mineral finish. They whisper white peach, strawberry and licorice rather than shout 'fruit bomb!' If this rosé were a dance it would be classical ballet: always pale satin pink like a ballet shoe, but capable of those complex twists and turns. There's a strength that belies its elegant looks. This style can get quite pricey but there are good ones out there from about £8.
Grapes: Usually a blend of Grenache and Cinsault, sometimes with a splash of Rolle, Syrah and others.
We love: Rosé de Leoube by Château Leoube. £15.99 from Ocado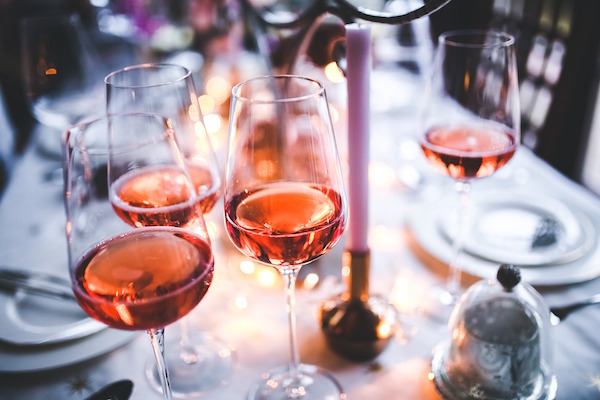 Dark and dry rosé wine
Your go-to style: Tavel
Tavel is the only appellation in France's Rhone valley which is only for pink wines. It comes in a very distinctive shaped bottle (see picture above) and traditionally makes wines that are closer to red wine in style. With all that extra colour from the skins, this wine is grippy and savoury, with flashes of wild strawberry and spice! If it were a dance, it would be a Tango… Here's a link to our feature on styles of wine from the Rhone Valley, should you want to know more.
Grapes: Traditionally, Tavel is a blend of Grenache, Syrah, Mourvedre, Cinsault and sometimes others.
We love: Famille Perrin Tavel 2016 £16 from Oddbins
Bright and fruity rosé
Your go-to style: White Zinfandel 'blush' wines from California
Zinfandel is an iconic Californian grape which can make some serious, hefty red wines. In rosé form however, it's often made to quite a sweet style. Not sugary sweet as such, but seriously fruity, like strawberry candy. These are inexpensive, juicy wines. Not terribly sophisticated, but sometimes, you want it easy. If this rosé style were a dance it would be a 1980's disco. A bit of a guilty pleasure!
We love: Gallo Family Vineyards white Zinfandel, £5-6 from Sainsburys, Tesco & other supermarkets
What are your go-to styles of rosé wines? Comment below or tweet us at @TheWinerist.
Chin chin!